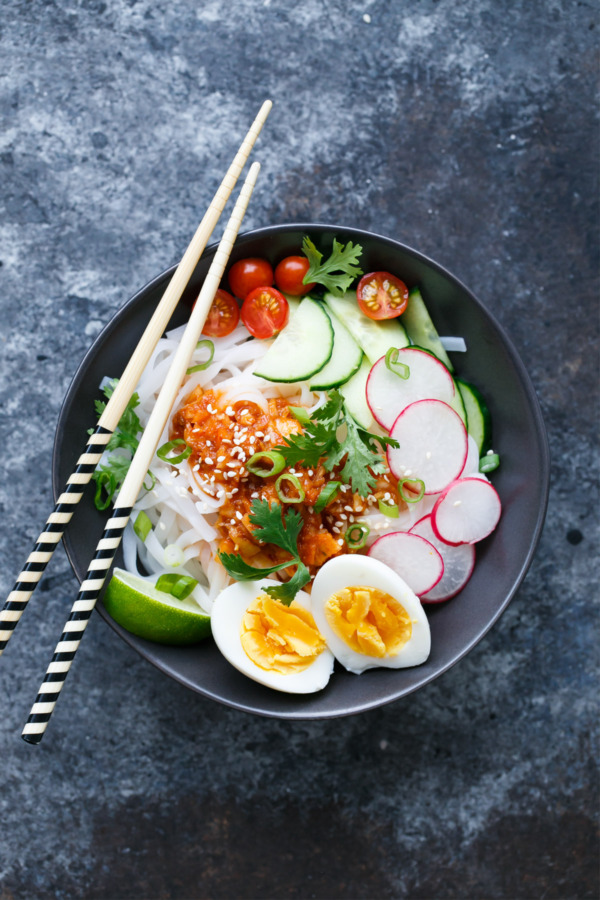 Can a recipe be both spicy and refreshing at the same time? Because that's exactly what this one is.
Other than boiling the eggs and the noodles, this recipe requires no additional heat or cooking, so it's a perfect dish to prepare on the hottest of summer days.
Granted, the ingredient list is a bit long and daunting, but the result is well worth the effort (just a note, we were able to easily find everything we needed between Whole Foods and an Asian market.)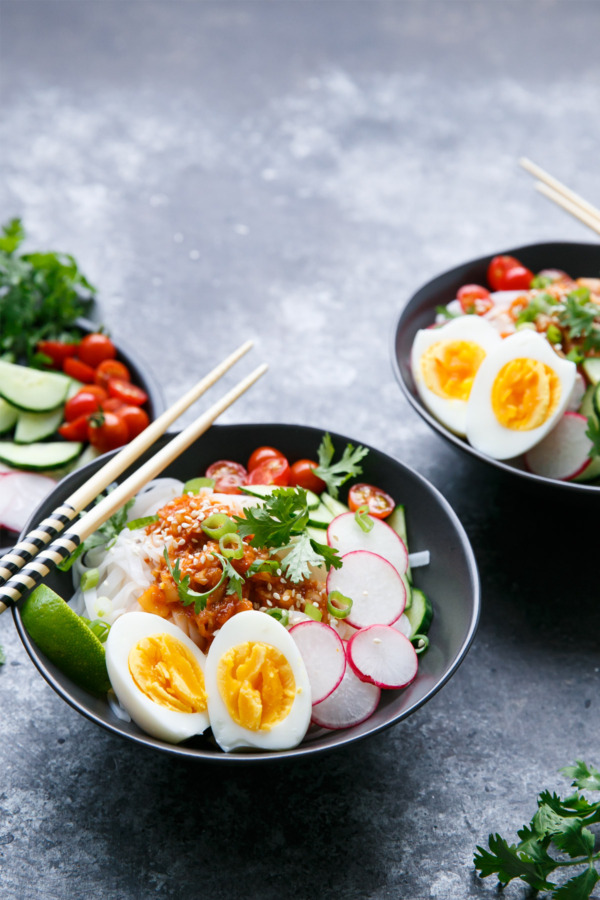 Cold rice noodles are topped with a spicy sauce composed of kimchi (spicy fermented cabbage… a spicy sauerkraut, essentially), pepper paste, red miso, sugar, orange zest, and ginger (among other things, but those are the primary flavor elements that come through in the end), and then topped with an array of fresh ingredients like radish, cherry tomato, cucumber, and cilantro. The soft-boiled egg is a nice touch as well that makes the dish more substantial and filling on its own.
I'm not sure what I was expecting when Taylor first showed me this recipe… but it definitely wasn't that. Maybe with all the spicy, heavy-sounding ingredients I was anticipating a strong and pungent sauce, almost like a hot chili oil or something that would top a hot dish like Kung Pao chicken.
But in reality, the sauce, while definitely spicy, is surprisingly light and fresh. The notes of orange and ginger give the sauce a brightness that is resoundingly un-oily. I mean, I feel strange calling a spicy noodle dish refreshing but there's really no better word to describe it.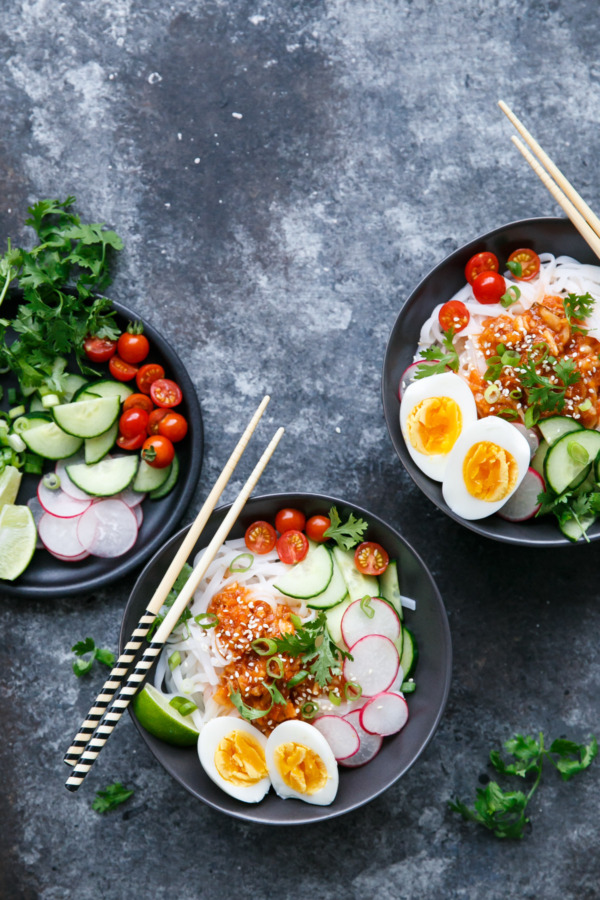 We followed the NY Times recipe almost exactly, though I am making a few notes/comments below, for my own reference as much as yours (because this is one dish I'll definitely prepare again and again).
A few notes:
– Next time I'd use slightly less ginger and orange zest, as those were the strongest flavors that came through in the sauce.
– I'd also refine my soft-boiled egg technique, as you can see mine were a bit overcooked. The recipe says to boil for 7 minutes, however I was always taught to bring the eggs up to boiling with the water, so that's probably the reason ours are medium-boiled. Guessing he meant to add the eggs once the water was boiling, and then boil for 7 minutes. Further testing is required.
– We found the gochujang chili paste at our favorite Asian market, but if you can't find it, something like sriracha should work just fine. Same for the gochugaru red pepper flakes, regular ones work just as well (but in a lesser quantity because they are generally much spicier). Unfortunately there really isn't a substitute for the kimchi or red miso paste, you really need to track those ingredients down.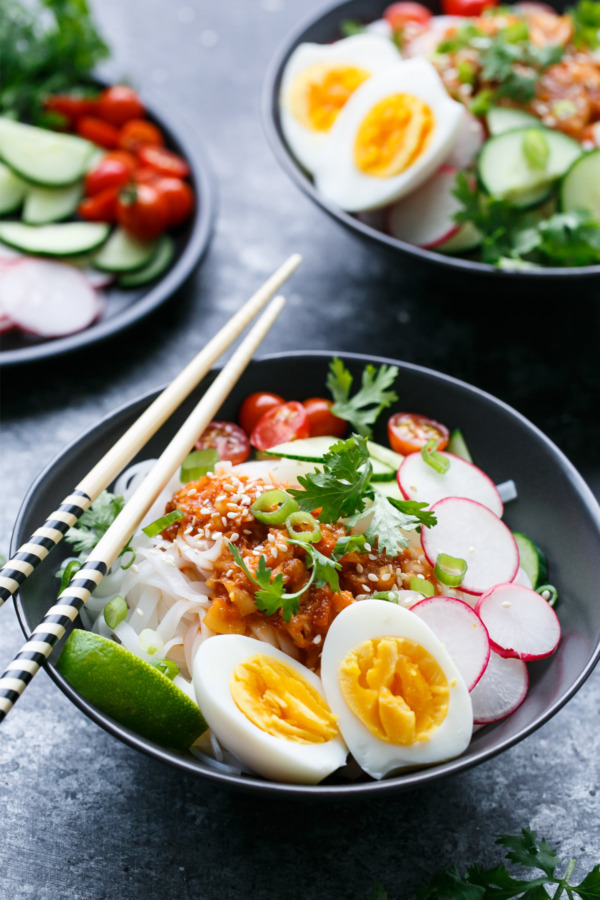 The good news is that once you've tracked down the ingredients you'll have them on hand to make this recipe multiple times. I'm also intrigued by this Korean pepper paste… I think it will be a unique alternative to something like sriracha, and I'm excited to explore the possibilities.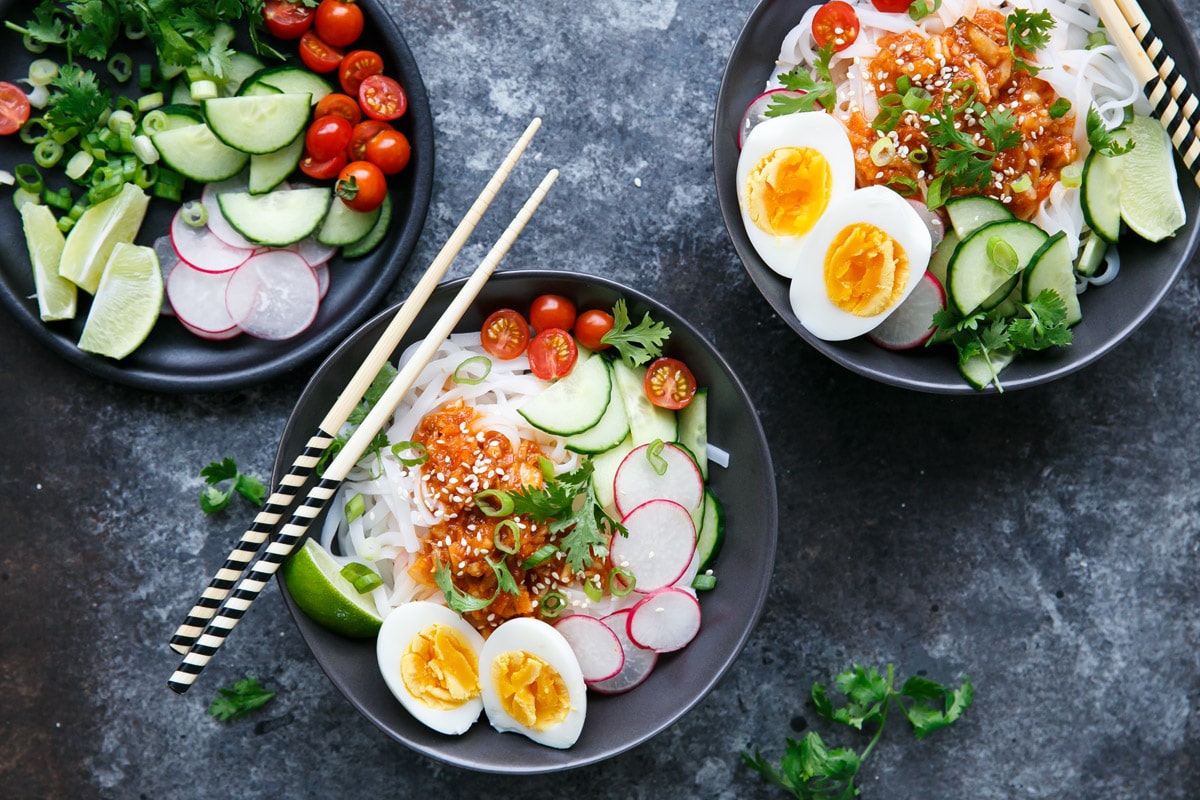 Cold Spicy Kimchi Noodles
This cold rice noodle dish is both spicy and refreshing at the same time, with a flavorful kimchi/miso/pepper paste-based sauce and a soft-boiled egg on top.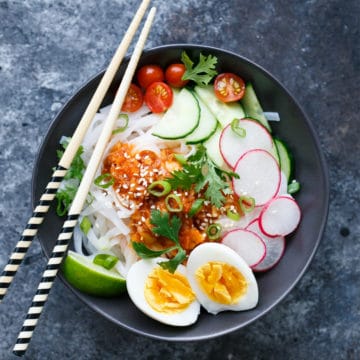 Ingredients:
For the dressing:
1 cup finely chopped kimchi, plus 2 tablespoons kimchi juice
1 medium garlic clove, grated
2 teaspoons grated ginger
2 tablespoons brown sugar
1 tablespoon gochujang (Korean hot pepper paste)
1 tablespoon Japanese red miso
1 tablespoon sesame oil
1 tablespoon rice vinegar
2 tablespoons lime juice
1 teaspoon orange zest
1 teaspoon fish sauce
½ teaspoon gochugaru (Korean red pepper flakes)
Salt
For the noodles:
8 ounces flat rice noodles or soba noodles
1 medium cucumber, peeled, halved and sliced into half-moons (about 1 cup)
1 cup halved cherry tomatoes
3 or 4 large red radishes, sliced into thin rounds
½ cup scallions, slivered
1 serrano chile, thinly sliced (optional)
3 eggs, boiled for 7 minutes, cooled in ice water, peeled and halved (cook 9 minutes for a firmer yolk)
2 tablespoons toasted sesame seeds
Cilantro sprigs or chopped cilantro, for garnish
Lime wedges, for serving
Directions:
Make the sauce: Put the kimchi, juice, garlic, ginger, brown sugar, gochujang, miso, sesame oil, rice vinegar, lime juice, orange zest, fish sauce and gochugaru in a mixing bowl, and stir well to combine. Taste and adjust salt. Let stand at room temperature for at least 10 minutes (or you can store overnight in the fridge, covered).
Bring a large pot of generously salted water to a boil. Add noodles and cook for about 5 minutes, or until cooked through but still firm. Drain in a colander, transfer to a bowl of cold water to cool, then drain again and set aside, covered with a towel.
Just before serving, put noodles in a large mixing bowl. Add the sauce, along with cucumber, tomatoes, radishes, scallions and chile (if using) and toss gently to coat. Divide among individual serving bowls. Top each bowl with a halved egg, sesame seeds, cilantro and a squeeze of lime juice.
Did you make this recipe?
Let us know what you think!
Leave a Comment below or share a photo and tag me on Instagram with the hashtag #loveandoliveoil.