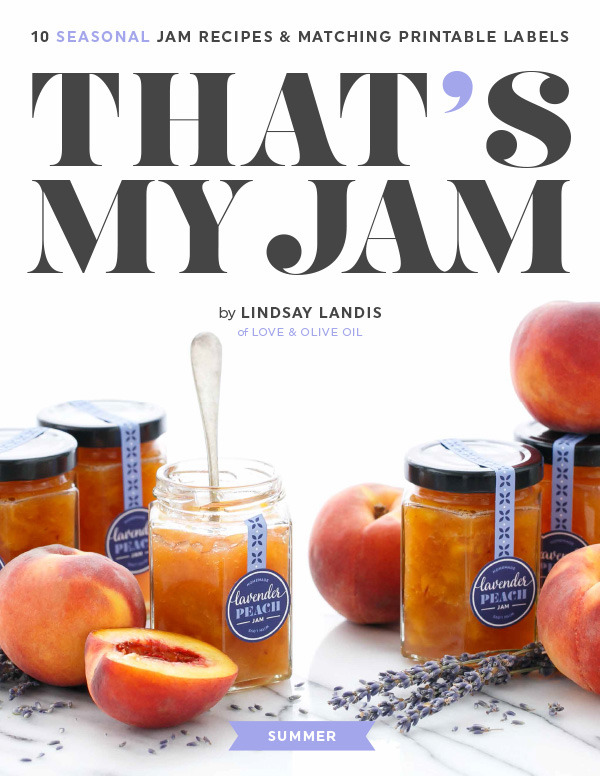 It's here! It's finally here!
I've been slaving over a hot canning pot for the past 6 months trying to get this baby finished while summer canning season is still in full swing. And I'm pleased to say it is officially done and available for sale! Whether you are an experienced canner or a novice just wanting to get started, this ebook is for you. There's no better feeling than a pantry overflowing with delicious homemade jams, jellies, and preserves, except maybe gifting those preserves to friends and loved ones (in which case the printable labels included with each and every recipe should make you very happy). Just be sure you save a jar or two for yourself, too. :)
This ebook is a true product of love… combining my love of canning with my love of design, plus a love for sharing recipes with all you lovely people to boot. When you combine so much love with fresh, ripe, seasonal fruit, good things are bound to happen.
SUMMER is all about blueberries, raspberries, and succulent stone fruit; cherries and tomatoes and bright, tropical flavors; fruit and flowers and maybe a little bit of tequila in there too. This is your chance to preserve the best of what summer has to offer for year-round enjoyment.
That's My Jam's summer edition is the first of 4 seasonal editions yet to come. (And remember, if you want to be the first to know when the next edition drops, be sure to SIGN UP HERE for news, updates, and special offers regarding the That's My Jam series). Stay tuned this September, December, and next March for the Fall, Winter, and Spring releases respectively, which are still in progress but are shaping up to be just as spectacular.
Buy your copy today for only $4.99! Included are 10 new and updated recipes, each with a custom designed printable label, plus extensive information and resources for new and experienced canners alike.
or
Order the 4-SEASONS bundle and save 15%! Plus, get a special BONUS recipe book with 10 delicious jam-filled recipes to put your homemade preserves to use. Your Summer edition and Bonus ebook will be delivered immediately, and the subsequent Fall, Winter, and Spring editions will be sent to you automatically as soon as they are released.
BUT WAIT (there's more!) As a special offer, THIS WEEK ONLY you can save an additional 20% off your order. Simply use code "HAPPYCANNING" upon checkout. This special offer expires June 27th, so don't delay!
What's Inside:
10 new and updated recipes for homemade jams and jellies, including Peach Lavender, Raspberry Balsamic, Tequila Watermelon and MORE! Recipes that have appeared on the blog before have been retested, updated, and/or redesigned.
Downloadable PDF printable labels for each and every recipe, plus a few surprises. :)
Getting started tips, tools, and information for new and experienced canners alike.
Resources for supplies, jars, and extended reading.
Here, take a sneak peek for yourself:

If you are…
An experienced canner looking for some unique new recipes or some designerly labels to up your packaging game…
A beginning canner looking to play with new flavors and techniques…
A newbie who has been wanting to learn how to can but has been hesitant to try…
…this ebook is for you!
The ebook comes to you as a beautifully designed PDF file for easy reading on your computer, tablet, or mobile device, with convenient clickable links to resources and downloads, text only recipe pages for easy printing, plus an interactive table of contents for quick navigation, and stunning, full-page images of each and every recipe for your drooling viewing pleasure.
To compliment the resources in this ebook I've also set up a canning supply shop, with links to all the tools and equipment I use personally in my kitchen, including pots and saucepans ideal for jam making as well as scales and sieves and spatulas and more. It's the perfect one-stop-shop for everything you need to make all the recipes in the ebook… just add fruit.
Buy the SUMMER edition for only $4.99 » BUY A BUNDLE and SAVE »
(Be sure to click through to enter a fabulous giveaway to celebrate the release of this ebook. You won't want to miss it!)
Spread the Jam (and the love!)
If you're as excited about this as I am, please, share it with the world (or, you know, just your social media followers) using the hashtag #thatsmyjamcookbook. And if you make any of the recipes, take a picture and share it on Instagram! Be sure to tag it #loveandoliveoil/#thatsmyjamcookbook and you might find your picture featured in a future newsletter or blog post. Oh, and did you know I finally joined snapchat? Find me @loveandoliveoil and share your canned creations!
Sample tweets:
Excited for That's My Jam: the Summer edition from @loveandoliveoil! Order your copy today: http://thatsmyj.am/KJK4Z1 #thatsmyjamcookbook
Tweet This!
It's canning season, baby! Get THAT'S MY JAM: the Summer edition from @loveandoliveoil today: http://thatsmyj.am/KJK4Z1 #thatsmyjamcookbook
Tweet This!
To celebrate the release of THAT'S MY JAM, @loveandoliveoil is giving away some FAB prizes: http://thatsmyj.am/KJK4Z1 #thatsmyjamcookbook
Tweet This!
You can also Share on Facebook , Pin on Pinterest, or Stumble this Post.
Jam.
Bam.
Thank you m'am!
(Y'all are the best!)
Wait, did she mention prizes?!? Indeed, because what kind of celebration would this be without prizes?
As an extra treat, to celebrate the long-awaited release (well, long-awaited at least on my end) of the first edition, I've put together the ultimate canning giveaway to get you started on the right foot! A special thanks to Melissa's Produce and SKS Bottle for so generously providing me with supplies and produce needed for the extensive testing of these recipes, as well as Ball/Jarden Home Brands and Pomona's Pectin for donating prizes for this special giveaway!
One lucky reader will win:
Giveaway is now closed.
Thanks to all for entering (your answers have given me a wealth of inspiration!) Happy canning!
The fine print: No purchase necessary. Giveaway open to US residents only. Void where prohibited. Bonus entries will be verified and any invalid entries will be removed. All social shares must be publicly accessible in order to be valid (no private posts). Winner will be selected via random number generator and will have 48 hours to respond otherwise an alternate winner will be chosen. Giveaway sponsored by respective brands. As always, all opinions written are purely my own.