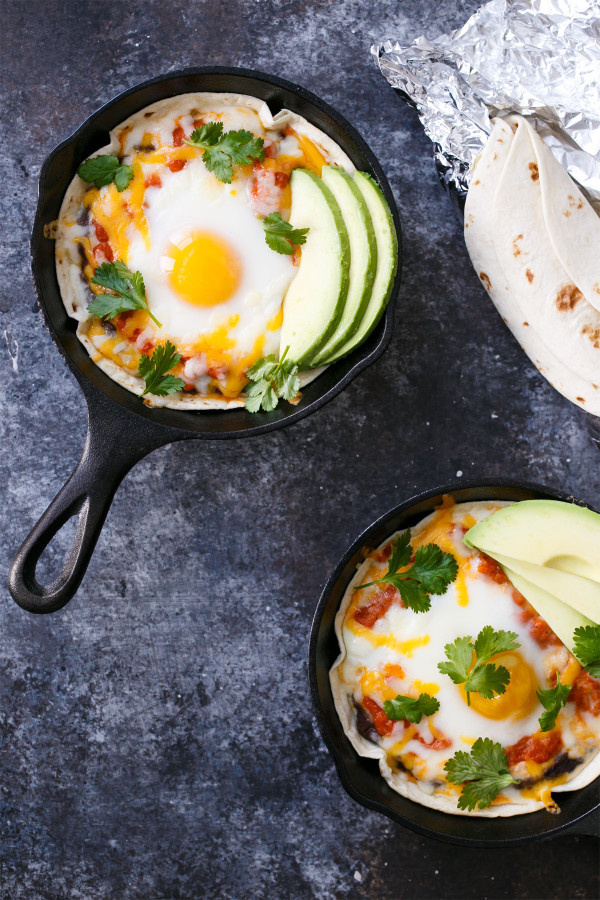 Every season is skillet season.
I'm convinced that food cooked in a skillet tastes 42% better, be it oatmeal chocolate chip cookies, roasted chicken breasts, or macaroni and cheese.
On second thought, make that 142%.
Combined with the previously proven theorem of Lindsay's Laws of All Things Sweet (the first rule of which, coincidentally, also applies to Savory things) stating that everything tastes better in miniature, it follows that these personal-sized skillet huevos rancheros are 284% more delicious than full size huevos rancheros (henceforth known as huevos aburridos, or boring eggs).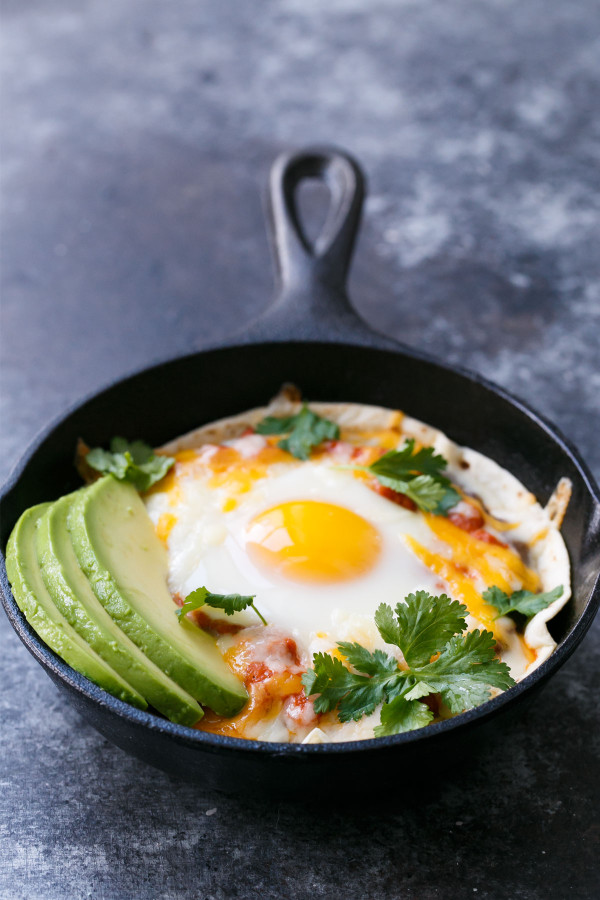 So it's no surprise that this skillet-ized and personal-sized version of one of Taylor's favorite breakfast dishes earned high marks in our house. Suitable fodder for breakfast, lunch, or dinner, I'd call these skillet huevos rancheros (once we got the forumula right, that is) a resounding success.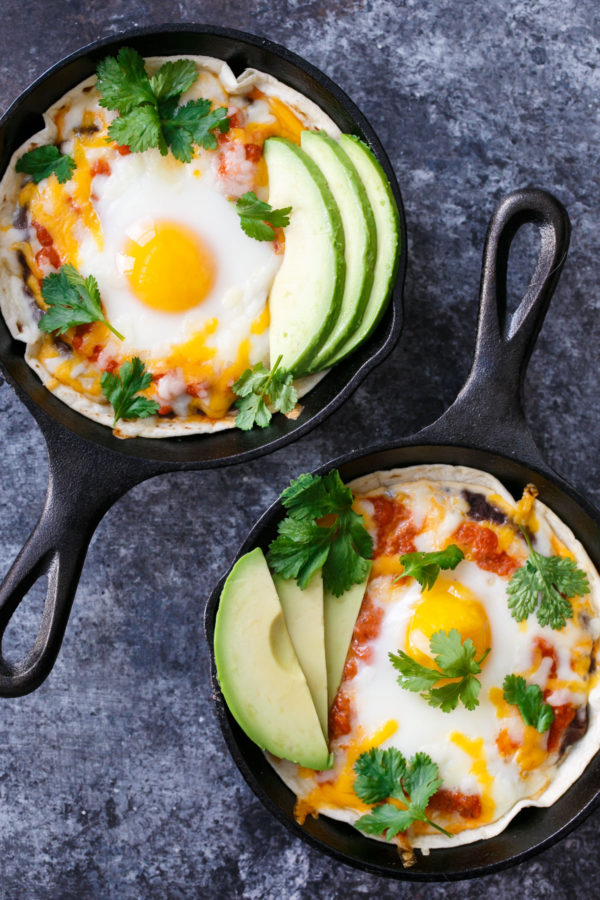 We first tried to use a bed of potatoes, but they never seemed to get crispy and stuck to the skillets like wallpaper paste.
On to plan B: tortillas.
Preheating the skillets first ensures the tortillas get nice and crispy on the bottom, exactly the kind of texture and crunch that the potatoes failed to deliver. Tortillas for the win!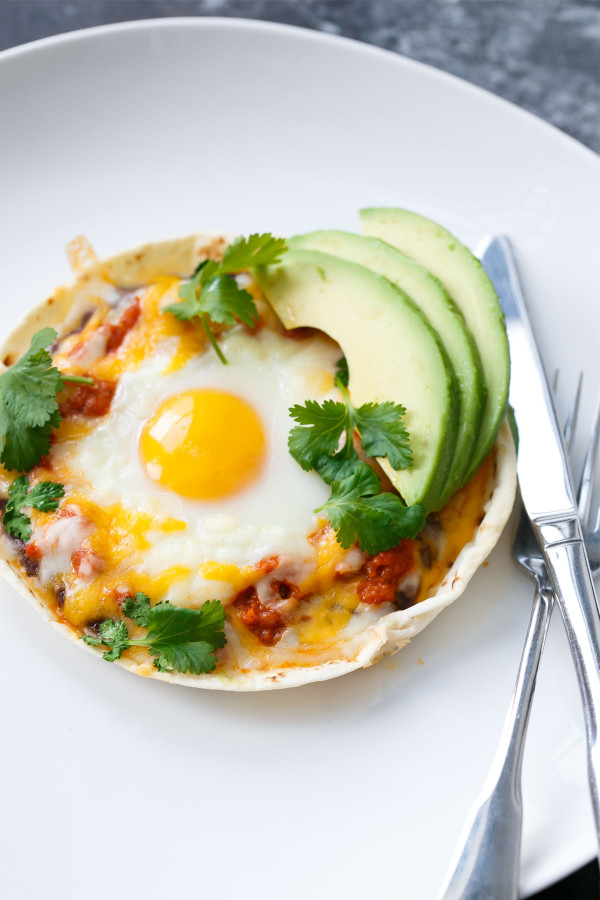 On top of the tortillas is a layer of refried black bean, cheese, and what I like to call our shortcut ranchero sauce (bypassing the roasted peppers for a can of fire-roasted tomatoes instead). The beans form a dam of sorts, a well tasked with holding a precious golden-yolked egg while it bakes until the egg is runny to perfection and topped with avocado and fresh cilantro.
The best part about the tortilla base is that the whole thing slides out of the skillet in one perfect little package, ready to be sliced and devoured.
Skillet Huevos Rancheros
Classic huevos rancheros baked in a single-serving cast-iron skillet, layered with tortilla, beans, ranchero sauce, cheese, and a perfectly runny egg.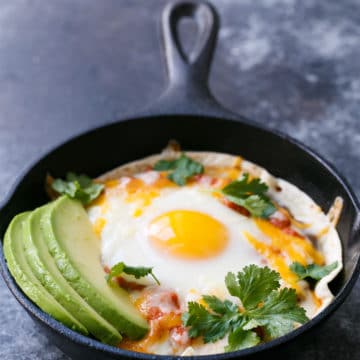 Ingredients:
1 tablespoon vegetable oil
1/2 medium onion, chopped
2 garlic cloves, minced
1 (14.5 oz) can fire roasted diced tomatoes
1/2 teaspoon dried oregano
1/2 teaspoon ground chipotle
1/2 teaspoon kosher salt
1/2 cup chicken or vegetable broth, divided
4 (6-inch) flour tortillas, plus more for serving
1 cup refried black beans
1 1/2 cups mexican blend shredded cheese, divided
4 large eggs
1 avocado, sliced, for topping
coarsely chopped fresh cilantro, for topping
Directions:
Preheat oven to 375 degrees F. Oil four 6.25-inch cast iron skillets. Arrange on a baking sheet and place in oven to preheat.
Heat vegetable oil in a saucepan over medium heat. Add onion and garlic and cook for 3 minutes or until softened and fragrant. Add tomatoes and their juices along with oregano, chipotle, and salt. Add 1/4 cup chicken broth and simmer for 5 minutes. Let cool slightly, then transfer to a blender and blend until smooth. (Sauce can be made up to 2-3 days ahead of time; rewarm prior to using).
Return saucepan to medium heat (no need to wash it out). Add refried beans and remaining 1/4 cup chicken broth and stir until smooth and warmed through.
Remove baking sheet with skillets from oven. Carefully (skillets will be very hot) press a tortilla into the bottom of each skillet. Spread 1/4 cup refried beans onto the tortilla, making a small 'well' or indentation in the center to hold the egg. Sprinkle with 1/4 cup shredded cheese, and top with a few tablespoons of sauce. Repeat with all four skillets.
Gently crack one egg into the center indentation of each skillet. Return baking sheet to oven and bake for 10 minutes or until egg whites are starting to turn opaque; yolks will still be quite jiggly. Sprinkle an additional tablespoon or two of cheese around the yolk, then return to oven for another 5 to 7 minutes, until cheese is melted and egg is cooked to desired doneness (ideally the whites will be set but the yolk will still be slightly runny).
Carefully (remember skillets are very hot!) release tortilla from bottom of skillet with a thin spatula, and slide the whole thing out onto a plate. Top with sliced avocado and fresh cilantro, serve warm with additional sauce as desired.
TIP: If you'd like extra tortillas to serve along side, roll them up in a piece of foil and place in the oven with skillets for the last 5-7 minutes of cooking to warm through.
If you want to prepare this in a single larger 10-inch skillet, use a single extra-large flour tortilla and put all the beans and cheese in a single skillet; make 4 indentations evenly spaced around the skillet so the eggs don't run together. Increase cook time as needed to acheive desired doneness.
Did you make this recipe?
Let us know what you think!
Leave a Comment below or share a photo and tag me on Instagram with the hashtag #loveandoliveoil.