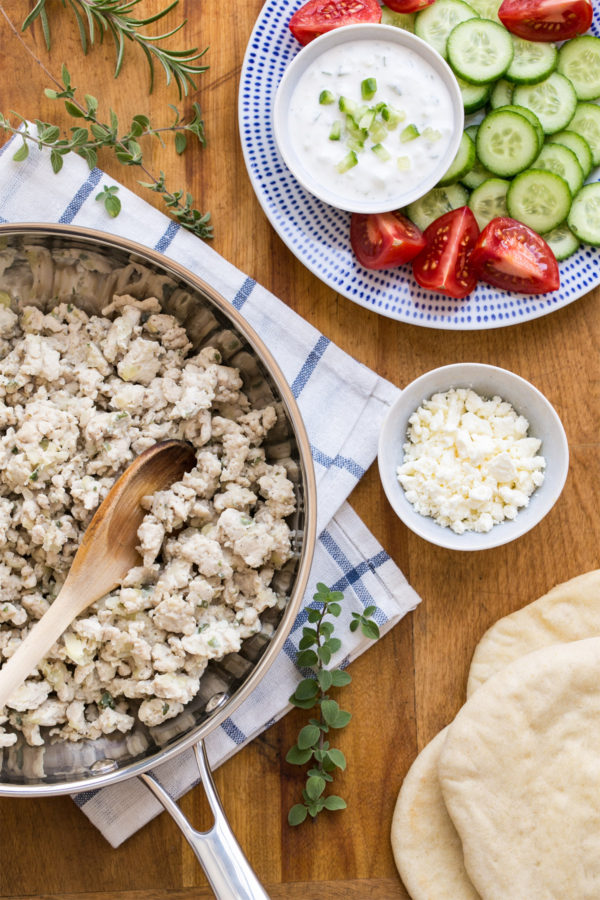 Am I the only one who finds pre-packaged ground turkey kind of sketchy? There's a weird flavor in there that throws me off. It's the reason I haven't bought ground turkey (or chicken for that matter) in years. Trust me, I tried multiple brands from multiple stores before I finally had one too many funky tasting tacos and swore the stuff off for good.
Which is tough, because I actually prefer my tacos made with ground turkey, beef and pork often being too fatty for my tastes.
That's where having a food grinder attachment for my stand mixer comes in so handy. In less than 30 minutes I can make my own ground poultry from fresh cuts of my choosing. No mystery meat or unknown preservatives here, and you can control the relative leanness of your grind by only using breast meat, for example, or a mix of breasts and thighs for a slightly fattier (and more flavorful) blend as I've done with these gyro-inspired tacos.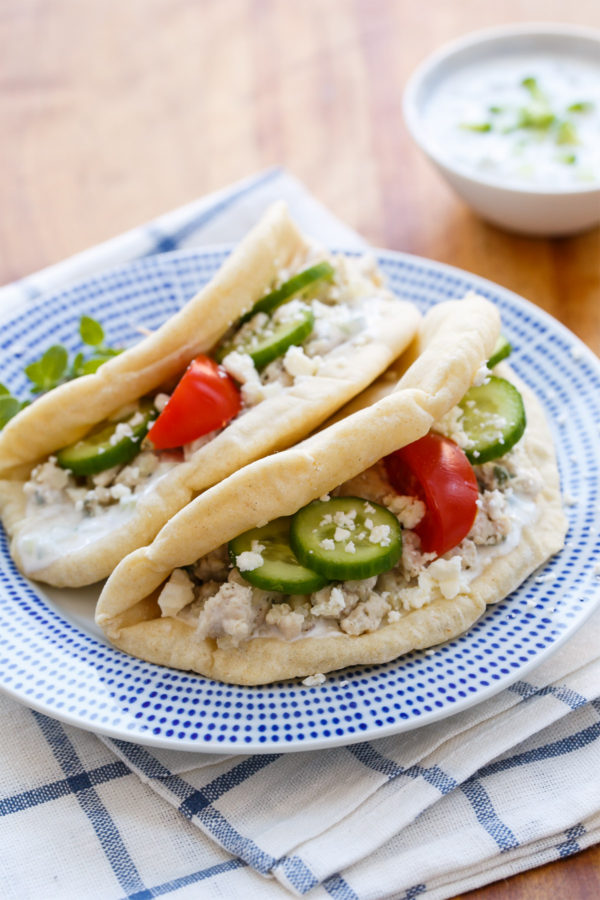 You only need a pound or so for a 4-serving batch of tacos, but I like to grind up a mix of breast and thigh meat, which will give me around 3 pounds for one breast and two thighs. The extra meat can be bagged and frozen for up to 3 months. With this grind-and-freeze method I can spend 30 minutes grinding a few pounds of meat at a time, and then freeze the excess to have on hand in the future. If you're going to go to the trouble of setting up the grinder attachment (and cleaning it after the fact), you may as well make it worth your time.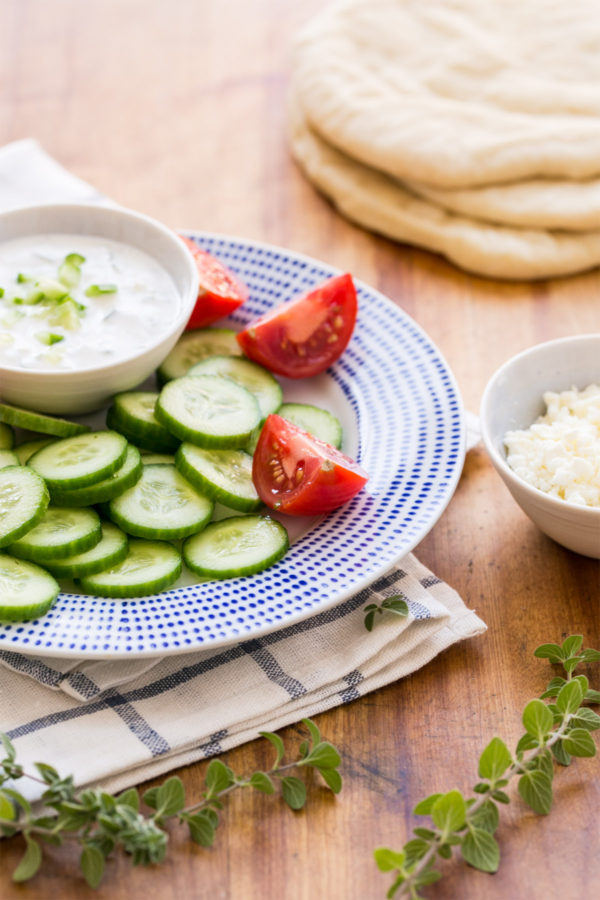 The freshly-ground turkey meat is sauteed with onion, garlic, and spices, and then spooned inside a warm pita bread and topped with fresh tomato and cucumber, feta cheese, and creamy tzatziki sauce. It's a flavorful mashup of a gyro and a taco, lighter and healthier for the New Year since it's made with leaner turkey instead of beef or lamb (but hey, that food grinder would work just as well on either of those too).
Even better? Break out the dough hook and bake your own pita bread. Trust me, it's well worth it.
Greek Turkey Tacos
Gyro-inspired tacos made with freshly ground turkey and topped with fresh veggies and a yogurt-based tzatziki sauce.
Ingredients:
2 tablespoons olive oil
1/2 large onion, chopped (about 1 cup chopped)
2 garlic cloves, minced
1 pound freshly ground turkey (a mix of breast and thigh meat)
1 tablespoon chopped fresh oregano or 1 1/2 teaspoons dried oregano
1/2 teaspoon finely chopped fresh rosemary or 1/4 teaspoon dried rosemary
1/4 teaspoon dried marjoram
1 teaspoon kosher salt
1/2 teaspoon freshly ground black pepper
8 5-inch or 4 8-inch pita breads, warmed
1/2 medium cucumber, halved and sliced
1 tomato, diced or cut into small wedges
1/2 cup crumbled feta cheese
For Tzatziki Sauce:
1/2 cup plain greek yogurt
1/2 medium cucumber, diced into 1/4-inch cubes (about 1/2 cup diced)
1 garlic clove, minced
1 tablespoon red wine vinegar
2 teaspoons extra virgin olive oil
1/2 teaspoon chopped fresh mint or 1/4 teaspoon dried mint
kosher salt and freshly ground black pepper, to taste
Directions:
Preheat olive oil in a large skillet set over medium-high heat. Add onion and garlic and sauté for about 3 minutes or until softened and fragrant. Add ground turkey along with oregano, rosemary, marjoram, salt, and pepper and cook until turkey is no longer pink, about 5 to 7 minutes, stirring to break up any large chunks.
Meanwhile, to prepare tzatziki sauce, stir together yogurt, cucumber, garlic, vinegar, olive oil and mint in a bowl. Add salt and pepper to taste.
To serve, warm pita bread in the oven or microwave (wrap in a damp tea towel or paper towels to soften). Spoon filling down the center of pita. Top with sliced cucumber, tomato, feta cheese, and a heaping spoonful of tzatziki sauce.
Did you make this recipe?
Let us know what you think!
Leave a Comment below or share a photo and tag me on Instagram with the hashtag #loveandoliveoil.
This recipe was created in partnership with KitchenAid®. All opinions are my own.