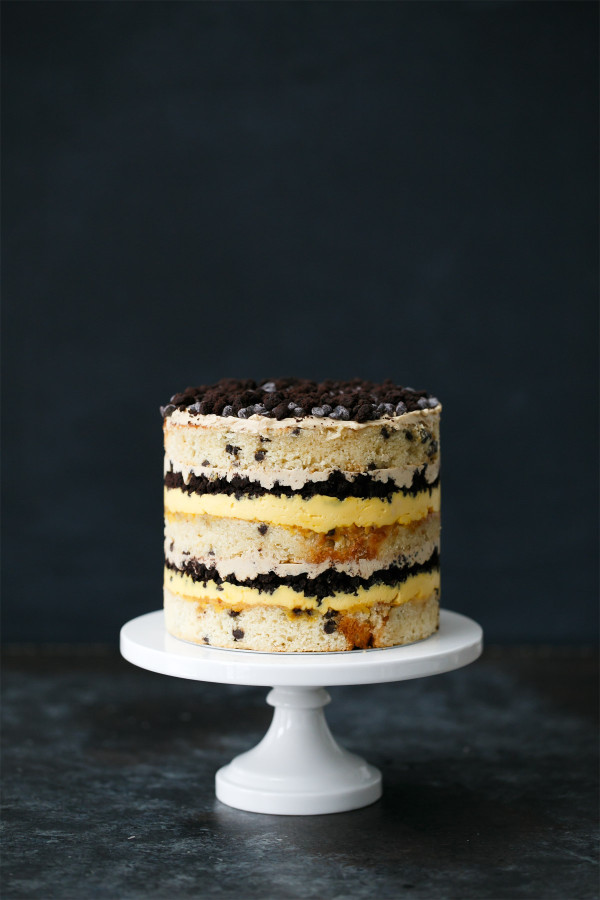 We could all use a little more naked baking in our lives.
No, not THAT kind of naked baking. That's… um… potentially hazardous.
I'm referring to the naked cake trend, where the outside of the cake is left unfrosted and the layers underneath are the real stars of the show.
Christina Tosi of the Milk Bar in New York City is credited with starting this minimalist trend, although her creations are anything but boring. This is one of her recipes, one I've been meaning to try for quite some time now (because, hello, passion fruit!) Taylor's birthday this past week turned out to be the perfect opportunity.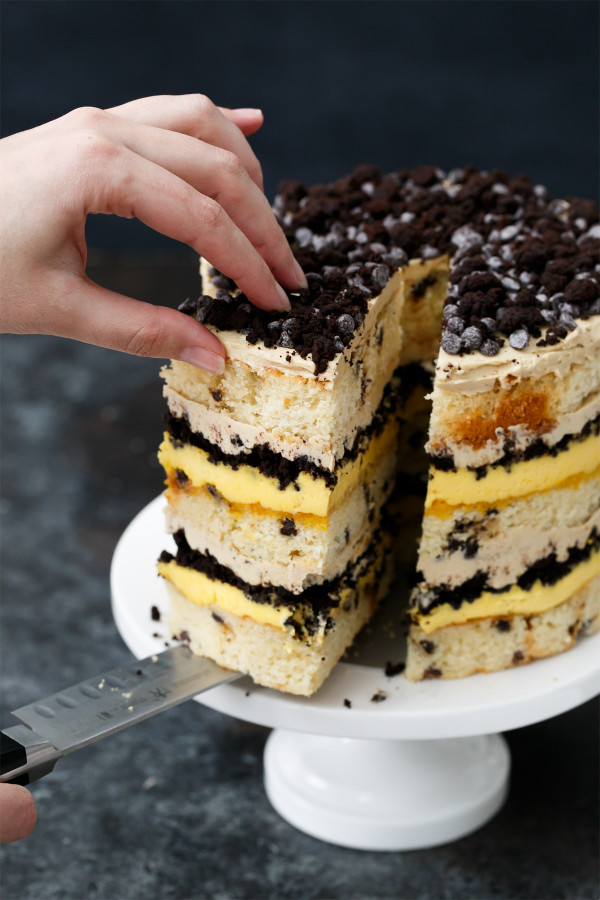 I thought a naked cake would be perfect for frosting-averse Taylor, although upon eating this he claimed that it's really a trick because I stuck all the frosting inside instead. And while it might appear that way, in reality the fillings are more varied than just a thick swath of buttercream between each tender layer. Passionfruit curd, for one, an ultra bright and tart flavor that breaks up the sweetness and butter, not to mention the delightful chocolate crumbles, which were maybe my favorite part of the whole thing.
In reality, the proportional makeup of this cake is more something like:
Cake: 60%
Passionfruit Curd: 15%
Chocolate Crumb: 15%
Frosting: 10%
Whereas a typical cake might be 70% cake and 30% frosting. So really, it's much less frosting than a typical cake.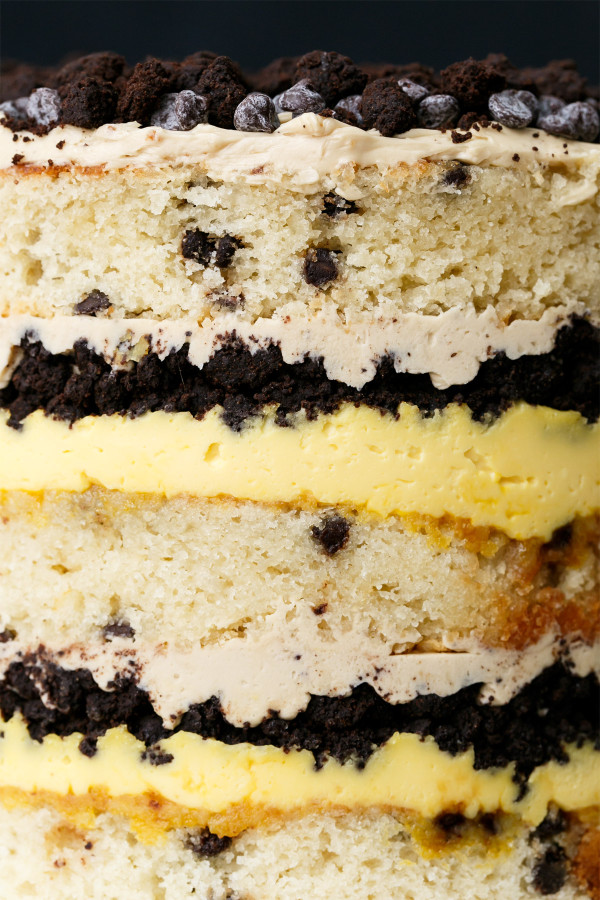 The method of assembling the cake is easier than it looks, so long as you have the right equipment, namely acetate strips and a 6″ cake ring (though you can also use a removable bottom cheesecake pan like this one). There really is no substitute for the acetate (parchment/foil/waxed paper simply won't produce the same results). Trust me on this one. Get the right supplies beforehand and your cake will be perfect.
The final cake comes out of its acetate wrapper looking like a geologic core sample of sugar, each layer a perfectly preserved band of texture and flavor.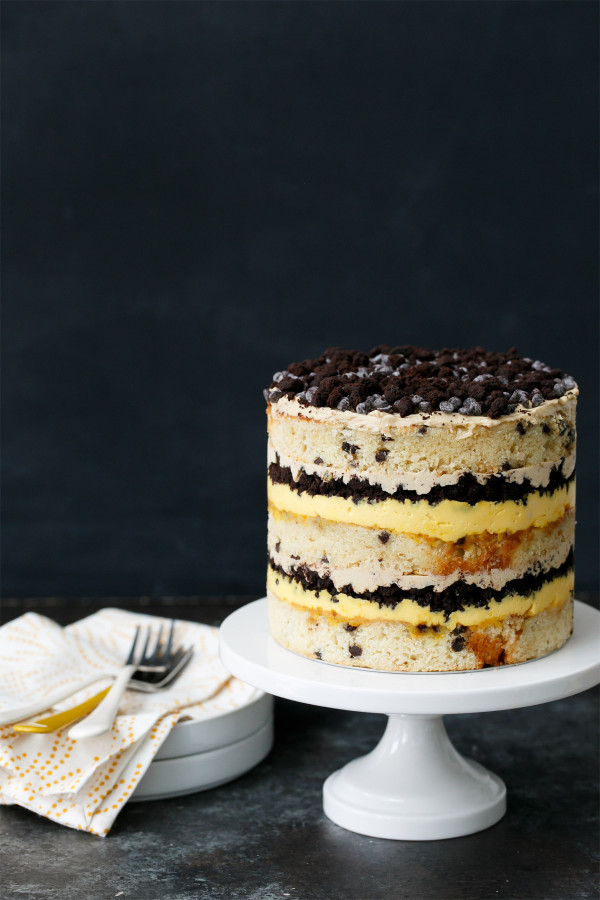 I did have two small issues with this recipe, with the passion fruit curd and the coffee buttercream.
First, I found the passion fruit flavor overpowering. And this is from someone who adores passion fruit. Now, it may be due to the passion fruit puree that I used, which was more of a concentrate than a fresh puree. So maybe my curd came out stronger than it should have. Still, if I made this cake again I'd reduce the passion fruit layer by about a third, either less curd overall or less passion fruit in the curd. I'd also reduce the gelatin a smidgen (I used powdered gelatin as I had no gelatin sheets), as I found the curd a bit thick and hard to spread after a night in the fridge. Although, I'll admit that's better than the alternative.
My other issue was with the coffee buttercream. The recipe does say to have patience, but this really took that request to an extreme. My mother-in-law and I sat there watching the mixer turn the butter/coffee-milk mixture into something that looked like chopped liver (seriously). The coffee milk simply refused to incorporate into the butter until it had been beaten for, oh, a good 30 minutes or more with some extra sugar for good measure. It eventually turned fluffy like I expected it to 20 minutes ago, although I wouldn't go so far as to describe it as "wildly fluffy" like Ms. Tosi does.
I think a higher proportion of sugar might be a bit more practical, and would give the buttercream a bit more friction to come together. I mean, I add milk and cream to my buttercreams all the time, sometimes well in excess of the 1/4 cup used here, and I have never experienced this chop-liver effect before. Which is why I'm thinking maybe it's the lack of sugar that makes it so difficult.
I'd also make more of it, as there wasn't nearly enough for the 3 layers as called for in the recipe (especially when trying to spread it on top of the loose crumbs). Any coffee flavor was overpowered by the passionfruit, which was a shame.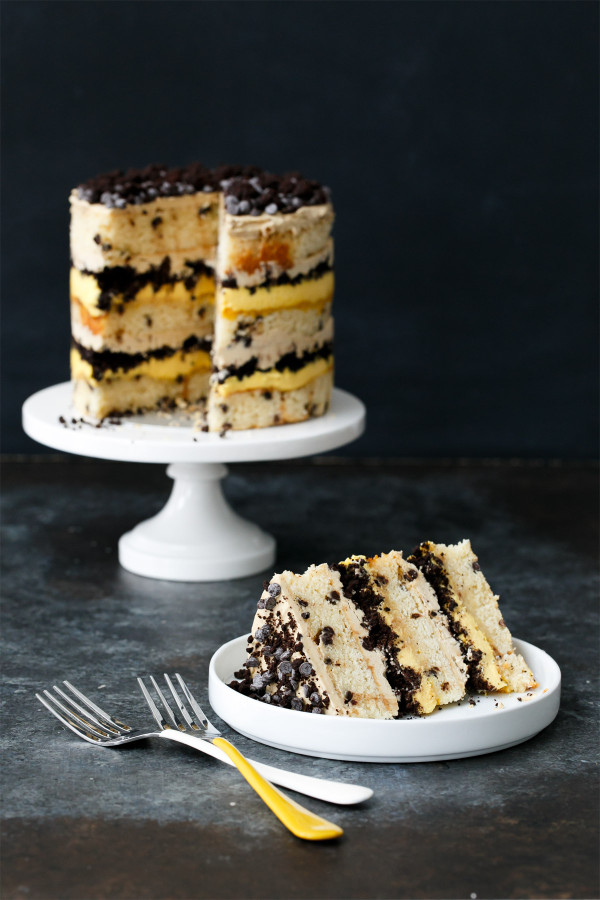 Now, don't let the sprawling, multi-part recipe scare you. In reality, this was one of the easier cakes I've put together, especially because everything except the buttercream can be made ahead of time. If you did it all in one day then sure, it'd be exhausting, but put in 30-60 minutes a day and in 4 days you'll have yourself one stunning, stark naked cake.
Here's what I did (and these pieces can be mixed and made in just about any order, this is just how I happened to do it).
Day 1: Make the chocolate crumbles. These will keep in an airtight container for up to a week (though put them out of reach otherwise you might be tempted to snack on them because they're so good).
Day 2: Make the passionfruit curd. It needs to chill for a bit anyway to properly set, so really, you have no choice but to make it ahead of time.
Day 3 AM: Make the cake. It's a one-bowl cake recipe, poured into a single quarter sheet pan, so vastly easier than the majority of layer cakes out there. You'll be cutting out your layers from this single sheet cake. It'll keep covered in the refrigerator or even in the freezer for longer if necessary.
Day 3 PM: Make the buttercream & assemble. If you use the recipe as written, give yourself a bit more time than you think you'll need. It doesn't come together quite as quickly as a typical buttercream. The assembled cake then gets frozen overnight.
Day 4: Unmold and thaw. The frozen cake needs at least 3 hours in the fridge before serving. After that, however, you are free to devour at will.
Chocolate Chip and Passionfruit Layer Cake
This towering cake may seem complex, but it's really quite manageable with a bit of planning. I recommend starting 3-4 days before you'll need to serve the cake: make the chocolate crumbs one day, the passionfruit curd the next, then the cake itself, and finally assemble it all together and freeze overnight.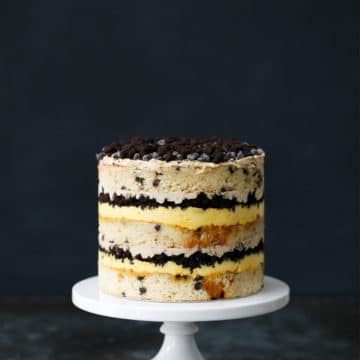 Ingredients:
For Chocolate Chip Cake:
1/2 cup (1 stick) unsalted butter, at room temperature
1 1/4 cups (250 g) granulated sugar
1/4 cup (60 g) packed light brown sugar
3 large eggs
1/2 cup buttermilk
1/2 cup grapeseed oil
1 tablespoon vanilla extract
1 1/2 cups (185 g) cake flour
1 teaspoon baking powder
1 teaspoon kosher salt
3/4 cup mini chocolate chips
For Passionfruit Curd:
1/2 cup (100 g) passionfruit puree, plus more for brushing
1/3 cup (65 g) sugar
2 large eggs
1 gelatin sheet or 1 teaspoon powdered gelatin
3/4 cup (1 1/2 sticks) cold butter, cut into chunks
1/2 teaspoon kosher salt
For Chocolate Crumble:
2/3 cup (105 g) all-purpose flour
1 teaspoon cornstarch
1/2 cup (100 g) sugar
2/3 cup (65 g) good quality dark cocoa powder
1 teaspoon kosher salt
6 tablespoons butter, melted
For Coffee Buttercream:
1/2 cup (1 stick) unsalted butter, at room temperature
1/4 cup (40 g) confectioners' sugar
1/4 cup milk
3/4 teaspoon instant espresso powder
1/4 teaspoon kosher salt
Directions:
Prepare Cake Layers:
Preheat oven to 350°F. Butter and line a quarter sheet pan with parchment paper or a silicone baking mat.
Combine the butter and sugars in the bowl of a stand mixer fitted with the paddle attachment and cream together on medium-high for 2 to 3 minutes. Scrape down the sides of the bowl, add the eggs, and mix on medium-high again for 2 to 3 minutes. Scrape down the sides of the bowl once more.
On low speed, stream in the buttermilk, oil, and vanilla. Increase the mixer speed to medium-high and paddle for 4 to 6 minutes, until the mixture is practically white, twice the size of your original fluffy butter-and-sugar mixture, and completely homogeneous. Don't rush the process. You're basically forcing too much liquid into an already fatty mixture that doesn't want to make room for the liquid. Stop the mixer and scrape down the sides of the bowl.
On very low speed, add the cake flour, baking powder, and salt. Mix for 45 to 60 seconds, just until your batter comes together and any remnants of dry ingredients have been incorporated. Scrape down the sides of the bowl. If you see any lumps of cake flour in there while you're scraping, mix for another 45 seconds.
Spread the cake batter in an even layer in the pan. Give the bottom of your sheet pan a tap on the countertop to even out the layer. Sprinkle the chocolate chips evenly over the cake batter.
Bake for 30 to 35 minutes or until puffed and doubled in size and the center is set. When gently poked with your finger, the cake should bounce back slightly.
Remove from oven and cool on a wire rack. Stored in the fridge or freezer, wrapped in plastic wrap, for up to 5 days.
Prepare Passionfruit Curd:
Put the passion fruit puree and sugar in a blender and blend until the sugar granules have dissolved. Add the eggs and blend on low until you have a bright orange-yellow mixture. Transfer the contents of the blender to a medium pot or saucepan. Clean the blender canister.
Sprinkle the gelatin over 2 tablespoons of cold water in a small bowl to bloom. Set aside for 5 minutes.
Heat the passion fruit mixture over low heat, whisking regularly. As it heats up, it will begin to thicken; keep a close eye on it. Once the mixture boils, remove it from the stove and transfer it to the blender. Whisk a few spoonfuls of the hot passionfruit mixture to the bloomed gelatin until softened and smooth, then add to blender along with butter and salt. Blend until the mixture is thick, shiny, and smooth.
Transfer the mixture to a heatproof container. Cover with a lid or plastic wrap (pressed down to touch the surface of the curd) and refrigerate until the curd has cooled completely, at least 30 minutes. The curd can be refrigerated for up to 1 week until ready to use; do not freeze.
Prepare Chocolate Crumble:
Preheat oven to 300°F. Line a baking sheet with parchment paper or a silicone baking mat.
Combine the flour, cornstarch, sugar, cocoa powder, and salt in the bowl of a stand mixer fitted with the paddle attachment. Mix on low speed until combined.
Add the butter and mix on low speed until it starts to come together in small clusters.
Spread the clusters on prepared baking sheet, breaking up into pea-sized pieces as needed. Bake for 20 minutes, breaking them up occasionally. The crumbs should still be slightly moist to the touch at that point; they will dry and harden as they cool.
Let the crumbs cool completely before using. Store in an airtight container for up to 1 week at room temperature or 1 month in the fridge or freezer.
Prepare Coffee Buttercream:
Combine the butter and confectioners' sugar in the bowl of a stand mixer fitted with the paddle attachment and cream together on medium-high for 2 to 3 minutes, until fluffy and pale yellow.
Meanwhile, make a quick coffee milk: whisk together the milk, instant coffee, and salt in a small bowl.
Scrape down the sides of the bowl with a spatula. On low speed, gradually stream in the coffee milk. The butter mixture will clump up and separate upon contact with the coffee milk. If it does, turn up the mixer speed and mix until the milk is incorporated before adding more. This WILL take a good deal of time (more than you think), just keep on mixing and it will come together eventually into a light and fluffy frosting. Use immediately.
To Assemble:
Put a piece of parchment or a Silpat on the counter. Invert the cake onto it and peel off the parchment from the bottom of the cake. Use a 6-inch cake ring to stamp out 2 circles from the cake. These are your top 2 cake layers. Cut out two half-circles (as large as you can) from the remaining cake. These, along with any leftover scraps, will come together to make the bottom layer of the cake.
Clean the cake ring and place it in the center of a sheet pan lined with clean parchment or a Silpat. Line the inside of the cake ring with 1 strip of acetate.
Piece together the two half circles and additional cake scraps as needed to form a flat even layer, using the back of your hand to tamp the scraps together. Brush with a bit of extra passion fruit puree.
Use the back of a spoon to spread half of the passion fruit curd in an even layer over the cake.
Sprinkle one third of the chocolate crumbs evenly over the passion fruit curd. Use the back of your hand to press them in place.
Use the back of a spoon to spread one-third of the coffee frosting as evenly as possible over the crumbs.
With your index finger, gently tuck the second strip of acetate between the cake ring and the top ¼ inch of the first strip of acetate, so that you have a clear ring of acetate 5 to 6 inches tall – high enough to support the height of the finished cake. Set a cake round on top of the frosting, and repeat layers of passionfruit puree, curd, crumbs, and buttercream.
Nestle the remaining cake round into the frosting. Cover the top of the cake with the remaining frosting. Garnish the frosting with the remaining chocolate crumbs and a few chocolate chips as well, if desired.
Place the sheet pan in the freezer and freeze for a minimum of 12 hours to set the cake and filling, or up to 2 weeks.
At least 3 hours before you are ready to serve the cake, pull the sheet pan out of the freezer and gently pop the cake out of the cake ring. Carefully peel off the acetate, and place the cake on a platter or cake stand. Let sit in the fridge for a minimum of 3 hours to thaw before slicing and serving. The finished cake can be refrigerated, wrapped in plastic wrap, for up to 5 days.
Did you make this recipe?
Let us know what you think!
Leave a Comment below or share a photo and tag me on Instagram with the hashtag #loveandoliveoil.