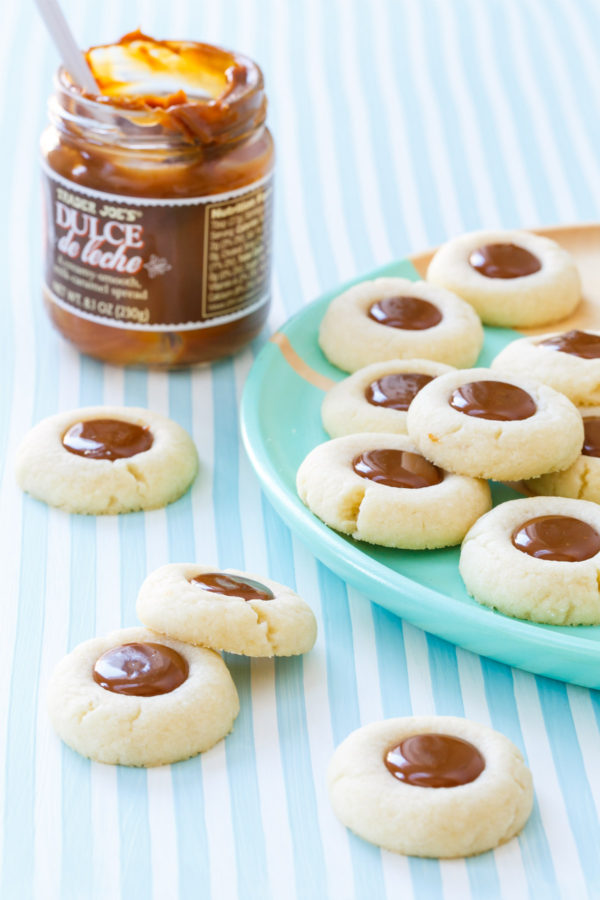 If you don't already have enough holiday cookies to go around the block a few times (and then some) here's one more last minute recipe that would be perfect for your holiday dessert table or cookie tray.
I brought a platter of these sweet gems to a neighbor's holiday party, where I swear every time I saw him near the buffet table he was popping another cookie into his mouth. I lost count of how many he ate over the course of the 3-hour party. Clearly they were a hit.
I mean, it is cookie season, after all, for a few more days at least. We should all follow his lead and make the most of it!
These buttery shortbread thumbprints are an adaptation of my original Jam-Filled Thumbprint Cookies, which are in turn adapted from a recipe in our Breakfast for Dinner cookbook (lemon poppy seed thumbprints). Proof that the same buttery shortbread base can be filled with just about anything, from dulce de leche to fruit jam to lemon poppy seed curd.
Thumbprints are by nature a more rustic-looking cookie, but I know we all strive for and appreciate a perfectly round, caramel-filled gem of a cookie. And there are a few tricks I've discovered to making perfect thumbprints.
First and foremost, might I suggest not using your thumb at all (which is far from round). Rather, use a spherical measuring spoon (like these from OXO) to gently press a circular indentation in the center of the cookie. The 1/2 teaspoon size is just perfect. Heck, you could even use a marble or other similarly sized spherical object.
Don't press too deep or the cookies might crack (and if they do crack, that's ok, just pinch the cracks back together so the filling won't escape). It also helps to flatten the dough ball it slightly with the ball of your hand before making the indentation in the middle.
The cookies will spread a bit and the thumbprints (or spoon prints) will loose some of their definition. After about 8 minutes of baking remove them from the oven and gently press the spoon back into the cookies to re-define the thumbprint (this is when the spoon becomes especially handy because OUCH, hot cookies!)
For a sticky filling like dulce de leche I found using a small piping bag fitted with a 1/2-inch round tip was perfect, and allowed me to fill the cookies quickly and get them back in the oven before they cooled down. Your dollops do not have to be perfect, they'll spread and even out during the second, shorter baking period.
I want to talk for a moment about baking sheets, because it really does matter which one you use, especially for these cookies. As you can see above, the cookies look drastically different depending on which baking sheet they were baked on. From left to right: shiny aluminum (like the kind you can buy cheap at a culinary supply store), light nonstick (these happen to be King Arthur brand, but the Chicago Metallic ones are nice too), and dark nonstick (some Oneida Target brand cookie sheets I've had for years). The differences are even more pronounced when you use parchment or no pan lining at all (these were all baked on silicone baking mats).
Normally, the light colored nonstick with a silicone baking mat is my go-to, and 90% of the cookies I bake use this combination. For these particular cookies, however, the shiny aluminum pan produced the nicest looking cookies, while the dark nonstick pan caused the cookies to spread out and brown more on the bottom.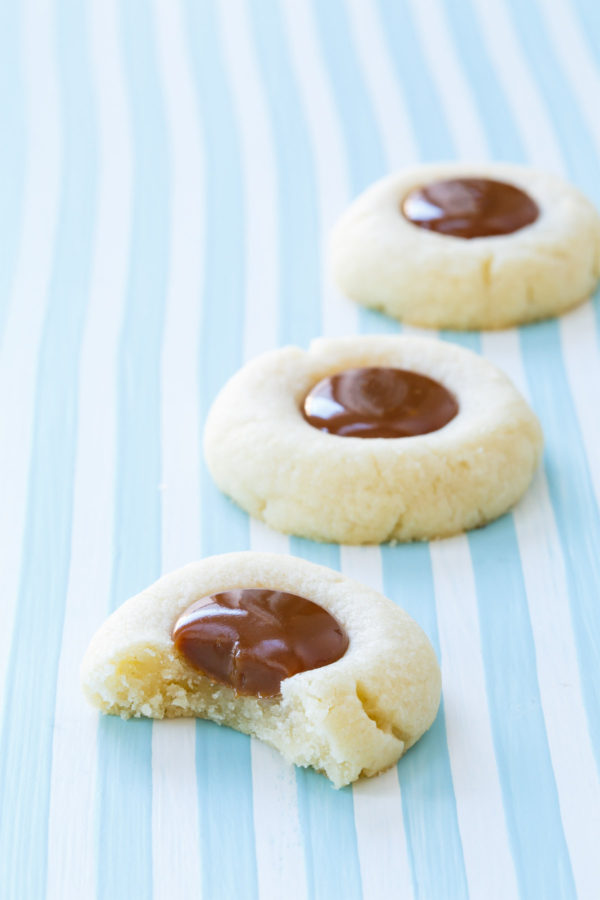 If you bake often, I'd recommend getting a few different kinds of sheet pans for your kitchen. Whenever you try a new recipe, bake a few test cookies first: drop a ball or two of dough onto two or three of your different pans and bake them up (for a slightly shorter period of time than if you were baking a full pan's worth). Then you can see which pan works best for that particular kind of cookie.
That's cookie science for you.
Happy holidays!
Dulce de Leche Shortbread Thumbprint Cookies
Buttery shortbread thumbprint cookies filled with rich and creamy dulce de leche.
Ingredients:
1 cup (2 sticks) unsalted butter, room temperature
2/3 cup granulated sugar
1 large egg yolk
1 teaspoon vanilla extract
2 1/4 cups (280g) all-purpose flour
1/2 teaspoon kosher salt
6 ounces dulce de leche*
Directions:
Preheat oven to 375 degrees F. Line a light or medium-colored heavy-weight baking sheet with parchment paper or a silicone baking mat.
Beat together butter and sugar with an electric mixer on medium-high speed until light and fluffy, about 1 to 2 minutes. Beat in egg yolk and vanilla extract. Add flour and salt and mix until incorporated and dough comes together in a ball.
Form dough into 1-inch balls and arrange on prepared baking sheet. Flatten balls slightly with the ball of your hand, then gently press your thumb or the back of a small spoon into the center of the cookie to leave a shallow indentation.
Bake cookies for 8 to 10 minutes or until bottoms are just barely golden. Remove baking sheet from oven. Gently press the back of a spoon to re-define thumbprints, and then fill each with approximately 1/2 teaspoon dulce de leche (more/less depending on the size of your thumbprints). Return to oven and bake for an additional 3 minutes, or until filling levels out and bottoms of cookies are lightly golden. Transfer cookies to wire racks to cool.
* I used Trader Joe's brand Dulce de Leche here (because it's awesome) but Nestle's La Lechera brand comes in cans and is readily available at most supermarkets (look in baking aisle by the sweetened condensed milk). You can also make your own if you have the patience. Do not substitute caramel sauce here as it is much too thin.
Did you make this recipe?
Let us know what you think!
Leave a Comment below or share a photo and tag me on Instagram with the hashtag #loveandoliveoil.