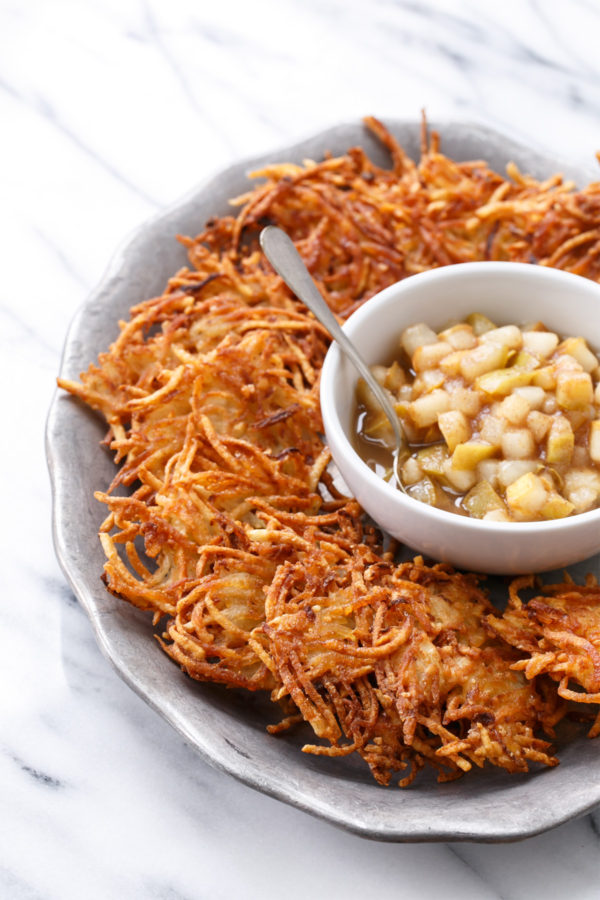 It's Hanukkah time, and you know what that means: latkes. Lots and lots of latkes.
I've discovered that when it comes to latkes, there are two kinds of people in this world: sour cream people and applesauce people. Although I've sometimes found myself in the center of this latke-venn diagram, dolloping both sour cream and applesauce onto my potato pancakes (I know, I'm such a rebel).
I'd argue, however, for the existence of a third distinct type of latke-consumer, one that could potentially unify the rest of the world because it's so gosh darn delicious: pear compote. Spiced pear compote to be precise.
You see, latkes on their own are little more than glorified hash browns. Ok, I take that back, latkes are way better than hashbrowns. But they're still just crispy fried potatoes. With a topping, however, they become something I can devour by the dozen. The sweetness of the fruit (be it apple or pear) plays off the richness of the fried potato. The sour cream offsets it much like it would on a baked potato (but so much better).
This pear compote is a perfect substitution for applesauce, the natural sweetness from the fruit and a touch of brown sugar and spice will almost make you feel like you're eating dessert. Fried potato dessert. It's no wonder I can put these away like no other.
December is National Pear Month, and we've partnered with USA Pears to showcase some of the season's best varieties. This sweetly spiced pear compote utilizes two varieties, the softer, sweeter Bartlett for flavor and the firmer Anjou for texture. You could certainly use a single variety, but I found the mixture of the two made for the perfect balance of sweetness, flavor, and texture.
The crispy latke recipe is based off my Grandmother's recipe, which I only just discovered came from an old cookbook from 1918 called The International Jewish Cookbook. I've got her original copy, complete with its brittle pages and masking-taped cover. It's a precious, beautiful thing.
You can identify the different pear varieties by their shape and color. Bartlett pears are yellow-green in color with a classic pear shape (what a concept… a pear-shaped pear). Anjou pears, on the other hand, are often smaller, brighter green and less curvy, shaped more like an avocado than a pear.
As with these Marzipan Pear Hand Pies, you want ripe but firm pears for this compote. If the pears are too soft they'll melt into mush as soon as they hit the heat. Firmer pears will hold their shape better, and give off less liquid that would result in a watery sauce.
I will add that this compote is not just for latkes. In fact, I'd argue that it'd be just as good spooned over a scoop of vanilla ice cream or dolloped in to your morning bowl of yogurt and granola. Talk about a versatile recipe, be it breakfast, lunch, or dinner.
Tip: when making latkes, it's crucial that the grated potato be as dry as possible. So after grating (use a food processor to make quick work of this otherwise tedious task), wring out the potato in a clean kitchen towel (one that you don't care about too much since it will turn brown). I've also found that a regular old salad spinner, lined with paper towels, does a bang-up job at getting excess moisture out of the potatoes.
When you're ready to fry, you want a good 1/4-inch of oil in your pan. Take it from me, who took it from Grandma… don't skimp on the oil or your latkes will not be nearly as crispy as they could be.
Crispy Potato Latkes with Spiced Pear Compote
Ingredients:
For Latkes:
2 large russet potatoes (about 1 1/2 pounds), peeled and grated
1/4 large onion
1 egg, lightly beaten
2 tablespoons matzo meal or flour
1 teaspoon kosher salt
1/2 teaspoon freshly ground black pepper
vegetable oil, for cooking
For Pear Compote:
1 Green Bartlett pear, ripe but firm, cored and cut into 3/8-inch dice
1 Green Anjou pear, ripe but firm, cored and cut into 3/8-inch dice
2 teaspoons lemon juice
1 tablespoon brown sugar
1/4 teaspoon ground cinnamon
1/8 teaspoon ground cardamon
Directions:
Turn oven on to lowest setting (170 degrees typically), and place a baking sheet inside.
Squeeze as much moisture out of the grated potatoes as possible (wring it out in a clean kitchen towel or spin it in a paper-towel lined salad spinner).
Combine grated potato, onion, egg, matzo meal, salt and pepper in a large bowl, folding with a fork until evenly moistened.
Heat a large skillet (or two skillets if you want to speed up the cooking process) over medium heat. When hot, add a 1/4-inch deep layer of oil to the pan.
When the oil is shimmery and a test piece of potato sputters and sizzles, the oil is ready. If it's too hot and starts to smoke, reduce the heat slightly.
Spoon a heaping tablespoon of potato into the hot skillet, spreading out to a 3-inch round. You should be able to cook about 3-4 latkes at a time depending on the size of your pan, but don't overcrowd the skillet.
Cook for 3-4 minutes per side or until golden brown, then flip and cook for another 3-4 minutes more. Remove from oil with a slotted spatula, letting any excess oil drain off. Place on baking sheet in the oven to keep warm while you cook the remaining pancakes.
To prepare compote, toss diced pears with lemon juice immediately after cutting to prevent browning. Set a saucepan over medium heat and add pears along with brown sugar, cinnamon, and cardamon. Gently simmer for 5 to 7 minutes, stirring occasionally, until pears are just starting to soften. Remove from heat and transfer to a bowl for serving.
Did you make this recipe?
Let us know what you think!
Leave a Comment below or share a photo and tag me on Instagram with the hashtag #loveandoliveoil.
Disclosure: This post was sponsored by the USA Pears. As always, all opinions written are purely our own. We're incredibly grateful for opportunities like these that allow us to continue sharing delicious recipes with you, so thank you for supporting us and the brands we love.