Let's be honest with ourselves: this is cake, through and through.
Cake disguised as breakfast.
It's amazing how much importance we place on a name, a title, a declaration of just what it is and when you're supposed to eat it. If I were to call this Double Chocolate Banana Cake, for example, there's no denying it'd make one heck of a satisfying dessert.
But no, I want to eat my cake for breakfast, so chocolate banana bread it is. Because bread = breakfast, while cake = dessert. Kind of like the difference between muffins and cupcakes, granola bars and candy bars, or smoothies and milkshakes. So what you call something is important, especially if you're looking for justification to eat cake for breakfast, that is.
Now we just have to figure out a different name for ice cream and we're set.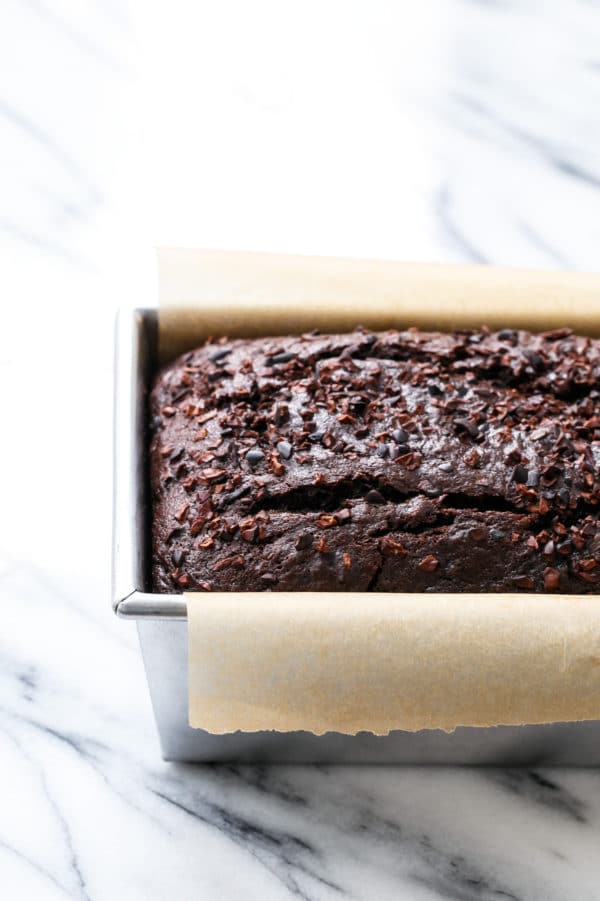 But anyway, back to this cake bread.
I've long been a proponent of chocolate chips in my banana bread. To me, there's just no other way. I mean nuts.. raisins? I'd rather eat mush for breakfast.
This recipe takes that choco-love one step further, adding dark cocoa powder to the batter for a truly, madly, deeply chocolate bread.
And chocolate chips too (of course).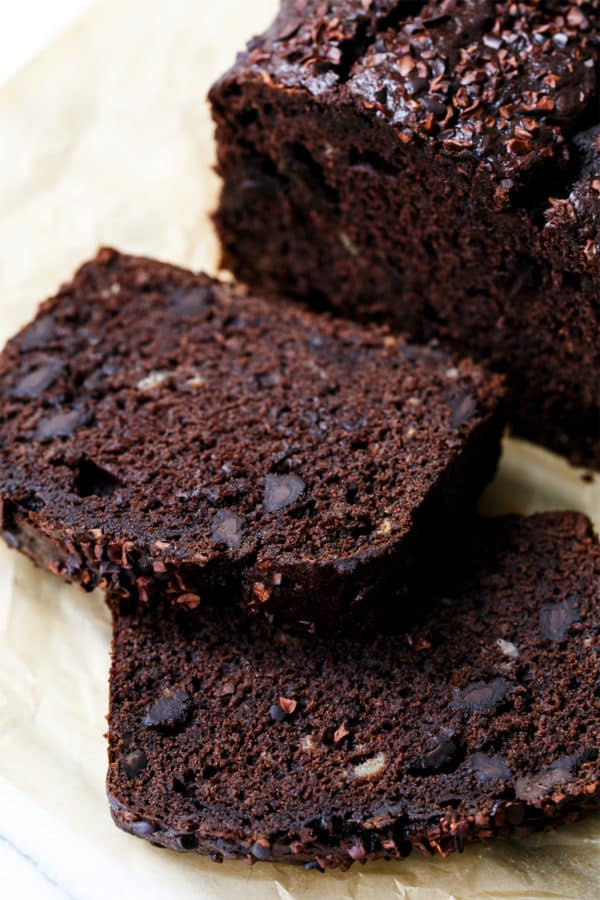 My first attempt was little more than a glorified brick of wasted cocoa powder, dry on the outside and undercooked in the center. I had the bright idea to save myself time and hassle by using a recipe from a trusted source (why reinvent the wheel, right?) proving that sometimes even the best recipes can fail. Was it me or the recipe? I can't say for sure.
All I know is I ended up with a hunk of practically inedible bread and a husband scrounging for breakfast food because I used up all his bananas with nothing else to show for it. Oops.
Needless to say, I moved on and instead adapted my go-to banana bread recipe, one I've made countless times and I know works for me. Swapped some of the flour for a hearty dose of cocoa, made a few more tweaks for substance and flavor, and voila. Perfect chocolate banana bread.
AND I remembered to buy extra bananas this time too so Taylor wasn't left hungry. Even better, he had plenty of bananas AND a generous slice of this decadent and filling bread for breakfast that week. He liked it so much that he's practically demanded I have a loaf on hand every week.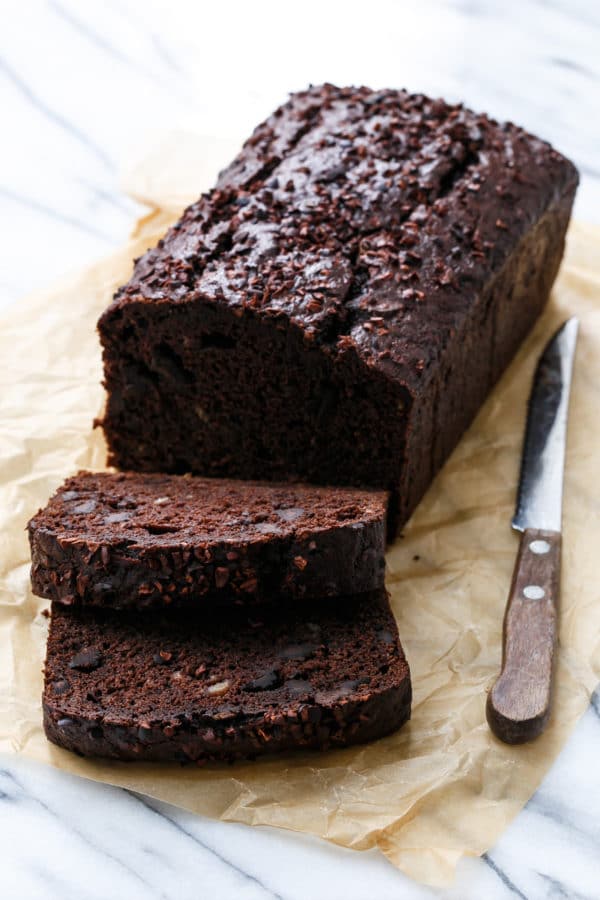 I topped my banana bread with cacao nibs of added crunch. It's my favorite trick for adding texture to chocolate treats without adding nuts (though you could certainly add nuts if you like).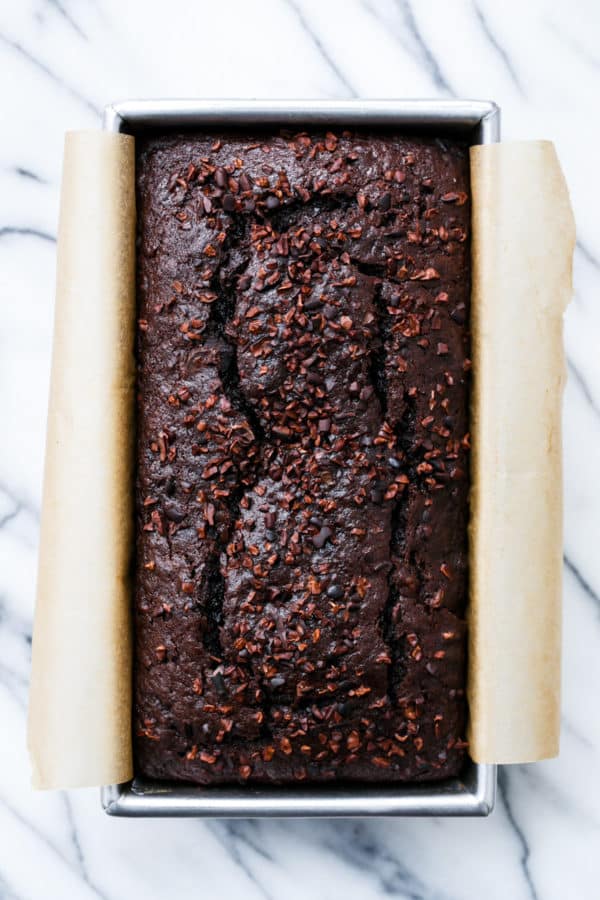 Now, seeing that we talked so much about the cake-like characteristics of this bread, if you really did want to turn it into a show stopping dessert, it'd need little more than a sweet glaze (or even a drizzle of chocolate ganache) and a scoop of vanilla ice cream served alongside.
We've all heard about breakfast for dinner, but this takes breakfast for a dessert to a whole other level.
Double Chocolate Banana Bread
This might just be your new favorite banana bread, moist and tender with a double chocolate kick. Topped with cacao nibs for an added crunch. A perfect excuse to eat cake for breakfast.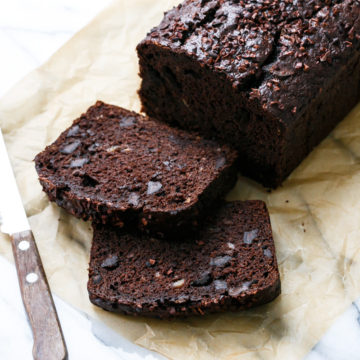 Ingredients:
1 1/4 cups all-purpose flour
1/2 cup dark or Dutch-processed cocoa powder, sifted
1 teaspoon baking powder
1/2 teaspoon baking soda
1/4 teaspoon salt
2 large ripe bananas, mashed
2 large eggs
1/2 cup granulated sugar
1/2 cup packed light brown sugar
1 teaspoon vanilla extract
1/2 cup (1 stick) unsalted butter, melted and slightly cooled
1/2 cup chocolate chips
2 tablespoons cacao nibs, for topping (optional)
Directions:
Preheat oven to 350 degrees F. Butter and line a 9-by-5-inch loaf pan with parchment paper (cut a 9-inch wide strip of parchment and press it into the pan, covering  the bottom and sides, leaving at least a 1-inch overhang on the long edges; it's ok if the short ends are left unlined so long as they are buttered).
In a large bowl, sift or whisk together flour, cocoa powder, baking powder, baking soda, and salt and set aside.
Mash bananas in a bowl until mostly smooth (the riper your bananas, the easier they will be to mash). You should have about 3/4 cup. Whisk in eggs, then add sugar, brown sugar, and vanilla and whisk to combine. Finally whisk in butter.
Pour wet ingredients into bowl with dry ingredients and whisk until just incorporated and no streaks of dry ingredients remain. Stir in chocolate chips.
Pour batter into prepared pan. Sprinkle with cacao nibs if desired. Bake for 50 to 60 minutes or until a long skewer or thin metal knife inserted near the center comes out clean. Place pan on a wire cooling rack and let cool to lukewarm. To remove, run a thin metal spatula along the short (unlined) sides of the pan. Use the overhanging parchment to gently lift the entire loaf out of the pan and place on a cutting board to slice and serve. Store in an airtight container at room temperature for up to 3 days.
Did you make this recipe?
Let us know what you think!
Leave a Comment below or share a photo and tag me on Instagram with the hashtag #loveandoliveoil.