Roasted cauliflower, crispy pancetta, and cream-filled burrata cheese finish off this unique twist on pasta carbonara.
The trick to a perfectly smooth and creamy carbonara is to temper the eggs gently (to prevent them from scrambling), resulting in a perfectly rich and creamy sauce that's out of this world.
There are few things more satisfying than a perfectly creamy pasta carbonara for dinner.
Unless, of course, it's topped with hunks of cream-filled burrata cheese. That addition alone ups the delicious factor tenfold without a second thought.
I'm a big proponent of the "burrata makes everything better" philosophy, whether it be salad or flatbread or pasta… toss a bit of burrata in there and your dish will be anything but mediocre.
But the burrata isn't the only thing this pasta has going for it…
It's also got roasty toasty cauliflower.
Roasting is my absolute favorite way to cook cauliflower (short of frying in in brown butter, of course) as the formerly flavorless vegetable takes on an entirely new life once it's roasted to a rich golden brown. Nutty and buttery and as satisfying as any potato ever was.
We used Fusilli Col Buco pasta for this recipe (also sometimes called Fusilli Lunghi, Fusilli Bucati if it's cut into shorter pieces). I'd argue it is one of the most delightful pasta shapes out there. It's what you'd get if bucatini and fusilli had a love child, the long, hollow spiral strands winding around your bowl like an old-school telephone cord. Of course, you could certainly use any other long-strand shape such as bucatini, perciatelli, or spaghetti, or a swirly short-cut with ample nooks and crannies like fusilli, rotini, or gemelli.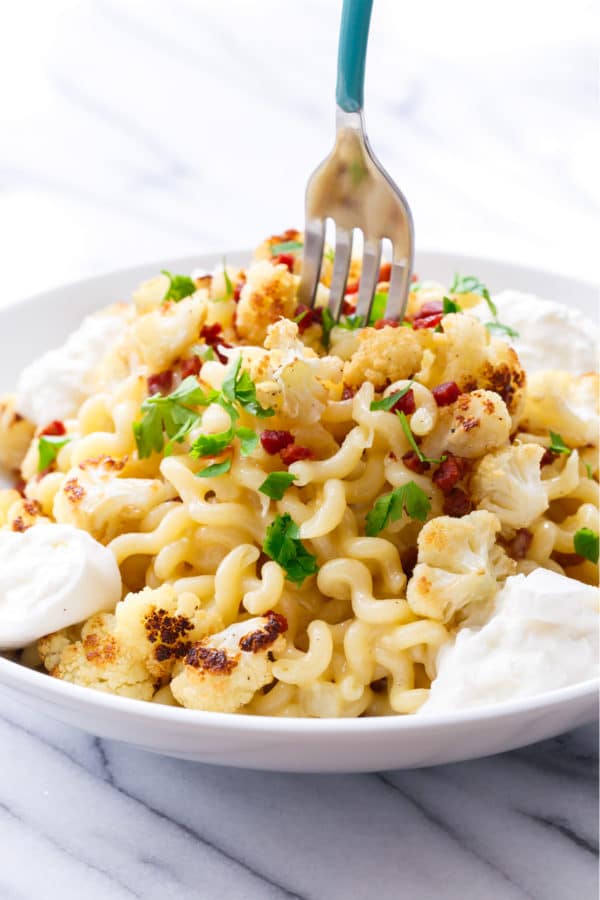 The cornerstone of a traditional carbonara is a sauce made from eggs and grated Parmesan cheese (one case where that powdery stuff really is the best option), and tossed with al-dente pasta along with softened onions, crispy bacon or pancetta, and a hearty dose of black pepper. Many recipes add milk or cream but I find that entirely unnecessary, the final product tasting too alfredo-like for me.
Our 'trick' for perfectly creamy sauce (rather than scrambled, curdled, or watery in consistency) is something we learned from countless batches of homemade ice cream: namely, to temper the eggs before adding the sauce to the hot pan. You acheive this by whisking 1/2 cup of hot pasta water into the egg and cheese mixture. This thins the sauce (instead of using milk or cream like many recipes) as well as prepares the eggs for the shock of a hot pan, making it less likely to scramble or curdle. Once you pull your pan off the heat, add the sauce and stir vigorously (seriously, don't stop!) until the pasta is completely coated and the sauce is thickened. Then transfer it to your serving dishes and enjoy it while it's still warm and creamy.
Unlike other pasta dishes, this one is best served immediately after cooking. Even 30 minutes later the sauce will take on an appetizing consistency. While you can certainly enjoy the leftovers the next day, it's never quite the same.
Roasted Cauliflower Carbonara with Burrata
Roasted cauliflower, crispy pancetta, and cream-filled burrata cheese finish off this unique twist on pasta carbonara. The trick to the sauce is to temper the eggs first, resulting in a perfectly creamy sauce that's out of this world.
Ingredients
1

head

cauliflower

,

trimmed and cut into bite-sized florets

olive oil

,

for roasting

4

ounces

/

113

g

pancetta

,

cut into cubes

½

large

onion

,

chopped

2

cloves

garlic

,

minced

3

large

eggs

,

at room temperature

1

cup

grated parmesan cheese

salt and pepper

,

to taste

8

ounces

/

226

g

fusilli col buco

,

bucatini, or spaghetti

1

ball

burrata cheese

,

torn into chunks

fresh chopped parsley

,

for topping
Instructions
Preheat oven to 400 degrees F. Line a baking pan with foil; spray with cooking spray. Toss cauliflower florets with a tablespoon or two of olive oil; sprinkle generously with salt and pepper. Spread onto prepared baking sheet in a single layer. Roast for 25-30 minutes, stirring part way through, until tender and golden brown in spots.

Cook pancetta in a large skillet set over medium-high heat until crispy. Remove with a slotted spoon and transfer to a paper-towel lined plate and set aside.

Return skillet and leftover rendered fat to medium-high heat. Add onion and garlic and saute until softened, 6 to 8 minutes.

Meanwhile, bring a large pot of salted water to a rolling boil. Add pasta and cook about 1 minute less than package instructs, until just barely al dente. Try to time the pasta so it is done at the same time as the onions and garlic.

When pasta is just barely al dente, transfer to hot skillet with onions and garlic using tongs or a slotted spoon, reserving 1/2 cup or so of hot pasta water. Toss pasta until well coated and onion/garlic is evenly distributed throughout, 3 to 4 minutes.

In a bowl, whisk egg, parmesan, and a hearty pinch of salt and pepper until smooth. Slowly whisk in reserved pasta water, drizzling slowly as you whisk, to temper and thin the sauce.

Remove skillet from heat and immediately add whisked egg mixture, stirring vigorously, until sauce thickens and coats the pasta. Transfer to serving bowls and top with browned cauliflower, crispy pancetta, chunks of burrata and a sprinkle of fresh parsley. Serve immediately.
All images and text © for Love & Olive Oil.
Did you make this recipe?
Let us know what you think! Leave a Review below or share a photo and tag me on Instagram with the hashtag #loveandoliveoil.