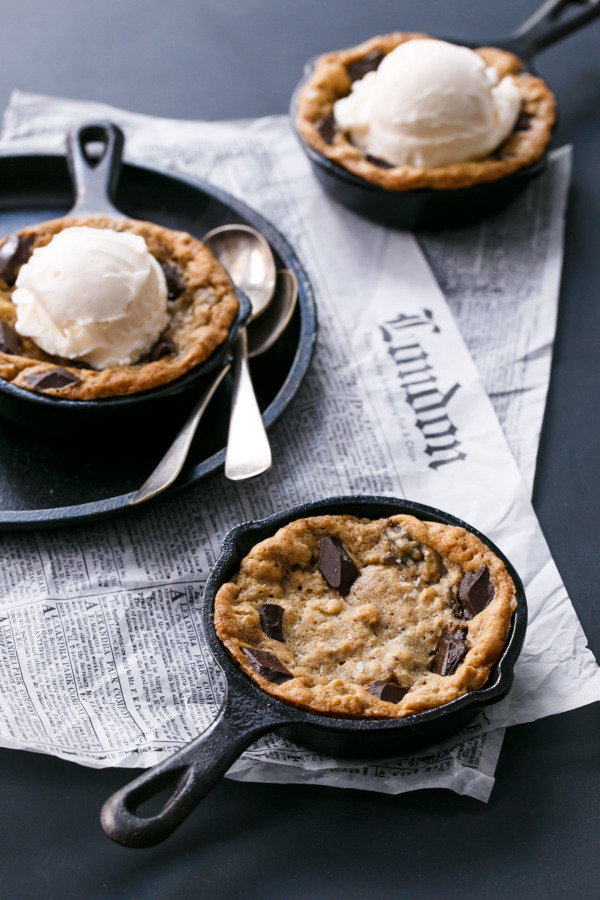 I've been testing these cookies on and off for months now, trying to get the perfect chewy and gooey texture, one that melts in your mouth and tickles your palette, the perfect balance of chewy and gooey and crispy and melty, served warm right out of the oven. Easier said than done (isn't it always?) but after a dozen or so batches I dare say I've finally got it.
And Taylor has never been happier.
If he had his way I would've continued to 'test' this recipe every day for the next 364 weeks.
I, however, didn't think you all would appreciate having to wait 7 years for me to share this recipe, since it's something you need to make, immediately.
I swear, if I knew just how much he'd love these personal-sized skillet cookies, sweet and salty and studded with chunks of melted chocolate, I'd have been making them for years. I honestly don't think I've ever made a recipe that has pleased Taylor so much. I mean, yeah, chocolate cake is good and all, but if skillet cookies (which are 10 times easier and quicker to make AND clean up) make him just as happy, why bother with the mess of cake?
The fact that they are mini (and we all know that everything is better in miniature, a fact I've proven before), only adds to their appeal: he gets his very own cookie all to himself, and doesn't have to touch spoons with me (his aversion to sharing is baffling, but I chalk it up to simply "a guy thing").
I will admit, their mini size means that while one is good, two is better. I mean, I have four mini cast-iron skillets, and we can all agree that warm and gooey skillet cookies are the only way to go, so we can't very well let those other two go to waste now, can we? I should probably label them half-serving rather than single serving cookies, if we're being honest with ourselves here.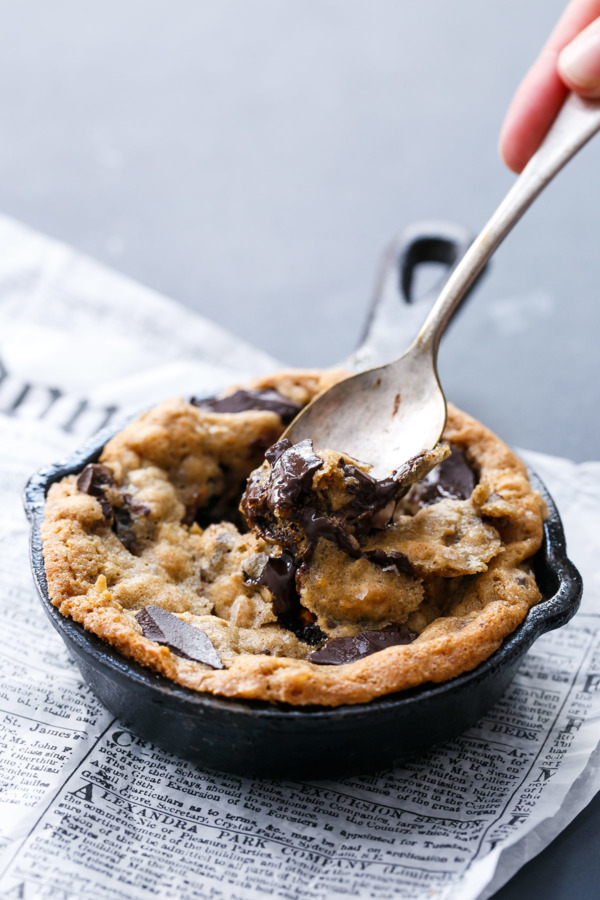 These cookies have a little more sass than your typical chocolate chip: with a bit of old fashioned rolled oats for added texture and chewiness, a dash of cinnamon and a hint of espresso powder for richness and depth, and plenty of brown sugar for an incredibly rich, well-rounded flavor and moisture. I used chocolate chunks instead of chocolate chips just because they look like they belong in a rustic iron skillet (don't you agree?)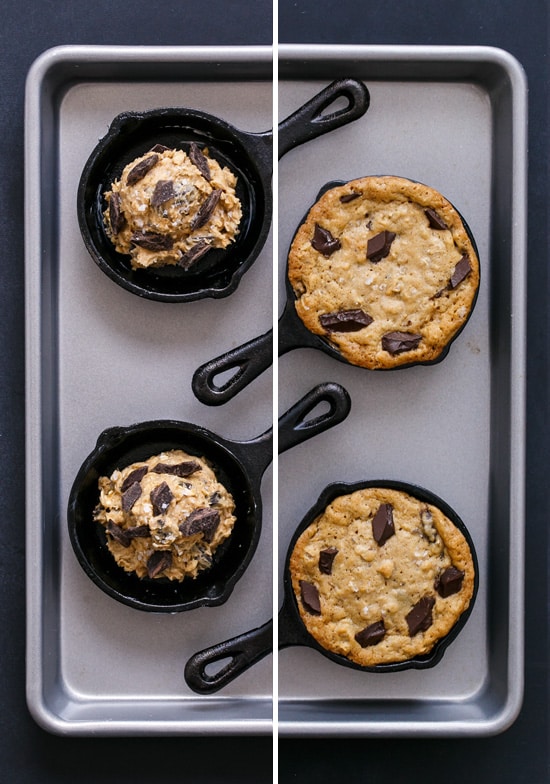 Before baking, I like to top my cookies with a few extra chunks of chocolate and a sprinkle of flake sea salt, so they come out of the oven picture perfect and ready to be devoured. If you've ever wondered how those food magazines get picture-perfect chocolate chips on the tops of their cookies, well, now you know. Chips inside, AND chips on top.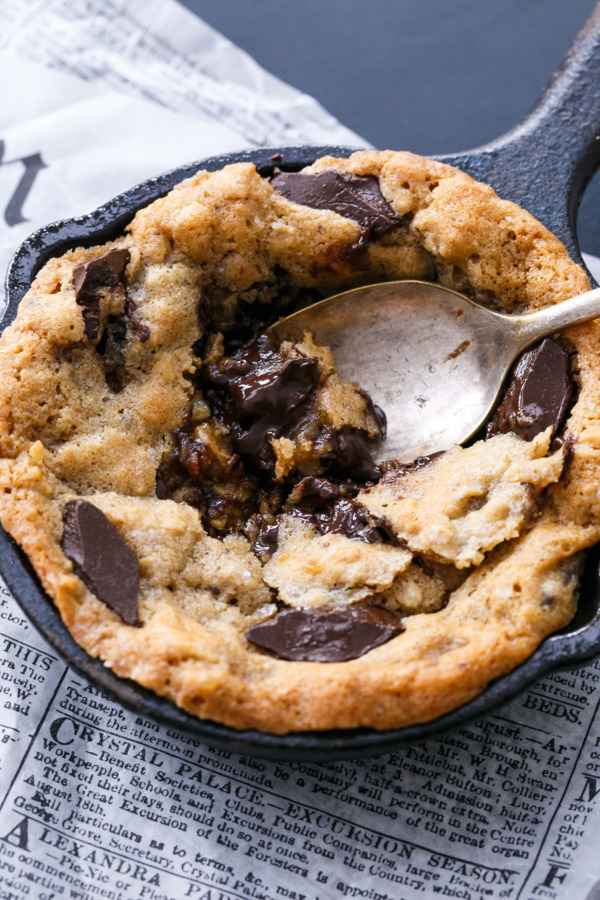 The recipe makes enough dough for about 8 single serving (er, half serving if you prefer) mini skillet cookies, made with these precious 3.5-inch Lodge cast iron skillets (and if you've never thought of a cast-iron skillet as 'precious' then you haven't beheld these). You could also use a larger 6 1/2 or 8 inch skillet and make a larger cookie to share.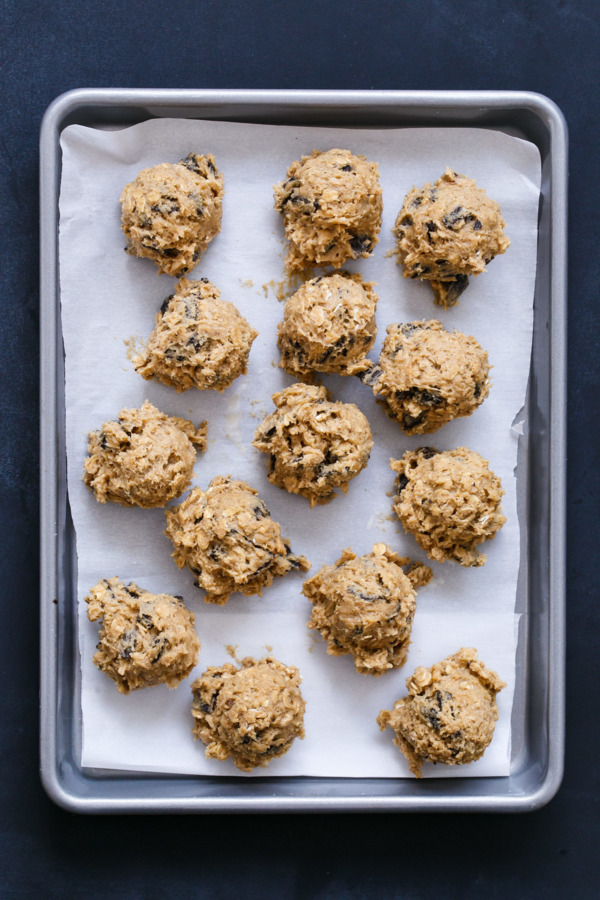 If you're like us and ample cabinet space is not a luxury you are lucky enough to enjoy, having more than 4 mini cast iron skillets on hand probably isn't a reasonable option. In which case, know that the extra dough freezes beautifully, pre-scooped into perfectly portioned balls (medium cookie scoop, for the WIN) and frozen on a cookie sheet, then transferred to a zip-top bag labeled with the pertinent information (description, date, cook time and temperature).
So now, when a skillet cookie craving hits you, all you have to do is pop one out of the freezer, into the skillet, and into a preheated oven and in 15 minutes you have yourself a warm and gooey skillet cookie.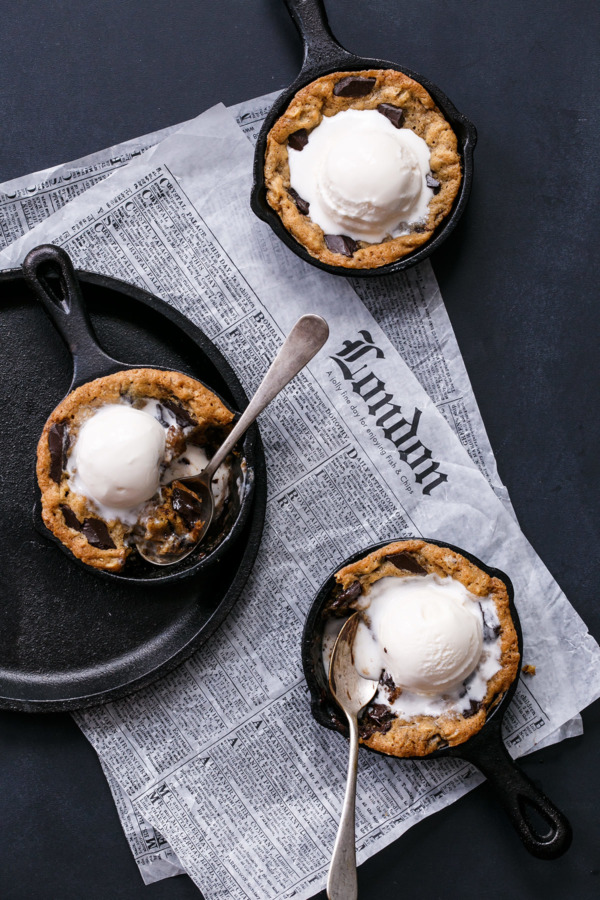 If your husband/spouse/roommate is anything like mine, I would strongly suggest making a double batch and stockpiling the dough balls in the freezer. Especially if you happen to be going out of town on a beach retreat and he is left home alone to deal with needy cats for three days… having a ready supply of skillet cookies might just earn you a pass this time.
Mini Oatmeal Chocolate Chunk Skillet Cookies
Personal sized oatmeal chocolate chip skillet cookies (aka Pizookies) are best served warm right out of the oven with a scoop of vanilla ice cream.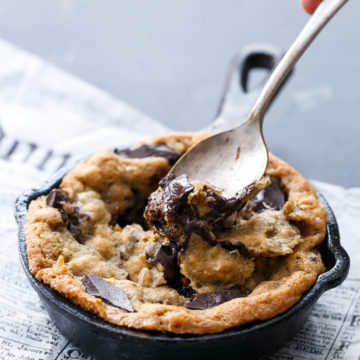 Ingredients:
3/4 cup all-purpose flour
3/4 teaspoon baking soda
1/2 teaspoon fine sea or kosher salt
1/2 teaspoon instant espresso powder
1/4 teaspoon ground cinnamon
6 tablespoons unsalted butter, room temperature
2/3 cup packed light brown sugar
1 large egg
1 teaspoon vanilla extract
2/3 cup rolled oats
1/2 cup chocolate chunks or chocolate chips
flake sea salt, for topping (optional)
Directions:
Preheat oven to 350 degrees F. Lightly butter or grease 8 mini (3.5-inch diameter) cast iron skillets. Arrange on a baking sheet.
In a bowl, whisk together flour, baking soda, salt, espresso powder, and cinnamon until incorporated. Set aside.
In a mixing bowl or the bowl of a stand mixer, beat butter and sugar until light and fluffy, 2 to 3 minutes. Mix in egg and vanilla, scraping down the side of the bowl as needed. Add dry ingredients and oats and mix until just incorporated. Stir in chocolate chunks.
Spoon dough into 2-inch diameter balls, approximately 2 tablespoons or 1 3/4 ounces of dough per ball (I find a medium cookie scoop is the perfect portion for this). Drop balls into prepared skillets. Top with a few more chocolate chunks and a sprinkle of flake salt (if desired). Dough balls can also be frozen on a lined cookie sheet until frozen solid, then transferred to a zip top bag for later use.
Bake for 14 to 16 minutes or until edges are golden and center is just set but not overcooked. If you like your cookies gooey, err on the side of underdone. If you like your cookies crispy, cook for a minute or two longer. Add one minute of cook time if cooking dough from frozen (do not thaw first).
Let cool for 5 minutes before serving warm with homemade vanilla ice cream.
Did you make this recipe?
Let us know what you think!
Leave a Comment below or share a photo and tag me on Instagram with the hashtag #loveandoliveoil.