Blueberry ice cream is one thing (believe me, it's delicious!)
But roasted blueberry ice cream? That's on an entirely different wavelength altogether.
There's something about the act of roasting berries that intensifies every aspect: flavor, sweetness, aroma, color.
To make it even more interesting I tossed these berries with a bit of balsamic vinegar and muscovado sugar (my latest obsession thanks to Shauna), and also replaced some of the granulated sugar with muscovado in the ice cream base; just two tablespoons of which gives the final ice cream a light caramel color and a subtle molasses flavor that only enhances the flavor of the blueberries.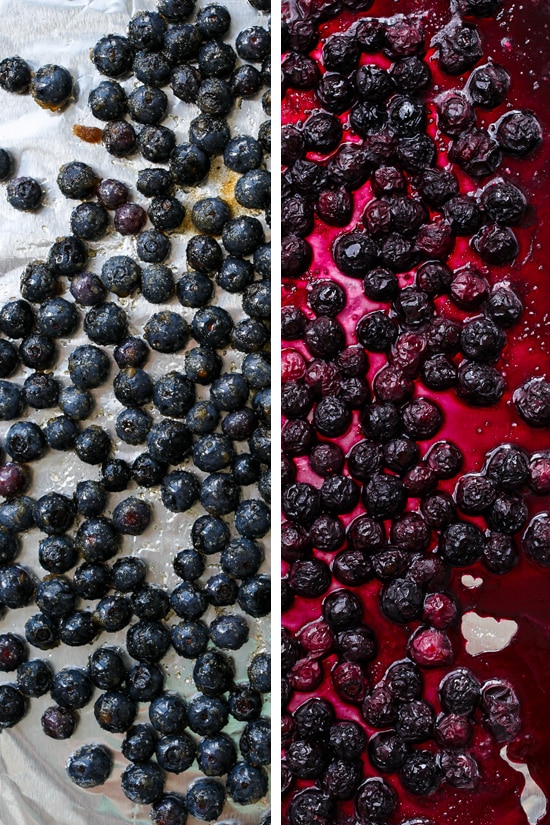 I swirled this roasted goodness into the final ice cream at the very end when it was done churning, choosing to do so by hand rather than with the beater blade to keep the swirl in tact. I felt like King Midas of the blueberries: everything I touched instantly turned deep purple. If you want a similar effect I recommend swirling it in by hand a little bit at a time as you transfer the ice cream to the final freezer container. Of course, you could stir in the blueberry more thoroughly for a gorgeous fuchsia hue throughout and a more consistent overall texture (nothing wrong with that), but I found the blueberry swirl gave the ice cream a nice textural contrast, with the creamy rich ice cream punctuated with ribbons of icy frozen berries.
You could make this with frozen blueberries as well, just throw them right in the oven with the sugar and balsamic vinegar. And because of the nature of frozen berries you'll probably get even more delicious juices than with fresh berries… so swirl away!
And while I strongly recommend getting yourself some muscovado sugar (once you try it you'll want to use it in everything) you can also use dark brown sugar in its place.
I'm really digging this blueberry week thing, and hope you are too. And I'm just getting started!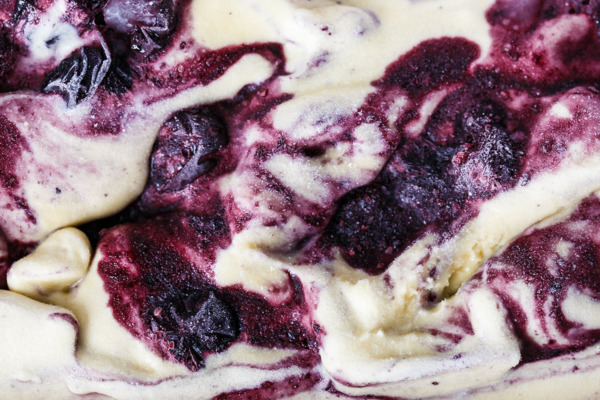 Muscovado Roasted Blueberry Ice Cream
Rich, custardy homemade ice cream with a stunning blueberry swirl. The blueberries are roasted with muscovado sugar and a splash of balsamic vinegar for an intensely blueberry flavor.
Ingredients:
8 ounces (1 pint, about 2 cups) fresh blueberries
1/4 cup muscovado or dark brown sugar, divided
1 teaspoon balsamic vinegar
1 1/2 cups heavy cream, divided
1 1/2 cups whole milk
1/2 cup granulated sugar
pinch salt
4 large eggs
Directions:
Preheat oven to 375 degrees F. Toss blueberries with 2 tablespoons of muscovado sugar and balsamic vinegar until evenly coated. Spread on a foil-lined baking sheet. Bake for 10 to 15 minutes or until berries are softened and juices are slightly thickened and bubbling. While still warm, pour berries into a bowl or heat-proof container and let cool completely; cover and refrigerate until completely cooled.
To prepare ice cream base, pour 1 cup of the heavy cream into a heat-proof bowl and nest inside a larger bowl filled with ice water. Place a fine mesh sieve over the top of both bowls.
In a saucepan, combine remaining 1/2 cup cream, milk, granulated sugar, remaining 2  tablespoons muscovado sugar, and salt. Cook gently over medium heat, stirring regularly, until sugar is dissolved and mixture just starts to steam. Remove from heat.
In a small bowl, whisk egg yolks. Slowly whisk in some of the warm cream mixture, 1/3 cup at a time, until about half of the cream mixture has been incorporated and yolk mixture is warm to the touch. You want to do this gradually; doing so will temper the egg yolks rather than cook them.
Pour yolk mixture back into the saucepan and return to medium heat, stirring constantly, until the mixture thickens slightly and coats the back of a spatula, about 5 to 7 minutes, or until it reaches approximately 165 to 170ºF. Do not allow it to boil. Pour mixture through sieve into cold cream, discarding any solids. Add vanilla paste or extract and let cool to room temperature, stirring occasionally. Cover with plastic wrap, carefully pressing wrap down onto the surface of the cream mixture. This will prevent a skin from forming on top of the custard. Refrigerate until completely cool, at least 3 hours or overnight if possible.
When ice cream base is thoroughly chilled, churn ice cream according to manufacturer's instructions.
Once ice cream has churned to the consistency of soft serve, swirl in chilled blueberry mixture and transfer to a freezer safe container and freeze at least 2 hours or overnight until firm.
Did you make this recipe?
Let us know what you think!
Leave a Comment below or share a photo and tag me on Instagram with the hashtag #loveandoliveoil.