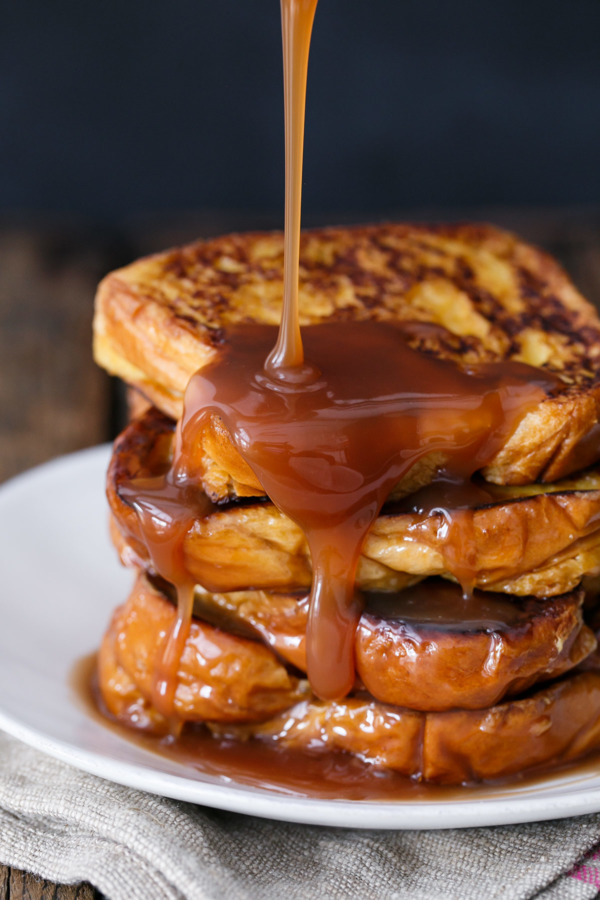 Over the years, I've learned a thing or two about French toast. Namely that the best french toast is a perfect combination of textures, crunchy around the edges and rich and custardy in the middle, with a hint of sweetness and (hopefully) something super decadent drizzled on top. But exactly HOW you acheive that perfect balance of crispy and creamy, sweet and savory, buttery and sweet? It's all in the ingredients and the technique.
Tips for the perfect French toast:
1. Good bread is important. I personally like the dense, buttery crumb of a brioche. Try to stay away from really soft, flimsy breads like white sandwich bread, and also really chewy/crusty breads like baguettes. Also, if your bread is too moist and fresh it makes for limp, soggy French toast. Better to toast it in the oven for a few minutes, which will allow it to soak up more of the custard without falling apart.
2. Don't over-saturate it. A 5-10 second dip per side should be more than enough. A good indicator of if you've soaked it too long is if you run out of liquid before you've dipped all your bread. Oops.
3. Sprinkle with sugar. A light sprinkle just before you put the soaked slices in the hot pan will caramelize on the exterior and give your toast a little extra crunch.
4. Get it hot hot hot. Seriously, your pan should be thoroughly preheated. The butter should sizzle like mad the instant it hits the hot surface.
5. Finish it in the oven. Just a few minutes will help the center set up (especially because your super hot pan probably didn't give the bread enough time to cook all the way through). This will also ensure your French toast is ready all at once so everyone can sit down and eat together (what a concept!)
6. It is always (and I mean always) better with booze.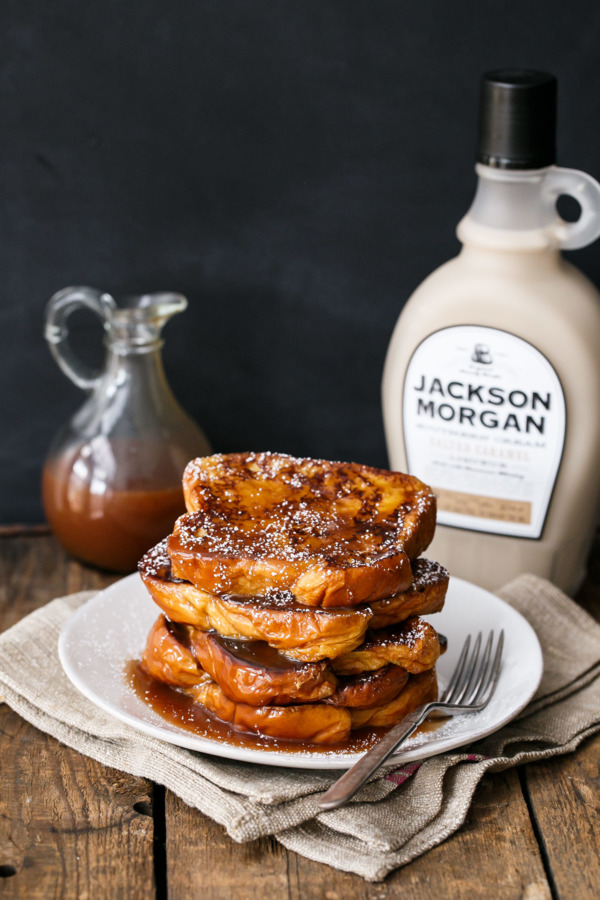 And that last point is where this French toast rises above the rest, as it's made with
Jackson Morgan Southern Cream, a line of whiskey-infused sipping creams. I couldn't be more thrilled to be working with them as it means I get to share this recipe with you.
All the flavors have their high points, but I don't think it'd surprise anyone that the Salted Caramel stole the show. It's their most popular flavor for a reason, clearly.
After a single sip I did what any sane person would do: I made salted caramel with it. Hello. Salted caramel with salted caramel cream liqueur? It might make your head spin, but it'll make your tastebuds jump for joy. Seriously, this stuff is amazing, I want to drizzle it on everything in sight (watch out, cats!)
But I didn't stop there. I put it in the French toast custard too. Milk shmilk, booze is better. It gives an already stellar French toast a little extra somethin' somethin'.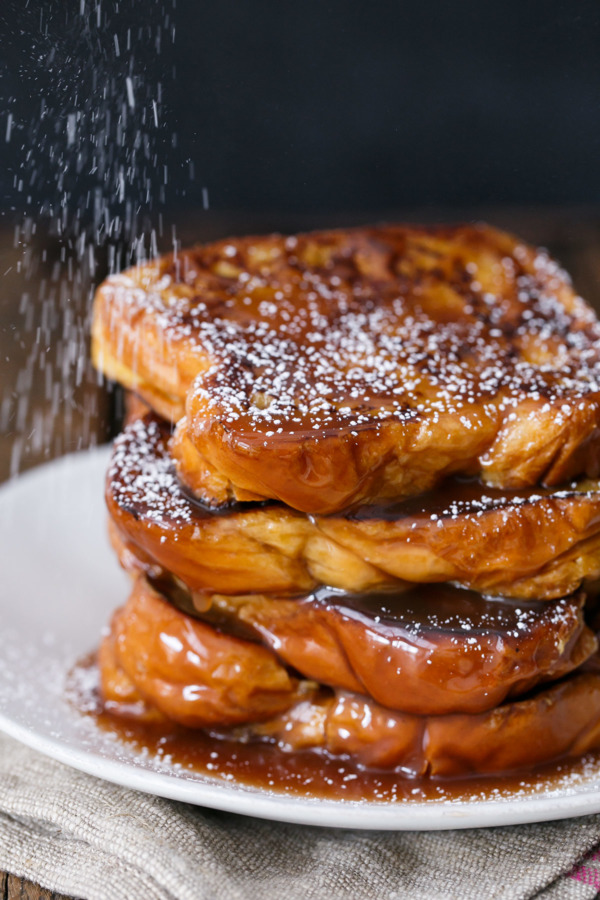 It's everything you imagine it'd be, and more. Sure, it's sweet enough to be dessert ten times over, but we all know that French toast is perfectly acceptable breakfast fare. Just call it brunch, and people will think you're fancy rather than gluttonous.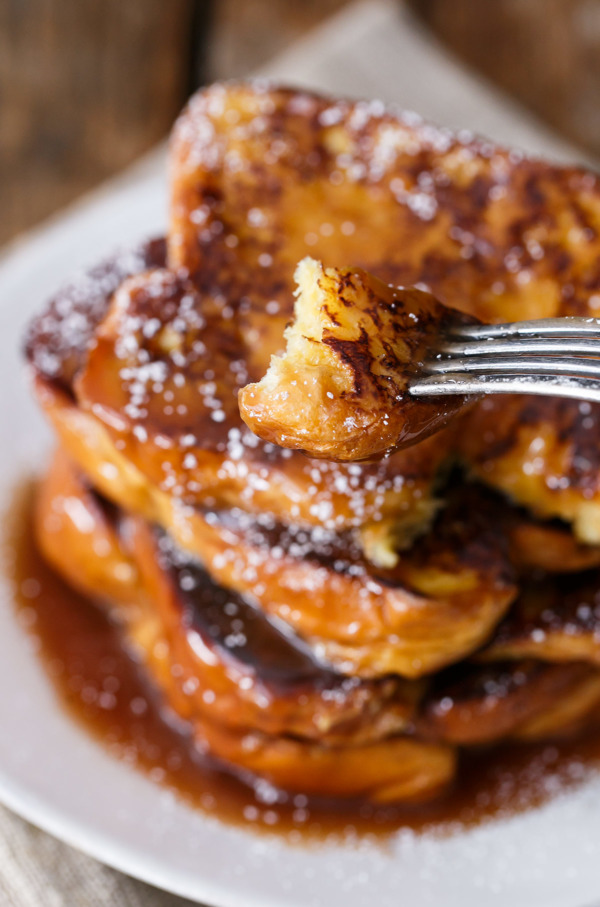 Jackson Morgan Southern Cream comes in a number of other flavors too, including Peaches & Cream, Whipped Orange, Peppermint Mocha, and Cinnamon Brown Sugar, and you could certainly swap them in in place of the caramel, and top accordingly (I'm thinking a drizzle of chocolate sauce on top of the mocha mint, or fresh peaches and whipped cream to accompany the peaches & cream).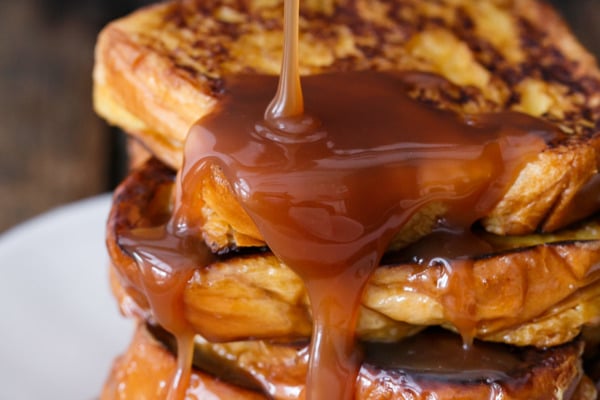 Boozy Salted Caramel French Toast
Perfect French toast is slightly crispy on the outside and soft and custardy on the inside. This decadent brioche French toast recipe features a boozy salted caramel sauce that's to die for!
Ingredients:
For Caramel Sauce:
1 cup granulated sugar
1 tablespoon corn syrup
1/4 cup water
1/2 cup heavy cream
1 tablespoon unsalted butter, cut into cubes
pinch fine sea salt
1/4 cup Jackson Morgan Southern Cream in Salted Caramel
For French Toast:
6 1-inch thick slices brioche or challah bread (a sturdy French bread would also work)
3 large eggs, room temperature
2 tablespoons granulated sugar, plus more for sprinkling
1/2 cup whole milk, room temperature
1/4 cup Jackson Morgan Southern Cream in Salted Caramel
pinch salt
3 tablespoons unsalted butter, for cooking
Directions:
To make caramel sauce, combine sugar, corn syrup, and water in a medium heavy saucepan. Bring to a simmer over medium heat, stirring occasionally just until sugar is dissolved. Once liquid starts to boil, stop stirring and cover pan with a lid for 2 minutes (the buildup of steam will take care of any stray sugar crystals).
Remove lid and let bubble, without stirring, until sugar turns a medium amber brown. If your sugar is browning unevenly, swirl it a bit to help redistribute, but whatever you do, don't stir. Once the sugar is approximately the color of light beer, remove from heat. Immediately pour in cream, whisking vigorously until smooth (be careful as the mixture will sputter and spew hot steam). Add butter and salt and continue whisking until melted and incorporated. Stir in Southern Cream. Transfer to a heat-proof container and let cool until ready to use.
Preheat oven to 350 degrees F. Slice bread into 1-inch thick slices and arrange on a baking sheet. Bake for 3 to 4 minutes per side or until lightly crispy but not yet beginning to brown. Depending on the type of bread you are using you may need more or less time. Set aside and let cool. Leave the oven on.
In bowl, whisk together eggs and sugar until even in color. Pour in milk and Southern Cream, then whisk in salt until incorporated. Pour into a 7-by-11-inch baking dish or casserole, or another shallow, flat-bottomed dish (a cake pan also works) that is at least as big as one of your bread slices.
Preheat a large non-stick skillet over medium-high heat. When pan is thoroughly hot, add 1 tablespoon of butter (it should sizzle immediately) and distribute evenly over the surface of the pan.
Working in batches of two (or 3 depending on how large your skillet is), dip bread into egg mixture, letting it soak for no more than 5-10 seconds per side. You want the custard to penetrate the bread, but not soak up so much that it turns soggy. Flip and soak the other side and remove, allowing excess custard to drip off, and place on baking sheet. Sprinkle tops with a pinch of sugar, then arrange slices in hot skillet, sugared side down. Sprinkle other side with another pinch of sugar.
Cook for about 1 to 2 minutes per side until crisp and deep golden brown. Remove from skillet and place on a clean baking sheet. Repeat with remaining bread slices.
When all the slices have been cooked and transferred to baking sheet, bake for about 5 minutes or until heated through. Serve immediately, drizzled with salted caramel sauce and dusted with powdered sugar (if desired).
Did you make this recipe?
Let us know what you think!
Leave a Comment below or share a photo and tag me on Instagram with the hashtag #loveandoliveoil.

Disclosure: This post is sponsored by Jackson Morgan Southern Cream. As always, all opinions are entirely our own. We're incredibly grateful for opportunities like these that allow us to continue sharing unique and delicious recipes with you, and we thank you for supporting us and the brands we love!