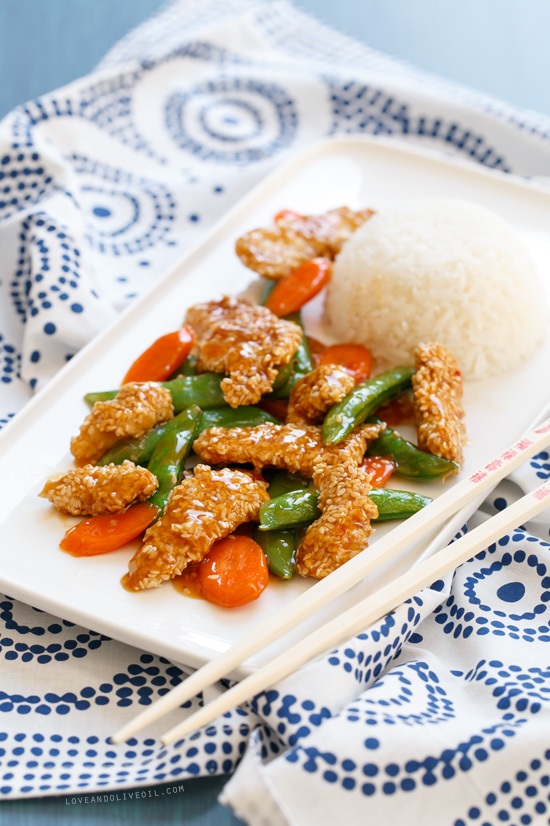 I'm not one to dredge up the past, unless of course it involves food.
I was never a very adventurous eater as a kid (can you say, supertaster?) and so, from age 5 to 25, anytime we went to Little Ollie's (one of the few Chinese food restaurants in the little town where I grew up), I rarely strayed from my favorite dish: sesame chicken.
This was no ordinary sesame chicken, let me be clear. Little Ollie's version is not breaded or battered, but rather coated in crunchy sesame seeds and served with white rice and a medley of peas and carrots. The sauce is sweet, almost like candy (probably why I liked it so much), and translucent orange instead of rich brown.
It seemed simple.
Until I tried to recreate it.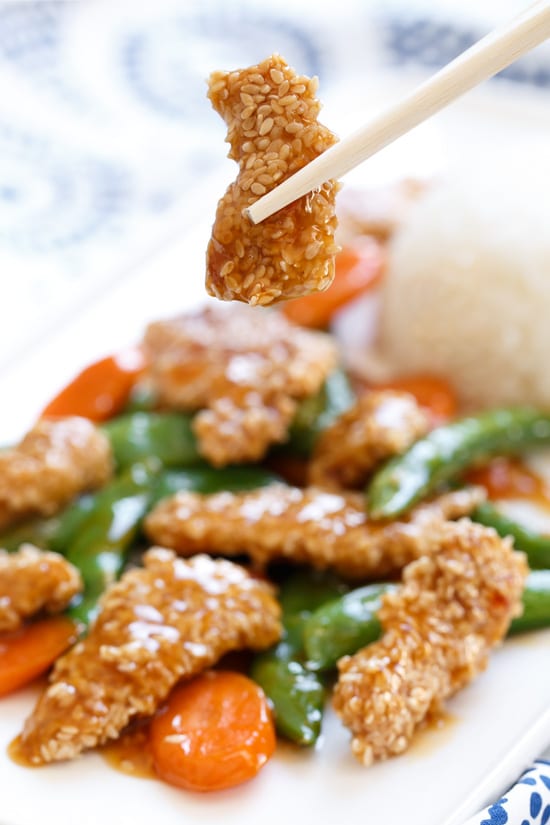 Taste memories, as it turns out, might be strong enough to make you salivate, but they aren't exactly helpful in the recipe development process. It was obvious when I didn't have it right, but quite a bit harder to know what to change or add to get there.
I'm not joking when I say we've probably made this 10 times over the past 6 months. I think Taylor is sick to death of sesame seeds by now. I'll also be honest that it is still not quite what I remember (though, being that it's been at least 5 years since I've had the original, accuracy is questionable). I'm sure it's missing some secret ingredient (MSG, most likely). But it's pretty darn close. And pretty darn tasty at that.
The key, as it turned out, was to not make the sauce entirely from scratch, but rather rely on a bottled Sweet Chili or Spring Roll Sauce to make up the bulk of it. I recommend Mae Ploy brand (which you should be able to find at your local Asian market or online). We tried a number of different brands, but this one was the truest to the original.
Let me clarify again that this is NOT the typical sesame chicken. Rather than battered and fried chunks of meat, strips of chicken breast are fully encased in sesame seeds, cooked until browned, and then coated with a sweet chili sauce that's lighter and not nearly as heavy as what you might be used to. And so I'm calling this Sweet Chili Sesame Chicken, instead of just Sesame Chicken, to clear up any confusion and manage expectations.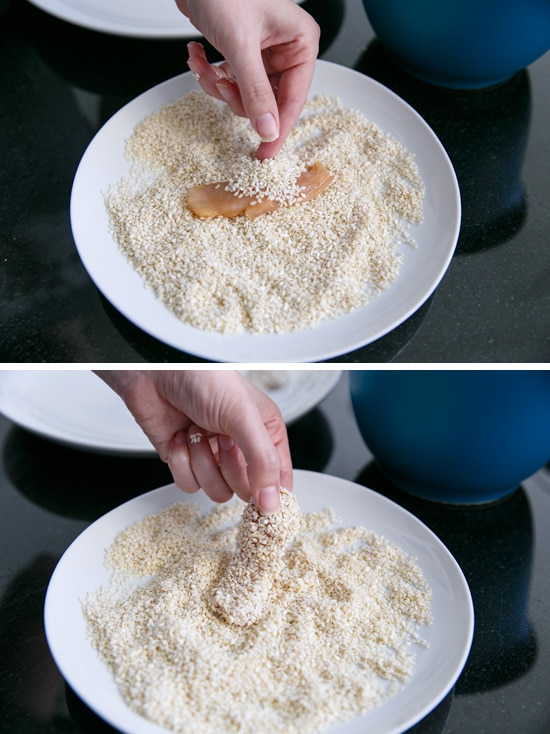 I'd argue that this preparation, the coating of the chicken in a solid layer of sesame seeds, makes this sesame chicken way more 'sesame' than other versions that only have a sprinkle on top. But the texture, the crunch and the flavor that the seeds add to the dish are quite possibly the best part.
Note that you will want to buy your sesame seeds in bulk, as you'll need upwards of 1 cup of them for 4 servings of chicken. For reference, a spice bottle holds about 1/4 cup. Instead, check in your store's bulk section for sesame seeds, or sometimes the baking/international foods aisle will sell larger bags (Bob's Red Mill stocks a 1 pound bag of white sesame seeds that's much more reasonable in price than buying 4 individual jars).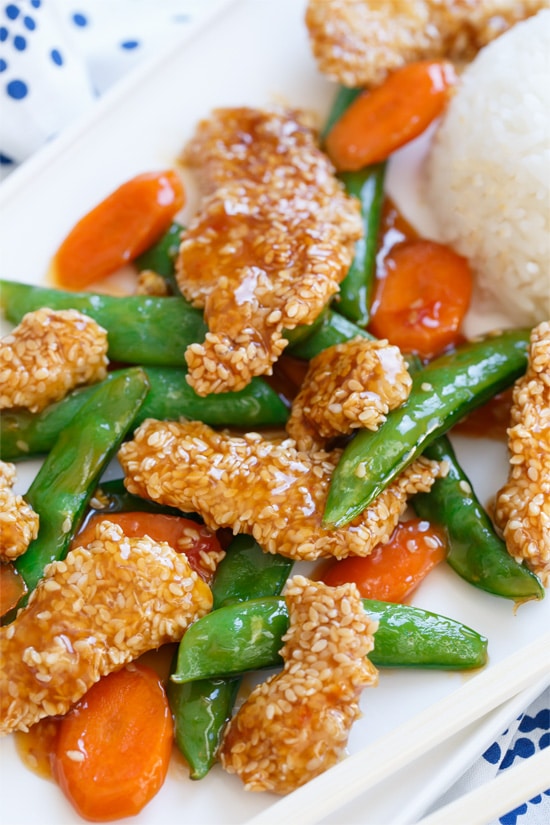 If you prefer a less sweet sauce, you can reduce the brown sugar without affecting the overall outcome of the recipe. The sweet chili sauce in itself is already quite sweet on its own and you may not feel you need more (though, as I've mentioned, the candy-like sweetness of the dish is part of its appeal). Just know your sauce might be a bit thinner as, in addition to providing sweetness and flavor, the sugar also adds some thickness to the final sauce.
Sweet Chili Sesame Chicken
Ingredients:
For Marinade:
1 tablespoon soy sauce
1 tablespoon cornstarch
1 egg white
1 teaspoon sesame oil
3/4 pound chicken breast (about 2 small or 1 large), cut crosswise into strips
For Sauce:
2 tablespoons soy sauce
2 teaspoons cornstarch
1/2 cup sweet chili/spring roll sauce (we recommend Mae Ploy brand)
2 teaspoons sesame oil
1 tablespoon brown sugar
1 teaspoon finely minced or grated ginger
1 teaspoon finely minced garlic (from 1 clove)
For Cooking:
1 cup white sesame seeds
2 tablespoons vegetable oil
2 teaspoons sesame oil
2 medium carrots, sliced
8 ounces sugar snap peas
Directions:
In a large bowl, whisk together soy sauce and cornstarch until smooth and no lumps remain. Whisk in egg white and sesame oil. Add chicken and toss to coat; set aside to marinate for 15 minutes.
To make sauce, whisk together soy sauce and cornstarch in a bowl until smooth. Mix in sweet chili sauce, sesame oil, brown sugar, ginger, and garlic and set aside.
Dump sesame seeds into a shallow baking dish or bowl. Remove one strip of chicken from marinade, letting excess liquid drip off. Dredge in sesame seeds, coating both sides evenly. Transfer to a plate and repeat with remaining chicken.
Heat 1 tablespoon vegetable oil and 1 teaspoon sesame oil in a large nonstick skillet over medium-high heat until shimmering. Arrange half of chicken strips in a single layer in pan (cooking these in batches ensures all the chicken will get evenly browned). Cook for 2 to 3 minutes or until bottoms are lightly brown, then flip and cook for 2 minutes more or until lightly golden and cooked through. Transfer chicken to a clean platter. Return pan to heat along with remaining oil and repeat with remaining chicken strips. Transfer to platter and set aside.
Return skillet to heat and add carrots and peas. Cook for 1 minute (2 minutes if you prefer softer veggies) then add sauce mixture. Bring to a simmer and allow to bubble for 1 minute until sauce is slightly thickened and vegetables are vibrant in color and just tender. Add back chicken and gently stir for about 1 minute or until chicken pieces are evenly coated with sauce and heated through.
Serve warm with white jasmine or brown rice.
Did you make this recipe?
Let us know what you think!
Leave a Comment below or share a photo and tag me on Instagram with the hashtag #loveandoliveoil.