Our weekly menus are not always as complicated as they might seem. While we'll find a few recipes or plan a few more involved dishes a week, we'll often plan free-form nights where we'll just wing it. Whether that means throwing together a fritatta from leftovers in the fridge, or cooking up a frozen pizza, we need to have flexibility in our week for those nights when we just don't want to follow a complicated (or any, really) recipe.
Lately we've just been writing in 'fish' one night, in an effort to do more quick and healthy dinners. "Fish" night usually involves getting whatever is on sale at the fish counter, and then baking or sauteing it with a mixture of flavors depending on what we happen to have on hand.
I have to say, Taylor did a particular good job with this one (yes, he pretty much whipped up this entire thing while I was still upstairs struggling with an ornery website), and I simply had to snap a picture before we sat down to eat to share his handiwork. Impressive, no? The simplicity of the fresh trout filets with lemon, garlic, and fresh parsley were spot on.
And luckily for you, I've trained him well enough to always write down what he's doing, and so we actually have a record of the recipe to share with you today (and make again ourselves in the future). What a concept, right?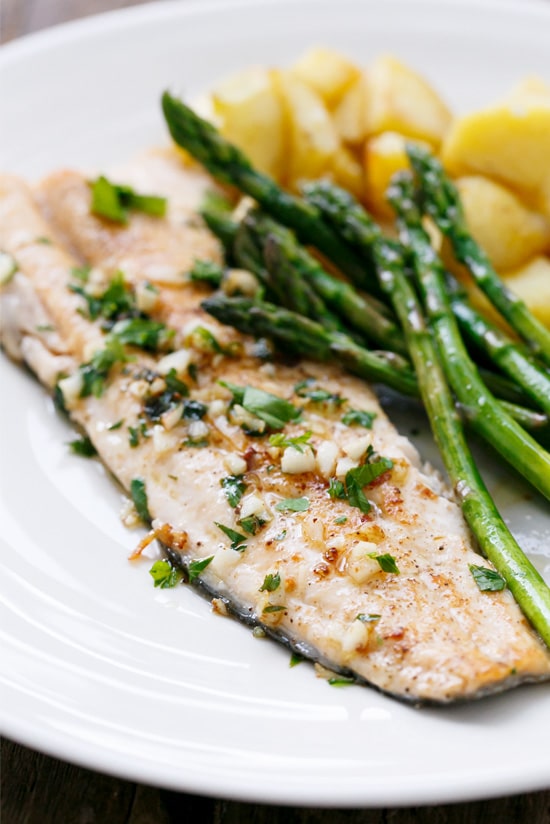 While we used trout filets, you could certainly use any other kind of fish in this recipe. The trout is nice because the filets are so thin that they take literally minutes to cook. A thicker fish would (obviously) take more time to cook through.
We served them with some paprika-roasted potatoes and steamed asparagus, and it was one of the most satisfying and balanced meals we've had in a long time (this from the people that'll often make a starchy side dish into a full meal).
Pan-Fried Trout with Garlic, Lemon, & Parsley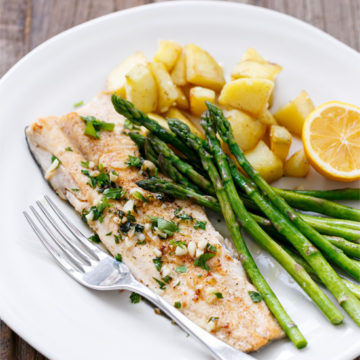 Ingredients:
2 skin-on trout filets
1 tablespoon olive oil
1 tablespoon unsalted butter
2 garlic cloves, minced
3 tablespoons chopped fresh parsley
1 tablespoon lemon juice
salt and pepper, to taste
Directions:
Heat a non-stick skillet over medium-high heat. Melt butter with olive oil until frothy. Cook trout filets, skin side down, for 2 minutes, then carefully flip with a thin wide spatula. Cook for another minute or until almost cooked through, then add garlic, parsley, and lemon juice and continue to cook for another minute or so until the fish is golden brown and the flesh flakes off easily with a fork. Transfer to serving plates and enjoy.
Did you make this recipe?
Let us know what you think!
Leave a Comment below or share a photo and tag me on Instagram with the hashtag #loveandoliveoil.