I only bake one cake a year… and that's for Lindsay's birthday. She knows that I don't have much experience with baking in general, and even less skill when it comes to decorating cakes, so she insists that I don't need to do anything complicated.
The thing is, Lindsay made me the most amazing slot machine cake this year for my birthday. The level of planning, preparation, and skill involved to pull that off is truly impressive. While I couldn't compete with that (it's not a competition anyway), I still wanted to make her something special.
For those who don't know, Lindsay is a huge Doctor Who fan, and the most obvious choice for her cake this year was to make a TARDIS. If you aren't familiar with the show, a TARDIS is basically a time traveling spaceship disguised as a police call box.
(Lindsay: Spoilers! Unlike the real deal, this cake was NOT bigger on the inside. Can we please figure out a way to apply that technology to cakes? Oh, and refrigerators too. Please and thank you.)
Before you think I pulled this off on my own, think again. Lindsay's mom and sister flew in from California to surprise Lindsay for her birthday. Lindsay's mom, Margie, and I spent upwards of 12 hours building and decorating this cake (Lindsay: and banished me upstairs in the meantime! I spent my entire birthday WORKING for gosh sakes, because I couldn't come downstairs). I challenge anybody to spend 12 hours with their mother-in-law on a project and still be on speaking terms afterwards. All in-law jokes aside, I truly feel fortunate that I have a wonderful mother-in-law with whom I enjoy spending time, and who was a perfect TARDIS-cake making partner. This was most definitely a joint collaborative project between the two of us and I had a great time working with her.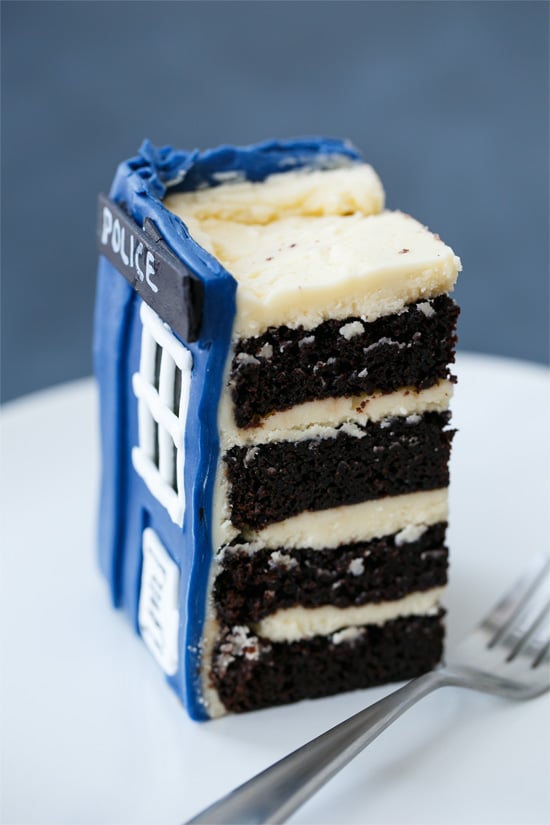 We had quite a few challenges along the way. First, Lindsay and I were out of town at Food Blog Forum in Orlando the week before her birthday. I had to bake the cake in advance, wrap it up, and freeze it before we even left town. This way the cake would be ready for Margie and I to start decorating as soon as we returned home. Not knowing exactly what we would need to decorate with, I secretly bought a ton of extra ingredients and stashed them at a friend's house so Lindsay wouldn't get suspicious about what we had planned.
The outside of the cake is covered in two layers of modeling chocolate. This was the first time Margie or I had used modeling chocolate and immediately we had some problems. We tried to make our own, which looked easy based on a video we watched, but it turned out to be more finicky than we realized. We quickly turned 4 lbs and $40 worth of special-order gourmet white chocolate into two blocks of greasy goo. Yikes! (Lindsay: Yikes is right… I could hear their failure (and grumbled cursing) from all the way upstairs. I tried to interject some tips that white chocolate pretty much sucks, but they wouldn't tell me enough to actually be able to help them.)
Our backup plan was to use blue buttercream to coat the cake, but this didn't quite have the "wow" factor we wanted. Luckily, there is a great cake decorating shop in Nashville that sells pre-made modeling chocolate (in the perfect shade of TARDIS-blue even), which completely saved the day.
We have to give a huge thanks to the extremely helpful folks at Sweet Art Galleries, who developed the modeling chocolate we used. Being complete novices and under a tight time schedule to complete the cake, we called the company for suggestions on how to work with the product. They suggested we use a pasta machine to get uniform flat sheets. This technique worked perfectly. We were able to get pretty much perfect 1/8" thick sheets of modeling chocolate to cover the sides of the cake. The pasta machine also works for fondant, which we used for the white window trim and black police call box signs.
While not huge (the whole cake is made from one thick 8-by-8-inch layer sliced into two thinner ones), the cake is awkwardly tall, and thus needed some extra support. We used some acrylic cake dowels and a foil wrapped square of cardboard to support the cake in the center.
The light on top is a water-proof LED party light that lasts for 8 hours. It's battery operated and requires no wires or complicated installation. We simply made a hole in roof of the Tardis and stuck the light inside. (Lindsay: The light was perhaps my favorite part of the whole thing. Why didn't I think of this?!? My slot machine would have been 100 times better with party lights!!)
Not wanting to complicate things even further by using a new recipe, I used our favorite chocolate cake recipe, with one substitution. Instead of whiskey, I substituted Chambord, a raspberry infused liquor, which complimented the chocolate perfectly. Between the layers and under the modeling chocolate, Margie whipped up a batch of buttercream using this recipe, but without the blackberry preserves.
We couldn't have completed the cake without a couple of tutorials and videos. While we didn't follow it exactly, we used this tutorial as a guide and this video for additional ideas.
Lindsay and I have both agreed that we both totally went overboard this year, and for our own sanity, next year's birthday cakes will be much more low key.