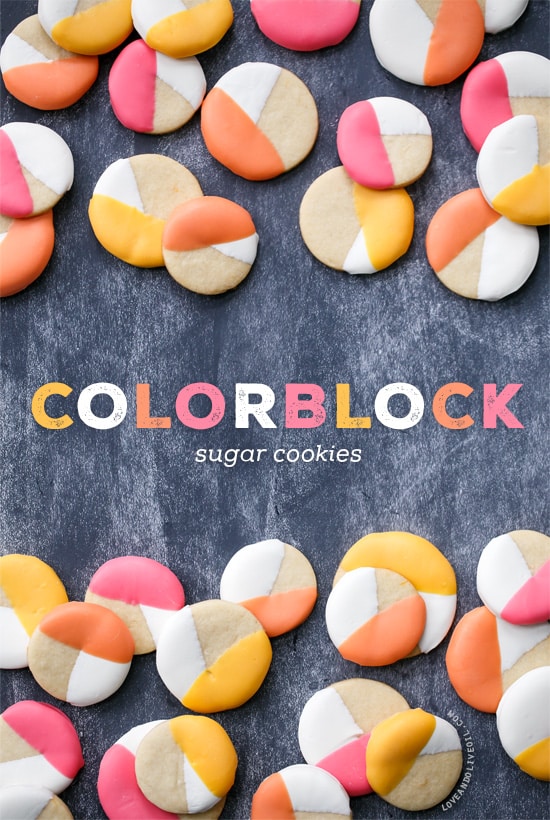 Spring is here.
Finally.
At least, it was when I wrote that sentence. And hopefully it'll be back by the time this post publishes, but right now the heat is running and I'm having chilly flashbacks to February. I should have published this recipe last week.
Regardless of the bipolar weather, it IS spring now, technically, and I thought these bright and cheery dipped cookies would be the perfect way to celebrate.
Colorblocking may be the latest fashion trend, but I'm out to make it a food trend as well.
Rather than tediously piping and flooding royal icing as is typical with decorated sugar cookies, I chose to simply dip them in colorful melted candy wafers.
The base cookie recipe comes from Bake at 350, with a bit of lemon juice and zest added instead of the almond extract (as much as I love almond, I wanted something a bit more springy). The lemon flavor is very subtle, but gives the cookies a little extra something something.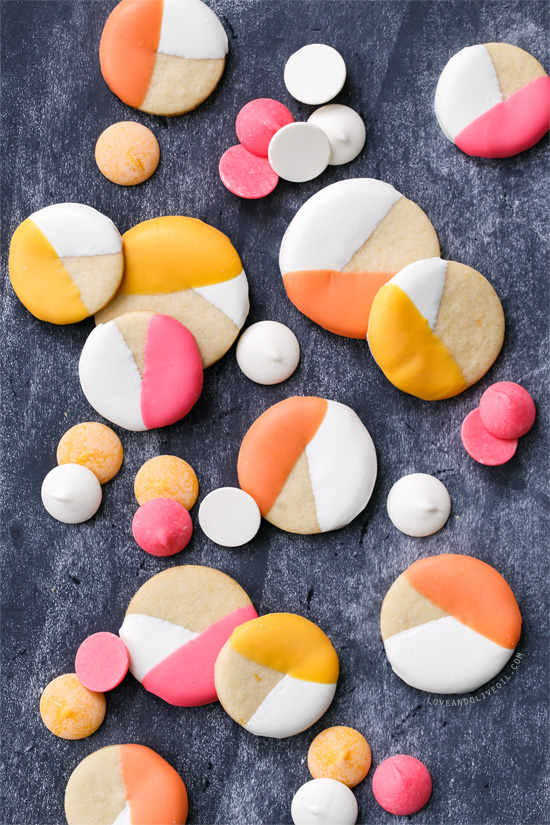 I used Bakerella's party pink and sunny yellow candy wafers, and then melted and mixed equal parts of each to create a third, pretty salmony orange color. Mixing the two colors to create a third gives the whole color scheme a cohesiveness that you often don't find with three completely separate colors.
You could certainly also use chocolate or white chocolate for your dip if you prefer, or even a simple powdered sugar glaze or loose royal icing. Note that while coloring white chocolate is possible, you will need oil-based or powdered food colorings. Most liquid/gel food coloring is water-based and will cause your white chocolate to seize up on you. Trust me, it's not pretty.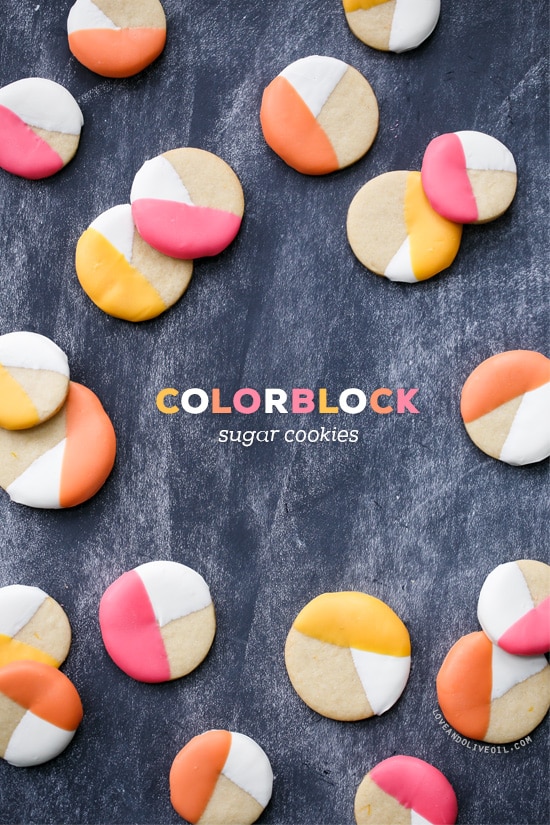 Colorblock Sugar Cookies
Ingredients:
3 cups all-purpose flour
2 teaspoons baking powder
1 cup (2 sticks) unsalted butter
1 cup granulated sugar
1 large egg
1 tablespoon lemon zest
1/2 tablespoon lemon juice
1 teaspoon vanilla extract
12 ounces white candy coating
12 ounces colored candy coating (about 4 ounces each of 3 different colors)
Directions:
Preheat oven to 350 degrees F.
Combine the flour and baking powder, set aside. Cream the sugar and butter. Add the egg, lemon zest, lemon juice, and vanilla and mix to combine. Gradually add the flour mixture and beat just until incorporated, scraping down the bowl as needed. The dough may be crumbly, so knead it together with your hands until it comes together in a smooth ball.
On a floured surface, roll out dough to 1/4″ thick sheet, and cut into desired shapes. Place shapes on parchment or silpat lined baking sheets. Bake for 10 to 12 minutes or until edges are just barely starting to turn golden. Allow to cool for a few minutes on the baking sheet, then transfer to a cooling rack and cool completely prior to decorating.
For colorblock effect, melt white candy coating according to package instructions. Dip each cookie a third to one half in the coating, letting any excess drip off, then place on a parchment lined baking sheet until completely set.
Melt your other 3 colors in separate bowls. Dip each cookie a second time in one of the colors, overlapping the white at varying angles. Replace on parchment-lined baking sheet to set.
Cookies will keep in an airtight container for up to 1 week.
Did you make this recipe?
Let us know what you think!
Leave a Comment below or share a photo and tag me on Instagram with the hashtag #loveandoliveoil.