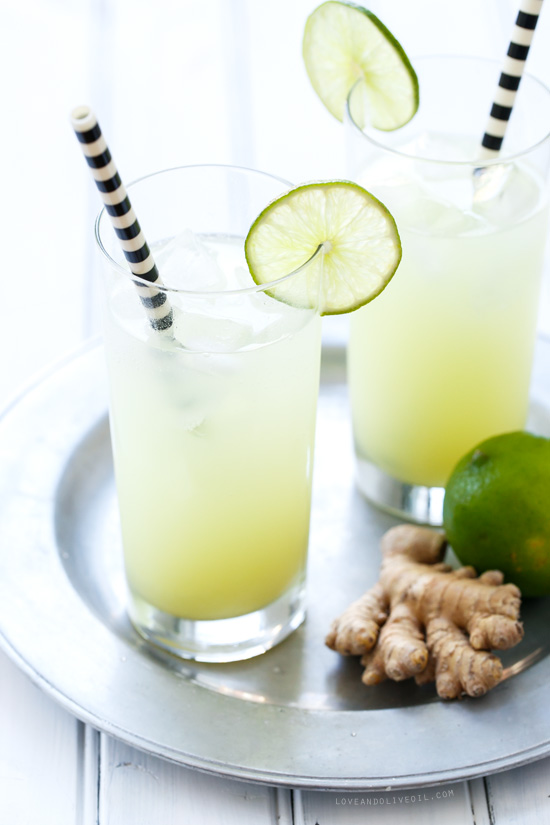 Ok ok enough ginger already, you might be saying.
No such thing, I reply.
I've talked at length about ginger beers, and even made my own at one point, complete with yeast fermented bubbles. That was true ginger beer. But this is practically a homemade ginger beer, made from fresh ginger juice, lime juice, and tonic water for fizz. Fresh ginger being the key to a bold and spicy mocktail that, if you're a true ginger lover like me, you'll simply adore.
Sure, you could add some gin and make a gin-gin & tonic, and I wouldn't blame you for doing so, as this bold and bubbly beverage would make a perfect base for some booze.
This drink was inspired by a similar concoction at Nashville's Pinewood Social.
I adore restaurants that have creative mocktails on their menu. Because a lengthy and interesting sounding cocktail menu totally bums me out when my only non-alcoholic options are soda or water, and maybe a ginger beer if I'm lucky. C'mon, restaurants, embrace the need for designated drivers and give us at least a few interesting options.
A word of warning: this drink is not for the faint of heart. You must like spicy ginger to the extreme. If you're timid or you've never had a really strong ginger beer before, I'd suggest you start with that first (and be sure to check out my favorite ginger beers for some recommendations). Then, once you're sure you can handle it, then you can move on to this.
Let's just call this one a drink for the true ginger aficionado.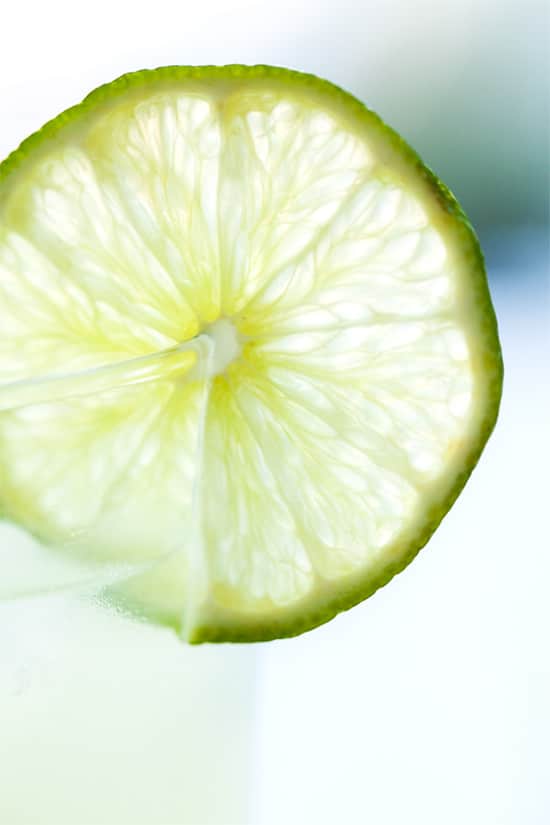 Don't even think about guzzling it or you might just choke on the spice. This is a drink that needs to be sipped so the spice doesn't get to be unbearable.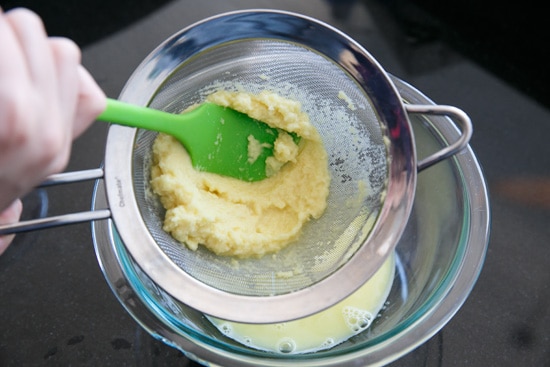 If you have a juicer, you can certainly use it and save yourself some time. However, a juicer is not required for this recipe.
I recommend peeling and freezing your ginger. Not only does it preserve it, but frozen ginger blends up significantly easier than fresh. It's almost like the ice crystals break up the tough fibers that make fresh ginger hard to work with (the same goes for grating ginger, it's much easier to do when previously frozen). Why? No idea. All I know is I'm definitely going to be keeping a large stash of fresh ginger in the freezer from here on out.
For ginger juice, simply blend your semi-frozen ginger (I recommend thawing it for 10-15 minutes out of concern for your blender) and then liquefy it with a bit of water. Then strain out the pulp and voila! Ginger juice without a juicer.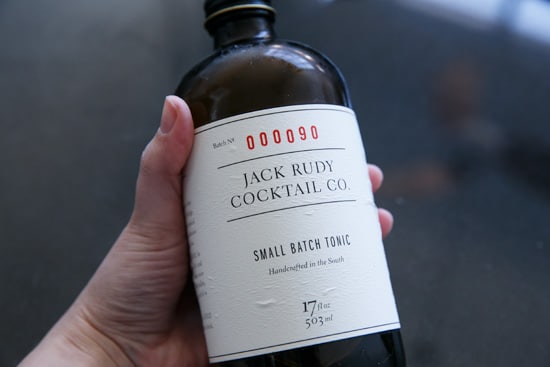 This is Taylor's magic tonic syrup. He heard about it from Alton Brown, who claims that most pre-made tonic sodas are pure crap and that club soda mixed with this artisan tonic syrup is the way to go. Ok, whatever you say dear. We live and die by the Alton Brown gospel in this household, and I'm not one to argue with him.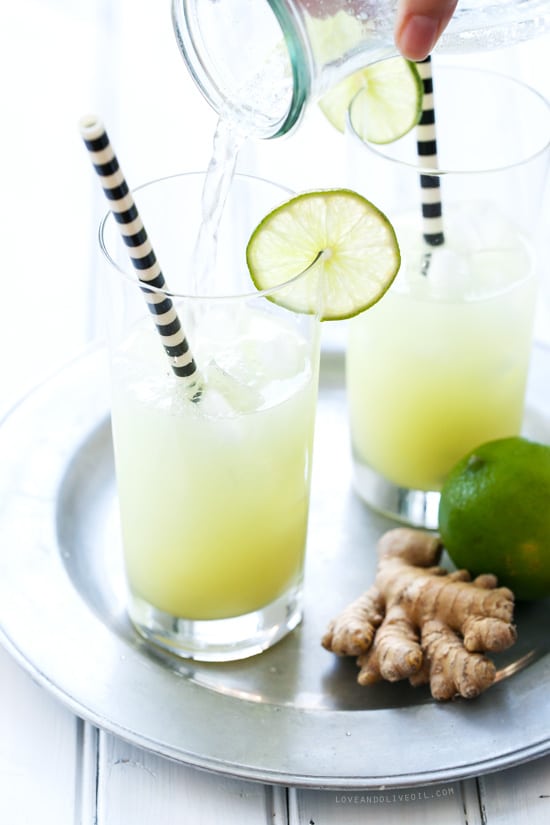 Can I just say I adore these straws? They are Kate Spade brand (bet you didn't know Kate Spade my straws, did you?) and made of acrylic, which puts the paper straws to shame. These you can leave in your glass for hours and hours and they won't get soggy. Not that a glass of this spicy mocktail will last that long, but still. Acrylic is totally the new paper.
Fresh Ginger-Lime Tonic
A drink for the true ginger aficionado: with extra spicy fresh ginger, fresh lime juice, and topped with tonic syrup and soda water for a tart and refreshing non-alcoholic drink (or feel free to add some gin or vodka too!)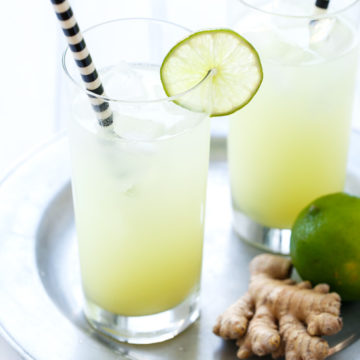 Ingredients:
2 ounces fresh ginger, peeled and frozen
1/2 cup filtered water
1/4 cup lime juice (from 2-3 limes)
2 (8oz) cans club soda
1 ounce tonic syrup*
Directions:
Combine frozen ginger and water in a blender. Turn on and gradually increase speed to high; blend for 30 to 60 seconds or until no large chunks remain. Pour mixture through a fine mesh seive set over a bowl, pressing out liquid with a spoon or spatula. Rinse out the blender with another few tablespoons of water and pour through seive. Discard solids. You should have just over 1/2 cup of juice.
Fill 4 12-ounce glasses with ice. To each glass, add 1 ounce (2 tablespoons) ginger juice, 1/2 ounce (1 tablespoon) lime juice, and 1/4 ounce (1/2 tablespoon) tonic syrup. Stir to combine. Top with 3-4 ounces of club soda. If you find this too spicy, add a splash of simple syrup to sweeten the drink.
*Tonic water can also be used in place of the tonic syrup + club soda.
Did you make this recipe?
Let us know what you think!
Leave a Comment below or share a photo and tag me on Instagram with the hashtag #loveandoliveoil.