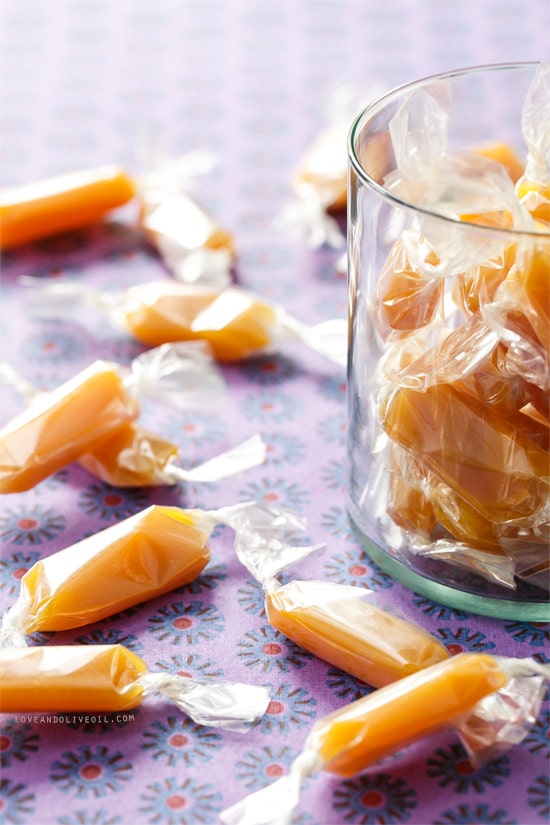 There's a fine-line between passion and compulsion, and I fear I'm starting to exhibit stalker-like tendencies. Seriously. Since my first encounter with passion fruit a few months back, I've been buying puree and concentrate and syrup and whatever other iteration of the fruit I can find. Not to mention the tote-full of fresh passion fruit I carted all the way back from California.
At what point do I dare admit I have a problem?
Luckily for you, this obsession has resulted in a purple-and-gold-filled week known as Passion Fruit Week. In case you missed it, I've already posted recipes for Passion Fruit Passion Fruit Créme Brûlée and Passion Fruit Meringue Tart earlier this week. And, while not technically part of passion fruit week, I can't ignore the Peach Passion Jam and Passion Fruit Bubble Tea I posted earlier this year.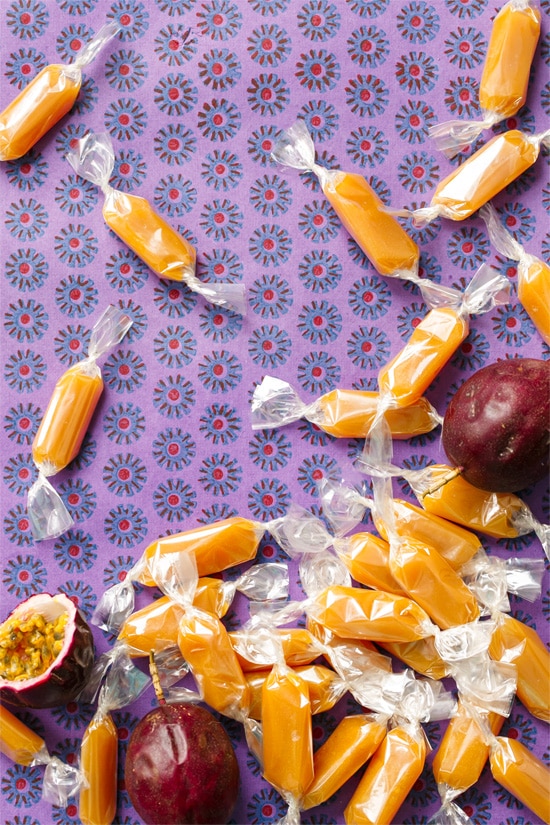 Let's talk about these caramels, for a sec. Ok, maybe more than a second as I'll probably ramble on about their wonderfulness for more than a few paragraphs. But they turned out so well that I couldn't not share them with you.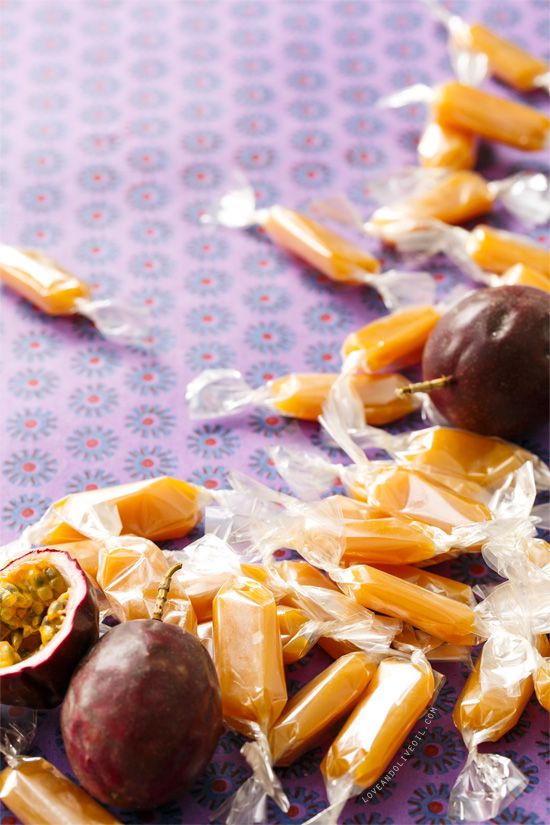 Unlike the peach caramels I made last summer, the passion fruit flavor comes through loud and clear. I think, especially when it comes to cooked desserts, butter and cream can easily overpower a subtle flavor. Which is why the addition of passion fruit is so perfect here, as it can hold its own in a sea of caramelized sugar.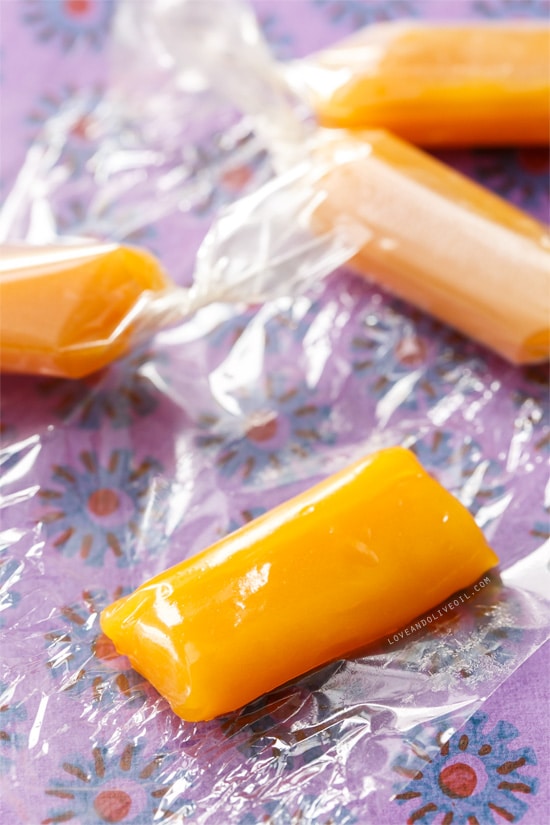 These caramels came out slightly softer than previous batches, but luckily not so soft that they'd need to be sacrificed for caramel sauce (which, if it were the case, I would not have been disappointed in the least). I'm not sure if it was due to the addition of the passion fruit, the weather perhaps, or if I just needed to cook the syrup to a few degrees higher next time.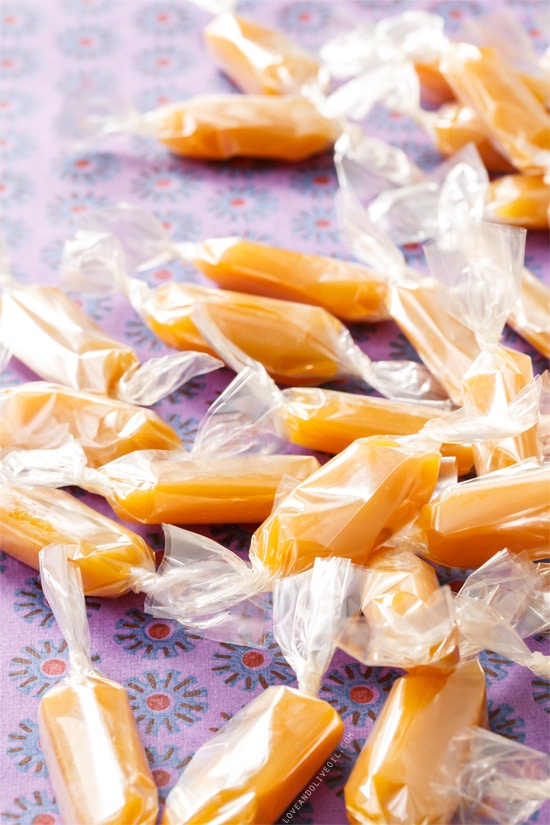 Look at them sparkle! I say, I'd take passion fruit caramels over diamonds, any day. Hear that, husband?
I wrapped these in special cellophane wrappers made for caramels. They come pre-cut into 5×5-inch squares, unlike my previous waxed paper wrappers which required hand cutting hundreds of stupid little squares (I made Taylor cut them for me). I think he'd agree these were well worth the $30. Plus they are strikingly transparent so you can clearly see the vibrant gold color of the candy inside.
While I chose not to add any seeds back to the caramels, I think they'd be a fun addition. Just like the cocoa nibs gave my chocolate caramels a delightful crunch, so too could the passion fruit seeds. I'd wait to stir them in until the very end though, at the same time as the vanilla, otherwise they'd probably burn.
Passion Fruit Caramels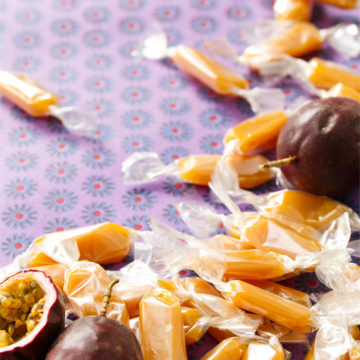 Ingredients:
1 1/2 cups granulated sugar
1/2 cup heavy cream
1/2 cup passion fruit puree or concentrate
4 tablespoons unsalted butter
2 tablespoons corn syrup
1/2 teaspoon salt
1/2 teaspoon vanilla bean paste or extract
Directions:
Line an 8-by-8-inch baking pan with parchment paper. If needed, use a few dabs of corn syrup to keep the paper firmly in place.
In a large pot (the pot should be at least three times the volume of the ingredients inside as the mixture will bubble up) combine sugar, cream, passion fruit, butter, corn syrup, and salt. Bring to a boil over high heat, stirring until sugar has dissolved and brushing any stray sugar crystals off the side of the pan with a pastry brush dipped in water. Reduce heat to medium-high and continue to boil, without stirring, until mixture reaches 252 degrees F on a candy thermometer, about 15 to 20 minutes.
Remove from heat and stir in vanilla extract. Immediately pour into prepared pan. Let sit at room temperature, uncovered, for at least 12 hours until set.
Lift the caramel out of the pan using the parchment paper as a handle. Using a sharp knife or rotary cutter (lightly buttered or sprayed with cooking spray if needed), cut caramel into 1 1/4-inch strips, and then crosswise into 3/4-inch pieces. Wrap each piece individually in cellophane or waxed paper. Caramels can be stored up to 1 month in airtight containers.
Did you make this recipe?
Let us know what you think!
Leave a Comment below or share a photo and tag me on Instagram with the hashtag #loveandoliveoil.