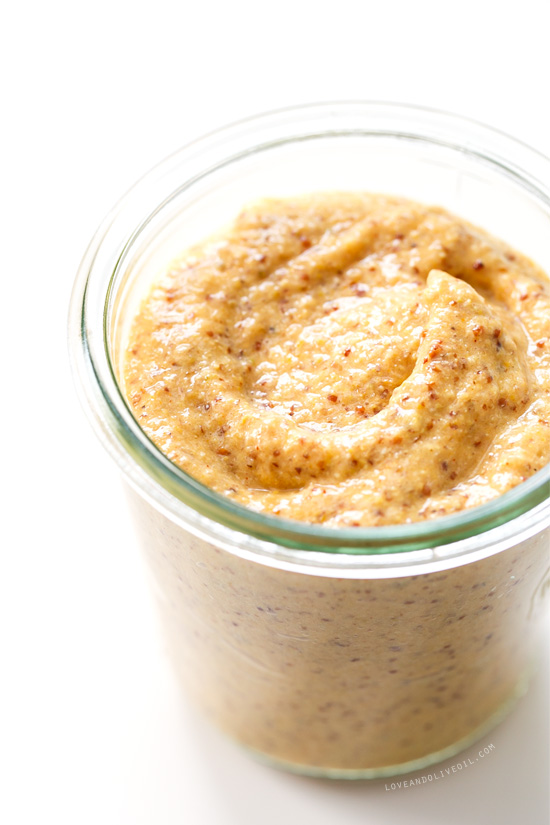 Have you ever made homemade mustard? Have you ever even thought about making homemade mustard?
Well not only did I think about it, I did it, and now you're probably thinking about it too. You're welcome.
Because seriously? It's so easy you'll be shocked.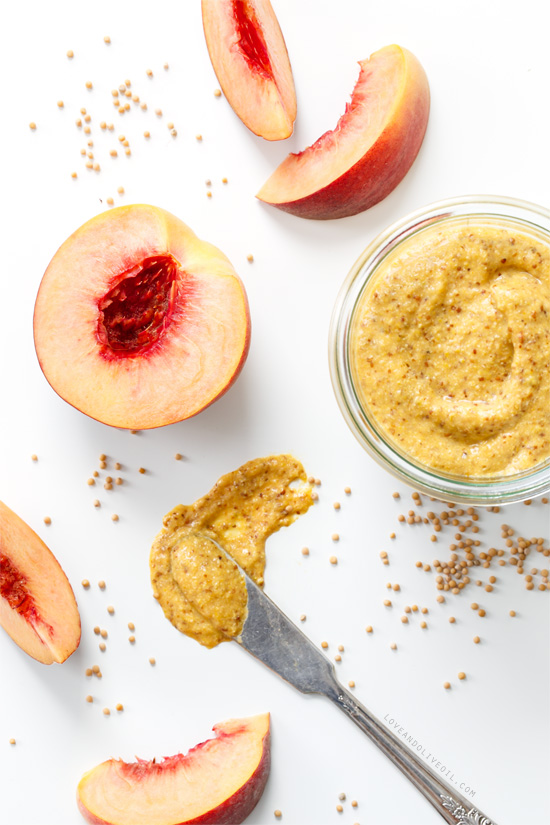 The idea for the fruit mustard came from a dinner in New Orleans, where Taylor ordered a charcuterie plate that came with an adorable little tube of strawberry mustard. Since we wanted to make a homemade mustard anyway (the reason will reveal itself later this week), and peaches just so happened to be in their prime, we thought they'd make a wonderful addition to the spicy homemade mustard. Sure, you can leave out the peach and have a nice basic mustard to adorn your 'whiches and dogs, but the peach makes this mustard unique, adding just a hint of fruitiness and sweetness to the final product. Unlike my peach jams where the goal was to make it primarily peach, this is most definitely a mustard first and foremost. The burning you'll feel under your eyelids if you eat some plain will leave no doubt of that.
Think of the peach as just a little something extra. :)
Don't be fooled by the peach, however. This is a SPICY mustard. Seriously spicy. To tone it down you're going to need a nice soft slab of white bread. And some cool and crunchy pickles. And some salty cured meat.
But I'm getting ahead of myself. Mustard now. Accoutrements coming later.
Homemade Peach Mustard
Ingredients:
1/4 cup yellow mustard seeds
2 tablespoons brown mustard seeds
1/2 cup white vinegar
1 large peach, peeled and pitted
1 tablespoons sugar
1/2 teaspoon garlic powder
1/4 teaspoon turmeric
1/4 teaspoon paprika
1/4 teaspoon salt
Directions:
Cover yellow and brown mustard seeds with vinegar in a small bowl. Cover and refrigerate overnight to soften.
The next day, pour mustard seeds and vinegar into a blender or food processor. Pulse until smooth. Add peach, sugar, garlic powder, turmeric, paprika, and salt and blend until evenly incorporated. Taste and adjust seasoning as necessary.
Mustard will keep, refrigerated in a jar or airtight container, for up to 1 month.
Did you make this recipe?
Let us know what you think!
Leave a Comment below or share a photo and tag me on Instagram with the hashtag #loveandoliveoil.