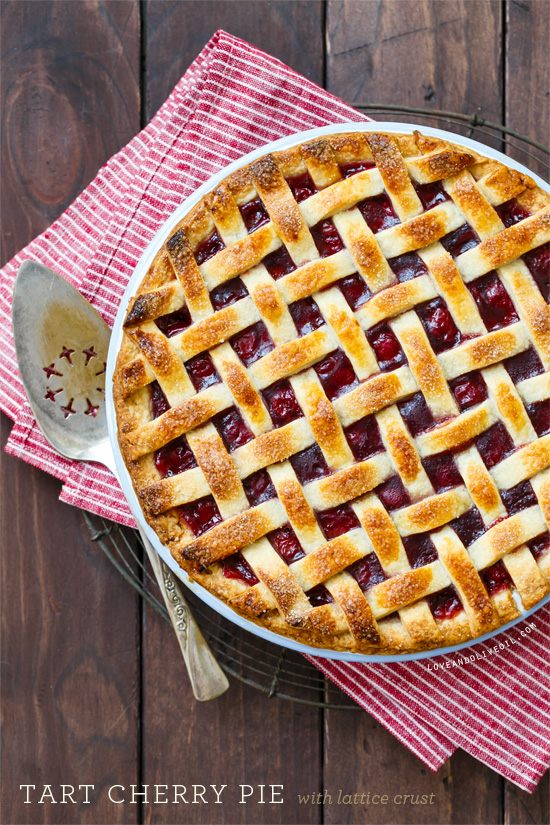 Cherry pie has always been one of my 'bucket list' recipes, along with caramel and macarons and other dishes that I've since tackled (or plan to tackle) in the Kitchen Challenge series.
My main obstacle was a pretty big one, the main ingredient in fact: tart cherries (aka sour or pie cherries). Despite our amazing local produce here in Nashville, the hot and humid climate simply isn't ideal for cherry trees. And, unlike their sweeter cousins, they are notoriously hard to transport, so you don't often see fresh ones of the regions where they are grown.
Mark down reason #1 I am jealous of Michigan.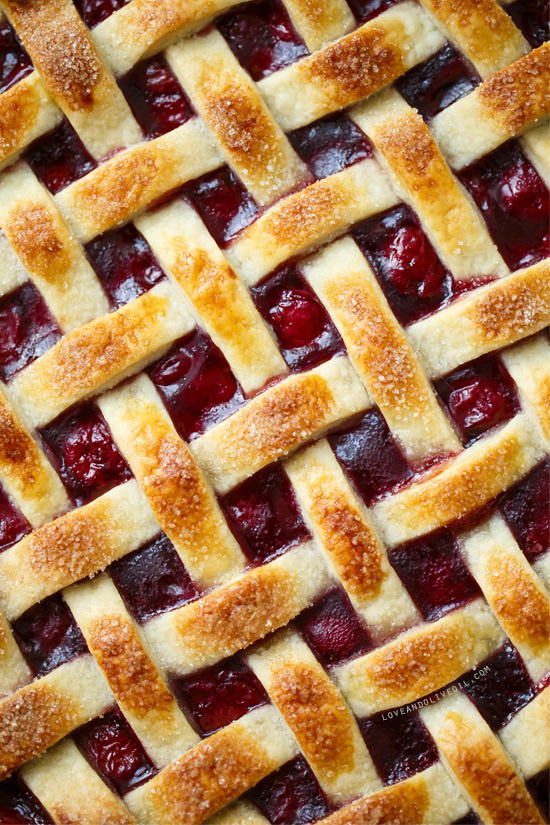 Frozen tart cherries are sometimes easier to find, although I'll be darned if I've looked at every grocery within a 10 mile radius and haven't spotted them yet.
Even my go-to source for hard-to-find food stuffs (aka Tom at Lazzaroli) told me that he could only get them in 40 pound bags.
Uh, no.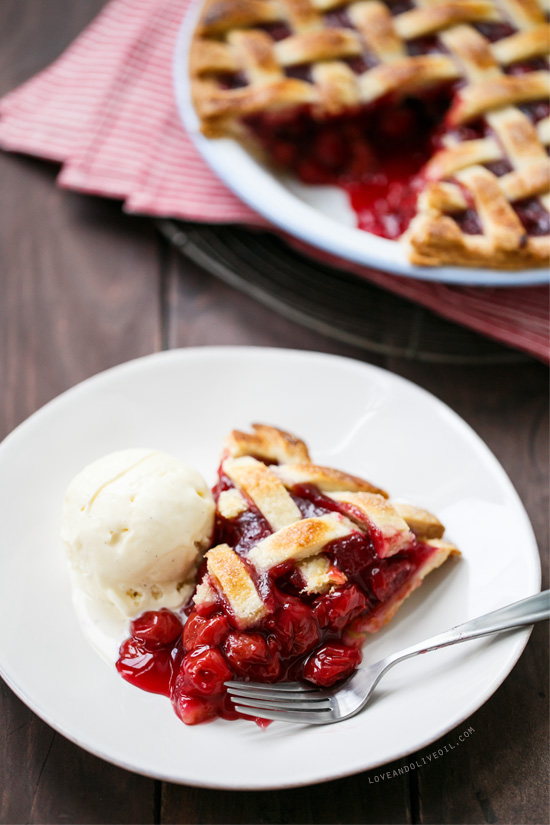 Sometimes, though, the universe listens. Shortly after I put it out there that I was desperate to find tart cherries locally (along with the more exotic passion fruit), I got a friendly email from the Cherry Marketing Institute, looking for a few recipes featuring the fickle fruits.
Whether they saw my tweet or simply felt the energy I had put out into the ether, I'll never know. Needless to say, I enthusiastically said yes, and shortly thereafter a precious package of frozen tart cherries arrived on my doorstep, just ready to be made into pie.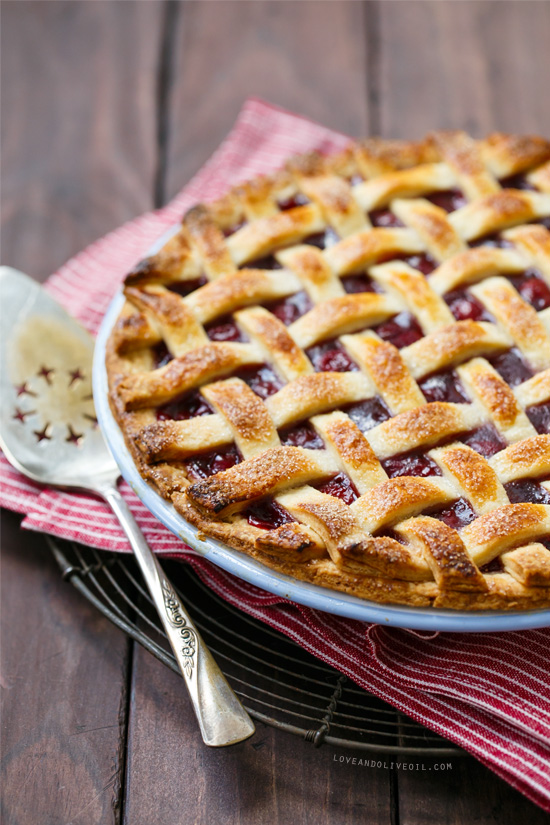 I immediately thawed out a bag and got to work developing a recipe for a classic cherry pie. Sure, you can add things to it if you're looking for something ultra unique, a splash of bourbon or some citrus zest or whatever else you fancy. But my goal here was simple: to make a basic, classic, and utterly fantastic tart cherry pie.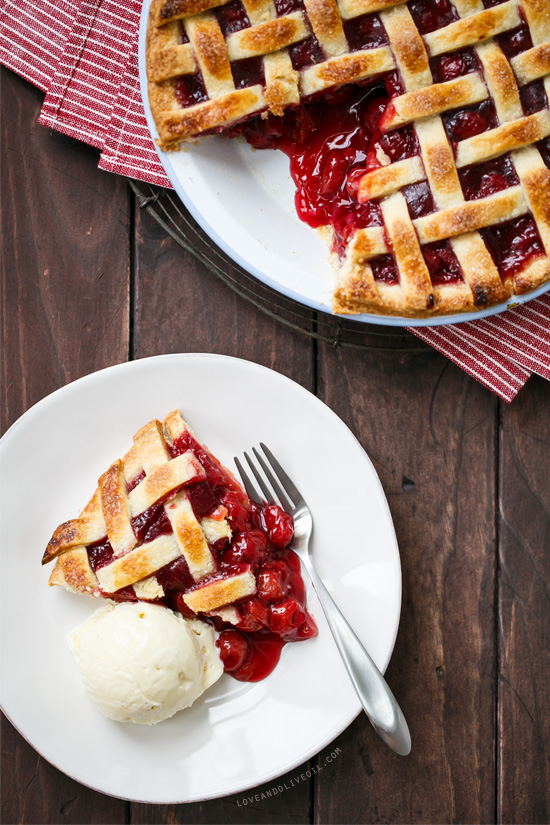 With my troubled history with pie crust, the fact that I attempted a lattice-top pie is pretty darn brave on my part.
Clearly I'm a glutton for punishment.
Oddly enough, it was the filling that gave me the most trouble this time, refusing to thicken or over-thickening into a gluey mess. I tested cornstarch, flour, and tapioca. I tested various amounts and even combinations of each. I tested simply folding the thickener in with the cherries and sugar and baking it, but what ultimately worked for me was cooking the filling first on the stove and then pouring it into the crust. That small head-start made all the difference.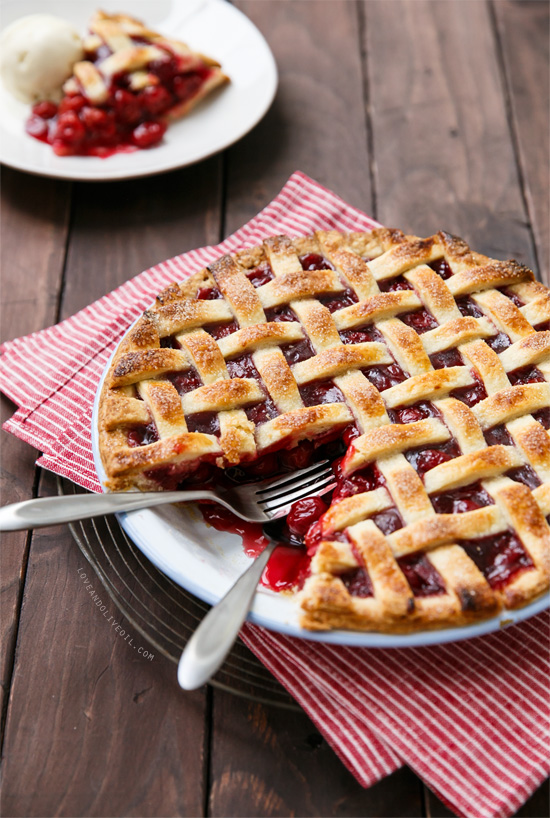 3 days, 4 pies, and 8 pounds of tart cherries later, I declared cornstarch the ultimate winner.
Flour thickened nicely on its own without any pre-cooking, but the filling was slightly cloudy in appearance and had an equally muddled flavor that I didn't love. Tapioca starch, with its crazy thickening super-powers, turned into some sort of cherry glue with a texture more like a fruit snack than cherry pie filling (although people swear by it, so take that as you will). Cornstarch, however, once I established the need to pre-thicken it on the stove, baked up beautifully clear, with a clean, neutral flavor that let the cherries shine. As long as you don't cut into the pie too soon, you'll end up with a perfectly structured pie with just the right amount of ooze.

Turns out the lattice is much easier than I expected. The edge-crimping still stumps me though, and the first few pies I made were sad excuses for pies, in more ways than one. I finally resigned myself to the fact that I cannot crimp a pie crust to save my life, gave up trying, and went about finding an alternative finishing method. Turns out the easiest possible technique produced the cleanest result: I simply trimmed the crust and the lattice to the edges of the pie tin with a pair of kitchen shears. That's it. No folding, no crimping, no problem.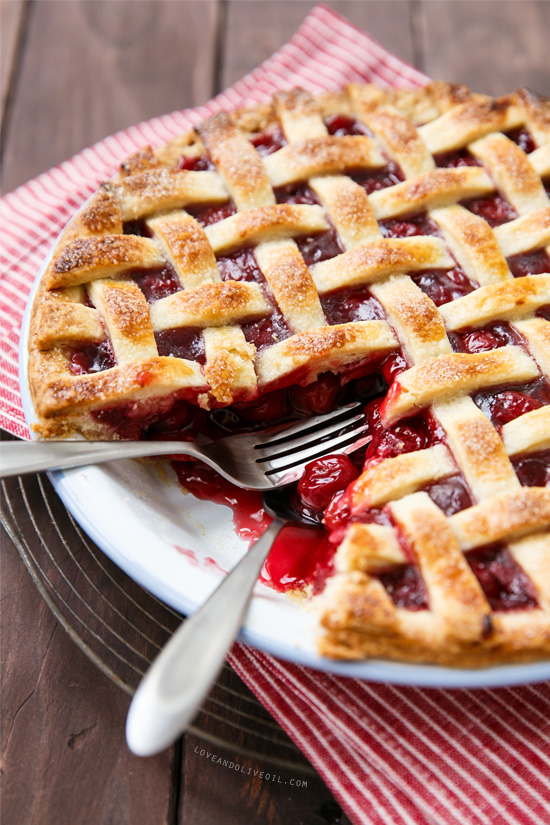 If you're like me and are having a heck of a time locating pie cherries for your bucket-list pie, check out CherryProcessor.com for a list of tart cherry growers and processors with online ordering options.
This recipe can also be adapted to use canned tart cherries, just treat them as you would thawed frozen cherries, thickening the cherries with their juices as instructed. If you can get your hands on fresh tart cherries (you lucky dog, you!) simply whisk the cornstarch with a tablespoon or two of cherry juice and add it to the saucepan with the cherries.
And stay tuned, as now that I've conquered the elusive tart cherry pie, I've got a few more tart cherry recipes in the works that you're going to love just as much.
How do you like them apples cherries?
Tart Cherry Pie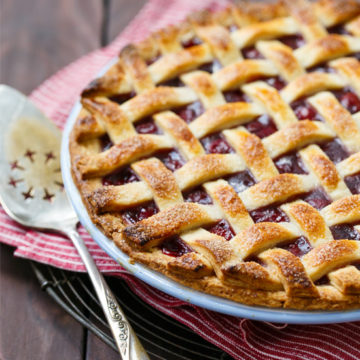 Ingredients:
For Crust:
2 1/4 cups all-purpose flour
1/2 cup almond flour
3 tablespoons granulated sugar
1 teaspoon kosher salt
1 cup (2 sticks) very cold unsalted butter, cut into pats
4-5 tablespoons ice water, as needed
For Filling:
6 cups (2 pounds) frozen tart cherries
1 cup granulated sugar, divided
3 tablespoons cornstarch
1 teaspoon lemon juice
3/4 teaspoon almond extract
1 large egg
1 tablespoon milk
turbinado or raw sugar, for sprinkling (optional)
Directions:
FOR CRUST, combine flour, almond flour, sugar, and salt in the bowl of a food processor and pulse to combine. Spread butter pats evenly over surface. Pulse until butter is broken up into pea-sized crumbles, about 20-25 short pulses. Sprinkle with a few tablespoons of water and pulse on low speed, drizzling in more water until dough just starts to come together. You may not need all the water. Divide dough into two equal balls (each should weigh about 12 ounces); wrap tightly in two layers of plastic wrap, flatten into disks, and refrigerate at least 1 hour or overnight. Note: if standard pie crust gives you trouble, try pulsing 2/3 of the flour with the butter until it comes together into a paste (you'll feel like you are overprocessing, but that's ok!) Break up the paste and spread it evenly around the food processor, then sprinkle with remaining flour and give it 5-6 short pulses. Then transfer the dough to a bowl, sprinkle with ice water, and press and fold with a rubber spatula until just incorporated. The dough will be stickier than you may be used to, but after chilling for 1-2 hours it will be perfectly workable.
Remove one disk of dough and let sit at room temperature for 5 minutes to soften slightly. Roll out on a lightly floured surface to a 12-inch circle. Gently ease the dough into a 9-inch-round pie pan. Trim edges flush with the edges of the pan (or slightly longer if you want to crimp the edges). Refrigerate for at least 30 minutes.
FOR FILLING, toss frozen cherries with 1/2 cup of sugar. Place in a fine mesh strainer or colander set over a bowl to catch any juices. Let sit, stirring occasionally to redistribute the juices, for about 1 hour or until cherries are mostly thawed and 1/4-1/2 cup of liquid has drained out the bottom.
Dump drained cherries into a saucepan with lemon juice. Whisk remaining 1/2 cup sugar and cornstarch into reserved cherry juice until smooth and no visible cornstarch chunks remain. Fold into saucepan with cherries. Cook over medium-high heat, stirring gently and scraping the bottom and sides of the pan, until mixture comes to a boil and juices have noticeably thickened, about 1-2 minutes after the mixture begins to bubble. Remove from heat and stir in almond extract. Pour into chilled crust and return to the refrigerator.
Whisk egg and milk together in a small dish and set aside. You will need this to brush the crust later.
On a lightly floured surface, roll out second pie crust to a 12-inch circle. You can use this as a solid top, or, to create a lattice top, cut circle into 14 1/2-inch-wide strips. First brush the edges of the crust with egg wash. Arrange half of the strips vertically across the top of the pie, with the longest strips in the center. Gently fold back every other strip to a little past the center. Place one long strip of dough horizontal to the other strips across the center of the pie. Unfold the folded strips to lie flat on top of the horizontal strip. Fold back the strips that weren't folded back last time, place another horizontal strips, then unfold again. Repeat until the lattice is complete. Press down edges of lattice lightly to adhere. Trim to the edge of the pie pan (or, if you have extra overhang, fold and crimp). Brush lattice with egg wash and sprinkle with raw sugar (if desired).
Refrigerate pie while you preheat your oven to 400 degrees F. Set pie on a baking sheet (to catch any overflow) and bake in the middle rack for 35 to 40 minutes or until crust is golden brown and filling is bubbly. If, after about 20 minutes or so the edges of the crust are already browned, cover the edges with a thin strip of foil to keep them from burning.
Remove pie from oven and place on a wire rack to cool completely. Don't be tempted to slice into it early or you'll end up with a juicy mess. The pie needs at least 3 hours to properly set. You'll know when it's completely cooled when the bottom of the pie pan is no longer warm to the touch.
Slice and serve at room temperature with vanilla ice cream.
Did you make this recipe?
Let us know what you think!
Leave a Comment below or share a photo and tag me on Instagram with the hashtag #loveandoliveoil.
Disclosure: This post was sponsored by the Cherry Marketing Institute. As always, all opinions written are purely our own. We're incredibly grateful for opportunities like these that allow us to continue sharing delicious recipes with you, so thank you for supporting us and the brands we love.