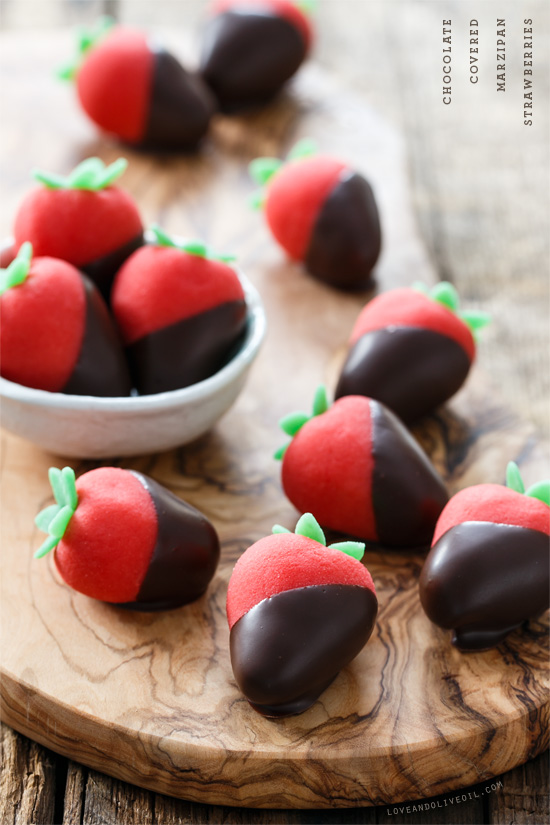 Mthp mowpheth ahh finthgs thorfth marthiparwn.
Oh, excuse me. My mouth is full of marzipan.
As will be yours when you realize how easy (and inexpensively) it can be made at home. No more spending $17 for an 8 oz log. When you calculate the cost for the homemade stuff (even the more expensive version using almond flour vs whole almonds), it's less than $5 for a full pound.
Cost aside, I dare you to find a store-bought marzipan as lusciously soft as this. It's anything but hard and crumbly. The splash of orange blossom water enhances the flavor in a way that you can't really pinpoint, a faintly floral undertone that frolics around the intense almond essence.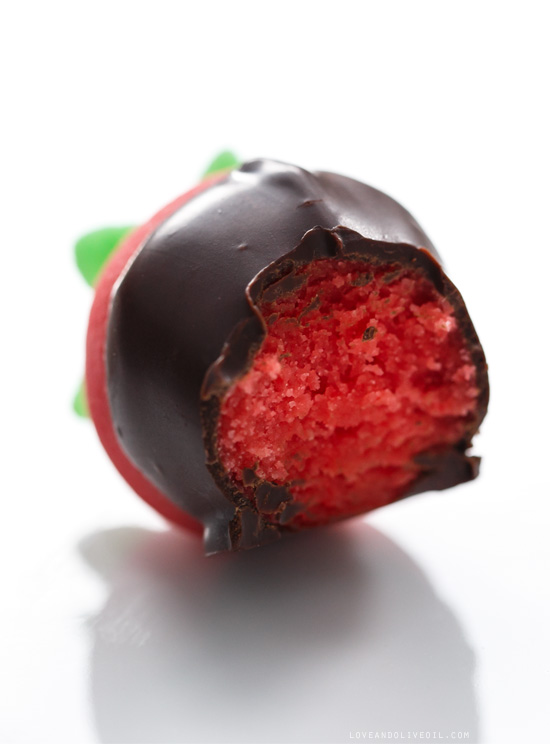 Deciding what to DO with a pound of fresh, still warm marzipan though (other than, you know, shove it in my mouth) was tricky. Since I'm apparently going through a 'chocolate-covered strawberry' phase, both real and faux (in this case), I colored the dough (and my hands) a vibrant berry red and shaped it into strawberries. With a bit of green (made using a thin piece of marzipan and a flower cutter), and dipped in chocolate, it was all I could do not to devour the entire batch before the chocolate was even hardened.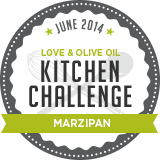 You don't need much to make homemade marzipan: almonds (or almond flour), sugar, water, egg white (I used a carton liquid egg white), and optionally orange blossom water and almond extract for flavoring.
I chose to use almond flour, mainly because I've never had much luck grinding almonds as finely as necessary on my own. My food processor simply doesn't do it justice. Sure, I could blanch and peel and dry and grind and sift and grind and sift and grind… but frankly I was feeling lazy and had a few bags of almond flour on hand. So I used it. It'd be a bit more economical to grind your own, as whole almonds usually run around half the price of almond flour. But time is money, right? Half the price, double the time… I'll let you decide what is worthwhile to you.

Once you've got your finely ground almonds, though, the process is surprisingly quick. Boil sugar, mix in almonds, egg whites, and flavorings until it forms a smooth paste. Then knead with some powdered/confectioner's sugar until it's smooth and pliable. Once there, what you do with it is up to you. I chose to color and shape the dough into strawberry shapes, and then dip them in melted chocolate.
You could also use the marzipan within another recipe, such as these Mini Marzipan Cheesecakes, or these Marzipan and Orange Blossom Morning Buns.
While I was unable to track down actual bitter almond, a bit of extra almond extract served to enhance the almond flavor. It's optional, as is the orange blossom water, but if you love almond flavor my guess is you like it intense.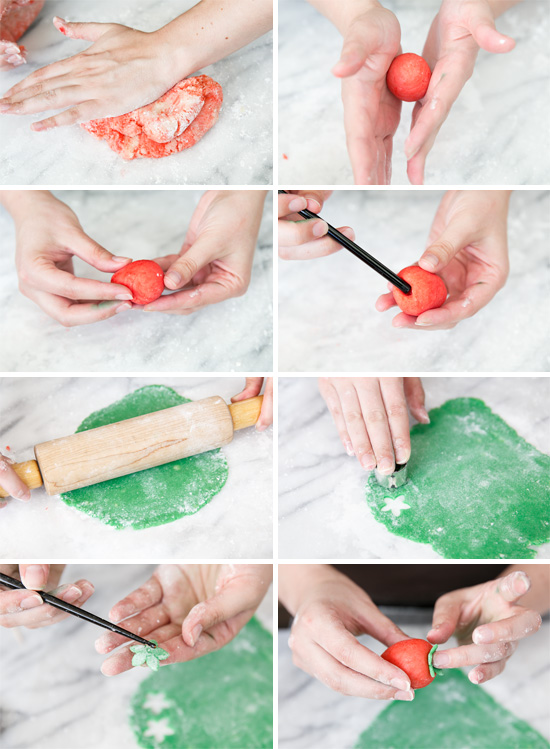 To make the strawberries, pull off a golf-ball-sized chunk of marzipan and set aside. Color the large portion red, and the smaller ball green, kneading until the color is smooth. Pull off 1-inch chunks of the red. Roll into a ball, then roll or pinch one end to make it slightly oblong. Using the back of a paintbrush or chopstick, indent the top of the berry shape for the 'dimple' where the stem goes.
Roll out the green piece between two sheets of waxed paper. Cut out small flower shapes. I used a small flower cutter similar to these ones. Thin out the leaves a bit with your fingers. Dab a bit of corn syrup on the bottom of the green piece, then adhere to the top of the strawberry shape. Mine stuck, mostly, although they were pretty fragile. You could also use a dollop of chocolate or even buttercream to make them stick a little more securely.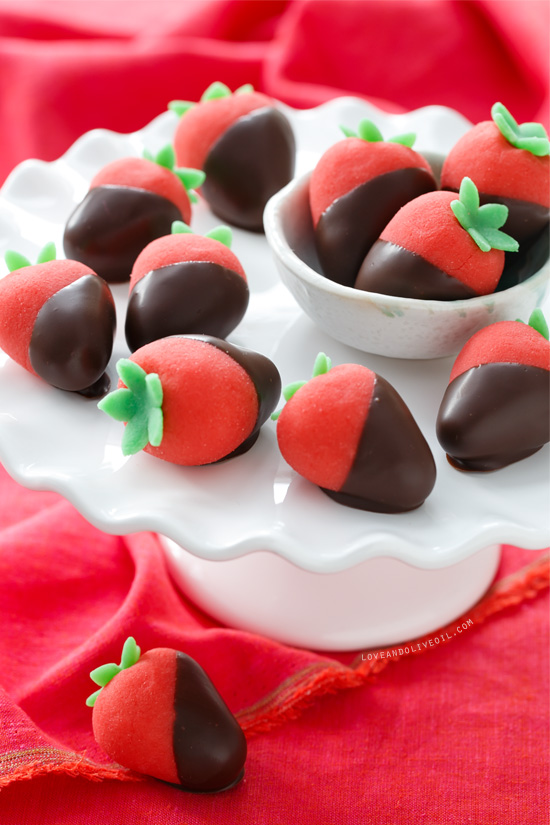 Once you've shaped all your berries, dip them in some melted chocolate if you like. Because the only thing better than fresh marzipan is fresh marzipan dipped in chocolate.
Homemade Marzipan (Boiled Marzipan)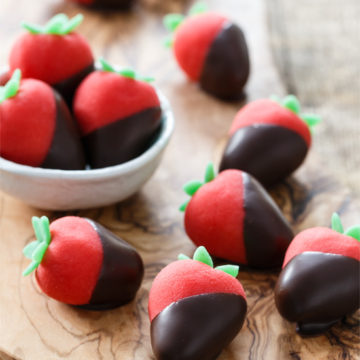 Ingredients:
2 cups (6 ounces) almond flour or finely ground blanched almonds
1 cup granulated sugar
1/4 cup plus 2 tablespoons water
1 egg white (3 tablespoons), lightly beaten
1/2 teaspoon orange blossom water
1/4 teaspoon almond extract
Confectioner's sugar, as needed
Directions:
In a pan, gently heat sugar and water over medium heat, stirring constantly, until sugar is dissolved. Stop stirring and bring to a boil, brushing down the sides of the pan with a wet pastry brush to wash down stray sugar crystals. Increase the heat to medium-high and boil until the syrup reaches 238ºF (116ºC) on a candy thermometer.
Remove the pan from heat and lightly stir until the syrup begins to grain (you should see a faint cloudiness). Stir in the ground almonds. Add lightly beaten egg white and return to low heat, cooking gently for a minute or two until the marzipan firms up slightly. Remove from heat and mix in orange blossom water and almond extract.
Turn out marzipan onto a work surface dusted with confectioner's sugar. Let sit until cool enough to handle. Knead until smooth and pliable, kneading in a few tablespoons of confectioner's sugar as needed if mixture is too sticky. Knead in color and flavor while still warm.
Store marzipan and finished candies wrapped in plastic wrap or waxed paper, refrigerated in a airtight container or zip-top bag, for up to 1 month, or frozen for up to 6 months. To soften, bring to room temperature and knead in a few drops of water until marzipan is smooth and pliable.
Did you make this recipe?
Let us know what you think!
Leave a Comment below or share a photo and tag me on Instagram with the hashtag #loveandoliveoil.
I must have scared you guys or something, that or it's summer vacation and no one wants to be slaving over a hot pot of boiling sugar. Who knows. I DO know that Liz gets, like, 42 gold stars for her submission. Not only was she the only brave soul to tackle this challenge, but her truffles look fan-freaking-tastic. Seriously.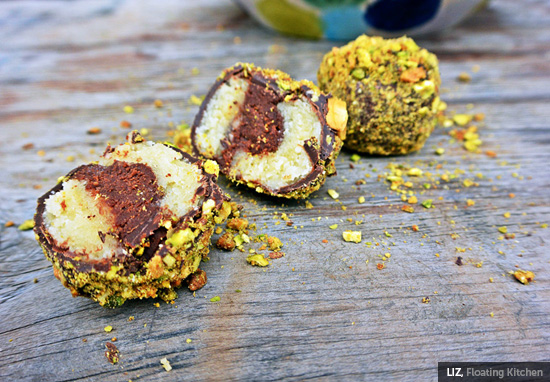 I'll be back again in a few weeks with the August kitchen challenge. Any requests? :)