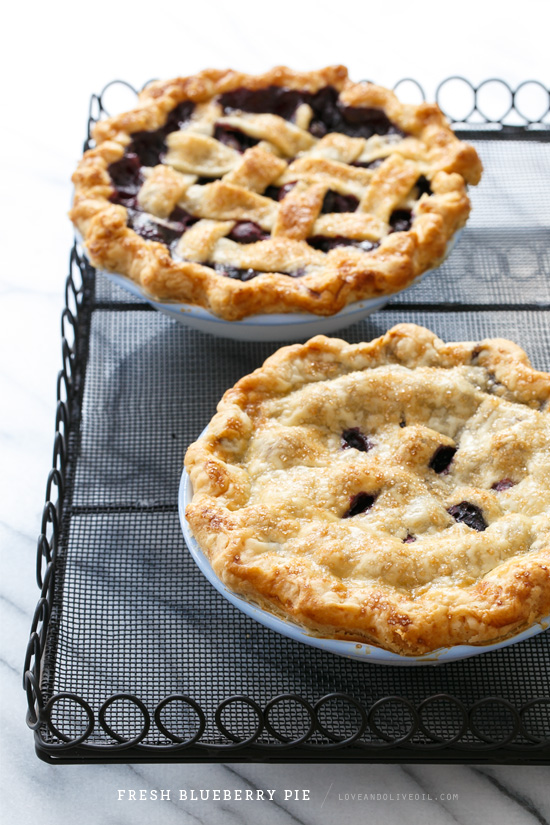 YOU GUYS.
I'm not even kidding when I say this is the best pie I've ever made. That's not me bragging, I'm as surprised as anyone. From the beautifully flaky crust to the flavorful, non-runny filling… this pie was pure perfection. I could barely contain my excitement when I pulled them out of the oven, and when I sliced into it I was literally grinning from ear to ear (if only for about 1.5 seconds before I started stuffing my face).
This is about as classic as blueberry pie gets, with one notable exception: almond, by way of a splash of almond extract in the filling and a few tablespoons of almond flour in the crust. That subtle almond flavor just takes this pie from damn good to freaking amazing.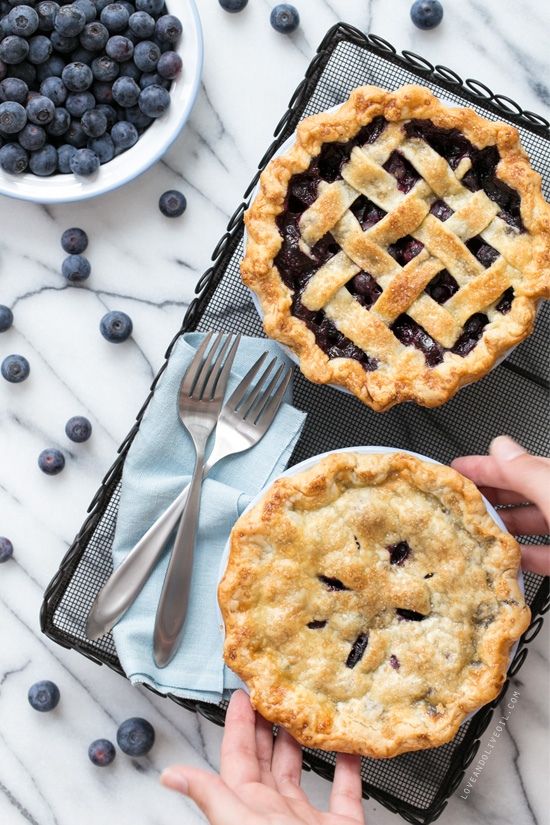 If you know me, you know I have issues with pie crust. We are not friends. It is pretty much assumed that there will be a pie crust 'incident' every Thanksgiving. I've even managed to screw up a graham cracker crust before, if you can believe it.
So when I told told Taylor I was attempting a double-crusted fruit pie, the fear in his eyes was palpable (let's just say I'm not the most pleasant person to be around when such 'incidents' occur). I think he was worried that I'd bite his head off before the pies were out of the oven. So we were both pretty happy when the crust cooperated. Drama-free pie for all.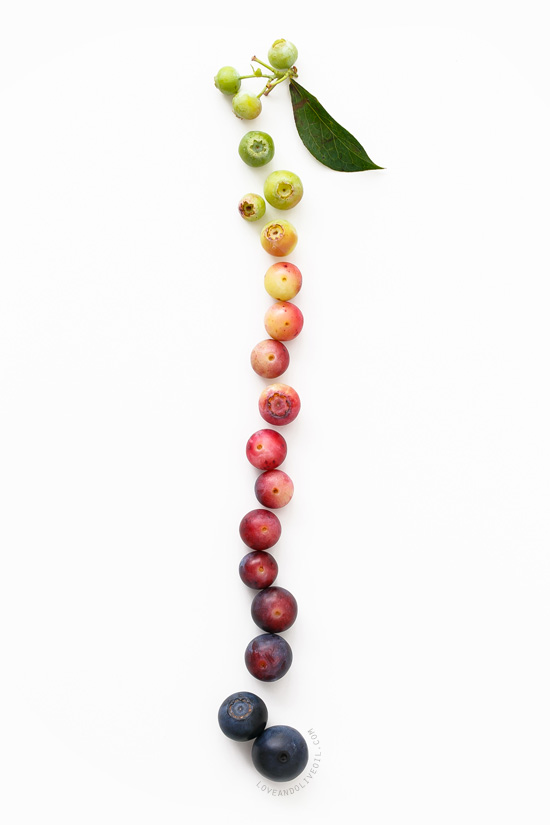 Short side note since we're talking about blueberries… I originally posted this spontaneous blueberry art on Instagram, where it promptly became my most-liked photo EVER. I started to think how lovely this would look framed on the wall, and as a result am excited to announce I've opened up a small Society6 shop. Currently you can buy this image (and a horizontal version) as an art print, stretched canvas, iphone cases and more. Pretty cool! The plan is to add more of my favorite images to the shop in the coming months (and I'm happy to take requests if there's an image you'd love to have on your wall!)
</end shameless self promotion>
But, back to pie.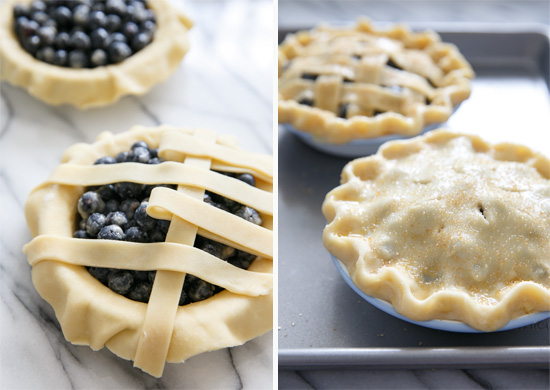 I used this easy pie crust recipe from Serious Eats. The theory being that the flakiness doesn't require visible chunks of butter, but rather creating a paste of butter and flour first creates a beautifully flaky crust that is much easier to work with. Which is very true, to the extent I thought that I f*cked up and added way too much water because the dough was so smooth and pliable (spoiler alert: I didn't. It's supposed to be that way.)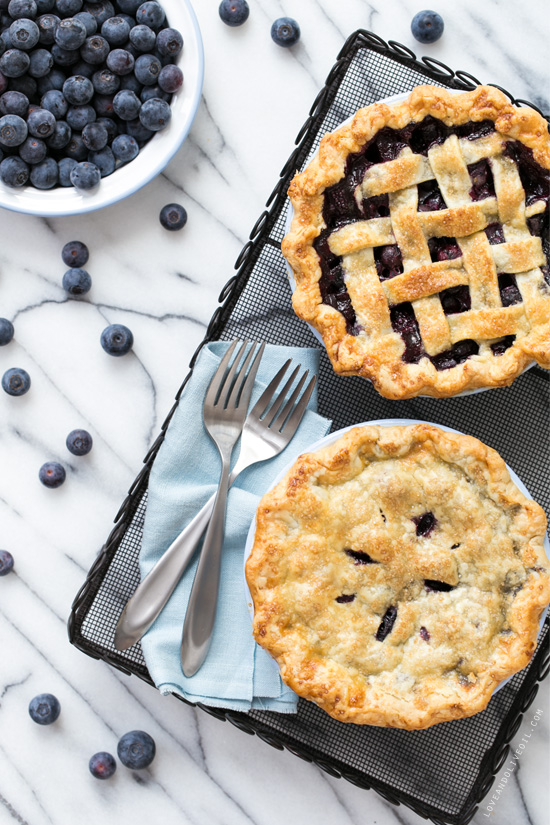 A 9-inch pie is a lot of pie, especially for two people. Instead, I used two small pie tins (about 4-inches) across. Turns out that in terms of straight volume, one of these tins is almost exactly 1/4 of a 9-inch pie. So half a normal pie recipe yields two mini pies, which is pretty perfect for two people.
Pie math is the best kind of math.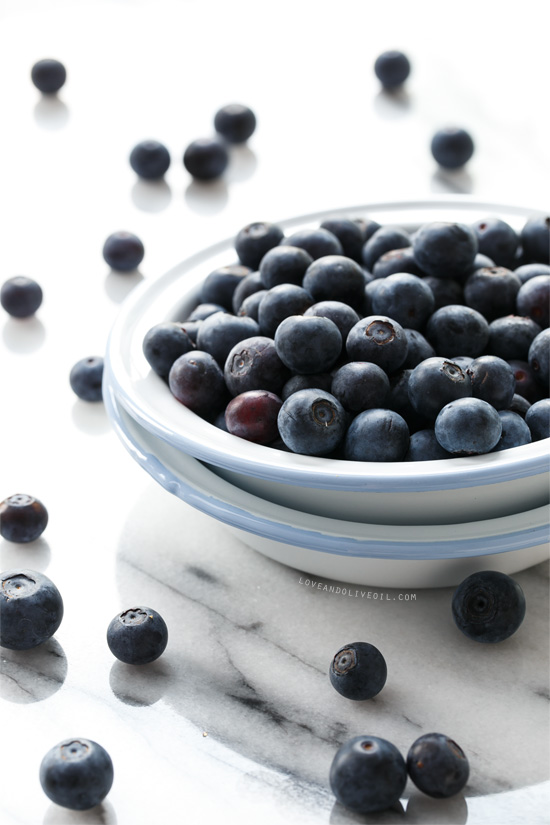 I'm not usually one for fruit desserts, but this pie was divine; I didn't miss the chocolate at all. So good, in fact, that wish I had made a big one, or at least four little ones instead of two.
I guess that means we'll just have to go back and pick some more blueberries before the season is over… as if the 8 pounds we already picked wasn't enough.
Fresh Blueberry Pie
Fresh blueberry pie recipe with a hint of almond and an ultra-flaky crust. Make one standard size pie, two 7-inch pies, or four mini 4-inch pies!)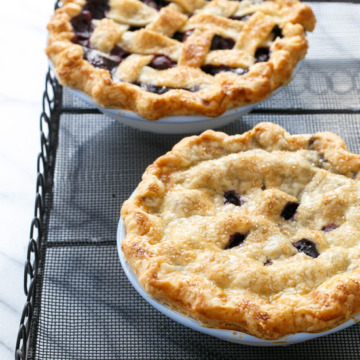 Ingredients:
For Crust:
2 cups (10 ounces) all-purpose flour
2/3 cup (2.5 ounces) almond flour or almond meal
2 tablespoons sugar
1 teaspoon kosher salt
2 1/2 sticks (20 tablespoons) unsalted butter, cut into 1/4-inch pats
6 tablespoons cold water
For Filling:
6 cups (about 2 pounds) fresh blueberries, rinsed and stems removed
1 tablespoon freshly squeezed lemon juice
1/2 teaspoon almond extract
1/4 cup all-purpose flour
1/2 cup white granulated sugar
For Wash:
1 egg
1 tablespoon milk
turbinado sugar, for sprinkling
Directions:
Prepare the crust. Combine 1 1/2 cups of flour, almond flour, sugar, and salt in the bowl of a food processor. Pulse to incorporate. Drop butter chunks evenly over surface. Pulse until no dry flour remains and dough just begins to collect in pasty clumps, about 25 short pulses. Redistribute the dough evenly around the bowl of the food processor and sprinkle with remaining flour. Pulse until dough just begins to break apart, about 5 short pulses. Transfer dough to a large bowl.
Sprinkle with water and fold and press with a rubber spatula until dough comes together into a ball. Split in half and form into disks. Wrap each disk tightly in two layers of plastic wrap and refrigerate for at least 2 hours or overnight (at this point dough can also be frozen for up to 1 month).
On a lightly floured work surface, roll out half of the dough to a circle about 13 inches in diameter. Gently ease the dough into a 9-inch pie pan. Trim edges to a 1/2 inch overhang. Refrigerate for at least 30 minutes until ready to use.
To prepare the filling, fold blueberries together with lemon juice and almond extract in a large bowl. Sprinkle with sugar and flour and toss to coat. Transfer to chilled pie crust, berries should mound higher in the center (they will shrink when baked). Roll out remaining dough to the same size and thickness as the first. Gently place on top of the berry filling and trim. (Alternatively, you can cut the crust into strips and weave together to form a lattice top). Tuck edge of top piece over and under the edge of the bottom crust and crimp. Refrigerate until firm, at least 30 minutes.
Preheat oven to 425 degrees F. Whisk egg and milk together to make an egg wash. Brush the top of crust with egg wash and sprinkle generously with turbinado sugar. If making a solid-top pie, cut a few slits in the top crust to allow steam to escape while baking. This is not necessary for lattice-tops. Place the pie on a parchment or foil-lined baking sheet (to catch any overflow) in the middle rack of the oven. Bake for 20 minutes, then reduce heat to 350 degrees F and bake for 30 to 40 minutes more or until crust is golden brown and filling is thick and bubbly. (For 6-inch pies, bake for 15 minutes, then reduce heat and bake for 25 to 35 minutes.) Place on a wire rack to cool completely before serving.
Did you make this recipe?
Let us know what you think!
Leave a Comment below or share a photo and tag me on Instagram with the hashtag #loveandoliveoil.