Crisp. Cobbler. Crumble. It's a veritable culinary jumble. Can someone tell my why such similar desserts must distinguish themselves with completely different names?
Not wanting to be politically (dessert-ically?) incorrect, I tried to figure out the difference for myself. Turns out crisps and crumbles are essentially identical except one has oats and one doesn't. But depending on the source, which one is which is up for debate. Cobblers at least, stand apart, being topped with biscuit dough and all. There's also Slumps and Grunts and Buckles and Brown-Bettys, which are all, essentially, some variation of a baked fruit and pastry dessert.
I decided I could pretty much call this whatever I wanted, since technically speaking it doesn't quite fit into any of the existing categorizations (maybe I should have come up with my own name?)
Crumble sounded the best to me, and so Crumble it shall be.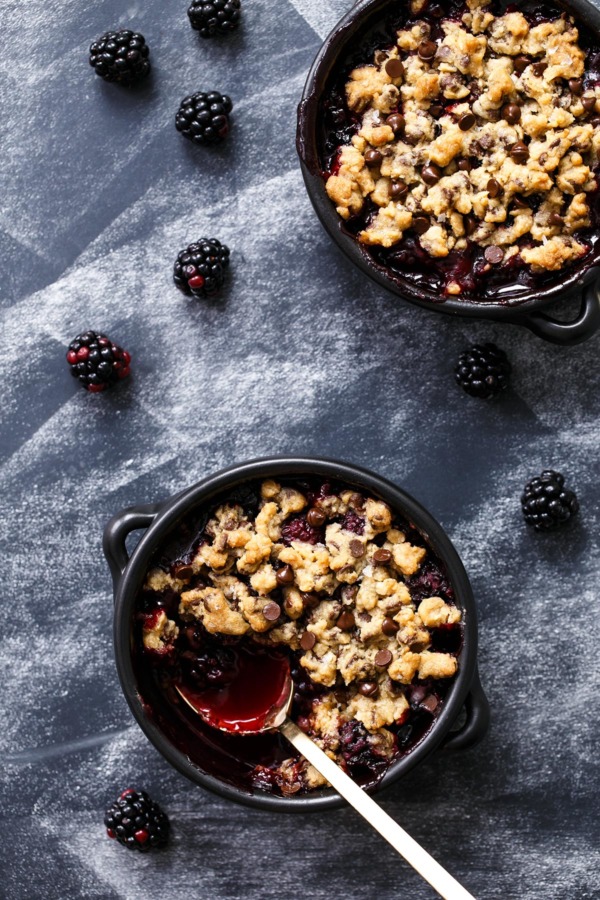 This is one of those mutant desserts that simply works. Crumble/cobbler/crisp meets oatmeal chocolate chip cookie, and the results are beautiful. While the combination of baked fruit and chocolate may not seem like an acceptable pairing, the unexpected pockets of chocolate are equal parts surprise and delight.
The fruit softens and sweetens and bubbles over with juices as it bakes, the oatmeal cookie topping turning a robust golden brown. Soft and crisp, salty and sweet, fruit and indulgent chocolate. It's a dish of bold contrasts, and yet also one of perfect harmony.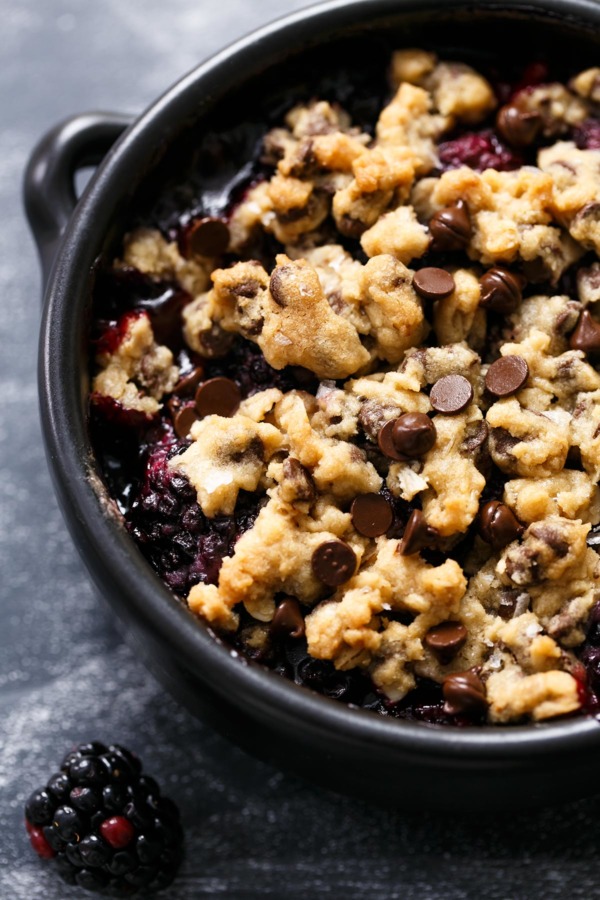 This winter was hard on Tennessee fruit, and our favorite orchard was pretty much wiped out. In years past I've reveled in quarts of the sweetest blackberries you've ever tasted, and they've made their way into everything from lemonade to applesauce.
This year seems to be filled with blueberries and peaches, but I didn't want to go an entire summer without enjoying at least a few blackberries. So while we were out filling buckets with blueberries a few weeks ago, we bravely ventured into the blackberry brambles, braving the bugs and the overgrowth to pick a precious quart of berries.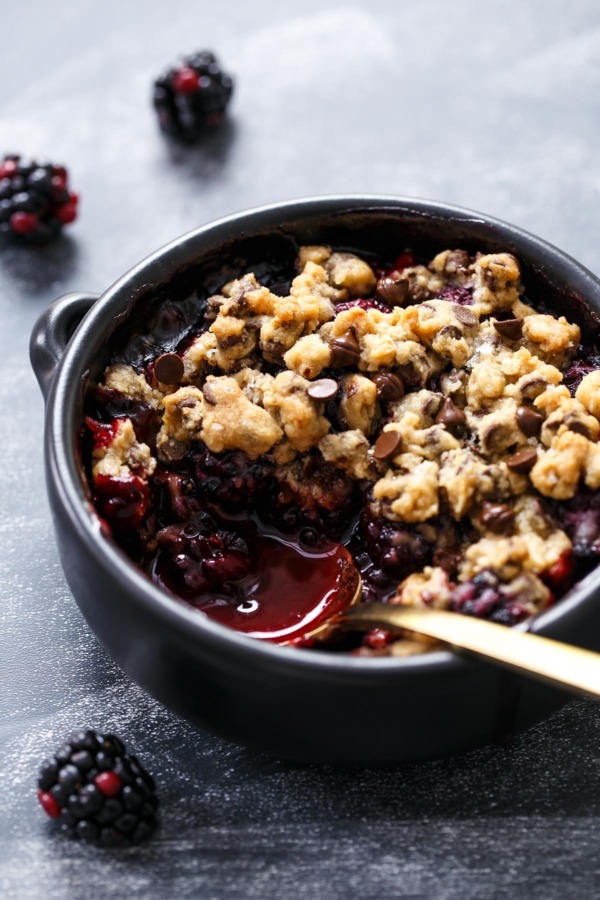 Most of those berries, aside from the sweet few that we devoured on the drive home, made their way into this crumble. This particular batch of berries was unpredictable, some sweet and some surprisingly tart. So whereas with other berries I'd rely more on the natural sweetness of the fruit, here the sugar is necessary. Although you are welcome to adjust the sugar in this recipe based on the relative tartness of your berries, it won't affect the overall outcome.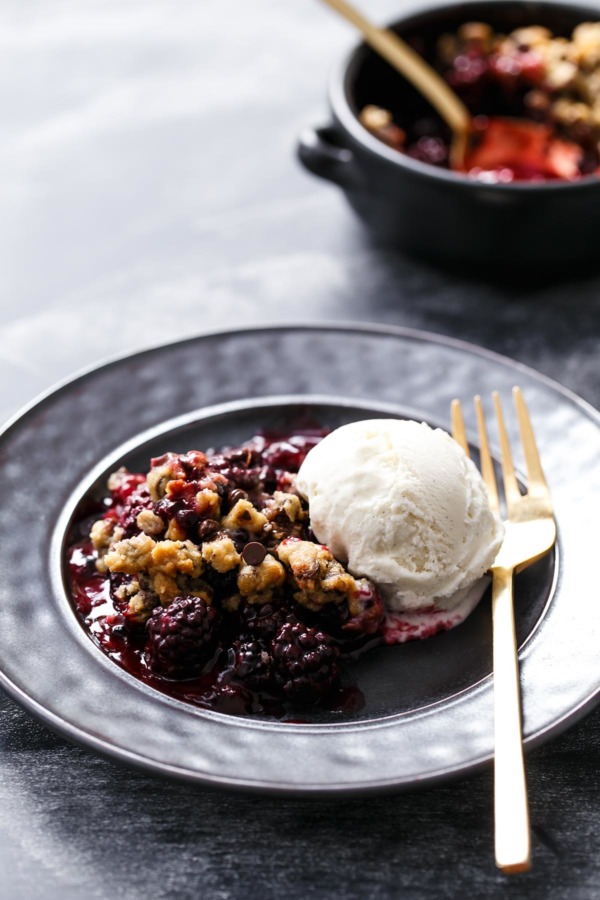 Serve this warm with a scoop of vanilla ice cream, a cool and creamy contrast to the warm fruit and chocolate. And as is melts and mingles with the fuchsia-hued berry juices, you'll wonder how you ever lived without this in your life. And I'm right there with you.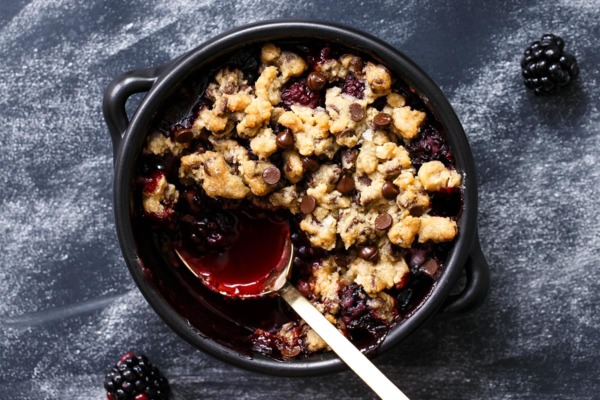 Blackberry Chocolate Chip Cookie Crumble
Blackberry crumble meets oatmeal chocolate chip cookie, and the results are a thing of beauty, with unexpected pockets of chocolate that are equal parts surprise and delight.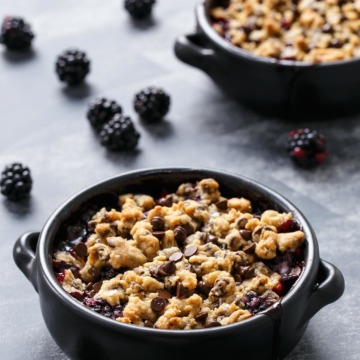 Ingredients:
For Filling:
16 ounces (3 cups) fresh blackberries
2 tablespoons all-purpose flour
1/3 cup granulated sugar
1 teaspoon freshly squeezed lemon juice
pinch salt
For Topping:
1/4 cup unsalted butter, room temperature
1/3 cup packed light brown sugar
1 teaspoon vanilla extract
1/2 cup all-purpose flour
1/3 cup old-fashioned oats
1/4 teaspoon salt
1/2 cup mini semisweet chocolate chips or chopped semisweet chocolate
flake sea salt (such as Maldon)
Directions:
Preheat oven to 350 degrees F.
To prepare filling, toss blackberries with flour, sugar, and lemon juice. Divide filling among four 6-ounce or two 12-ounce ramekins and arrange on a baking sheet (to catch any overflow).
To make topping, beat butter and brown sugar with an electric mixer on medium-high speed until light and fluffy, 2 to 3 minutes. Mix in vanilla. Add oats, flour, and salt and mix until incorporated. Dough will be slightly crumbly. Stir in mini chocolate chips. Generously crumble over top of blackberries. (You may not need to use all the topping, that's ok, it's basically an eggless oatmeal cookie dough so munch away!) Sprinkle with more chocolate chips (if desired) and flake sea salt.
Bake for 30 to 35 minutes or until fruit filling is bubbling and cookie topping is light brown and crispy. Remove from oven and let cool for 10 minutes before serving warm with vanilla ice cream.
Did you make this recipe?
Let us know what you think!
Leave a Comment below or share a photo and tag me on Instagram with the hashtag #loveandoliveoil.