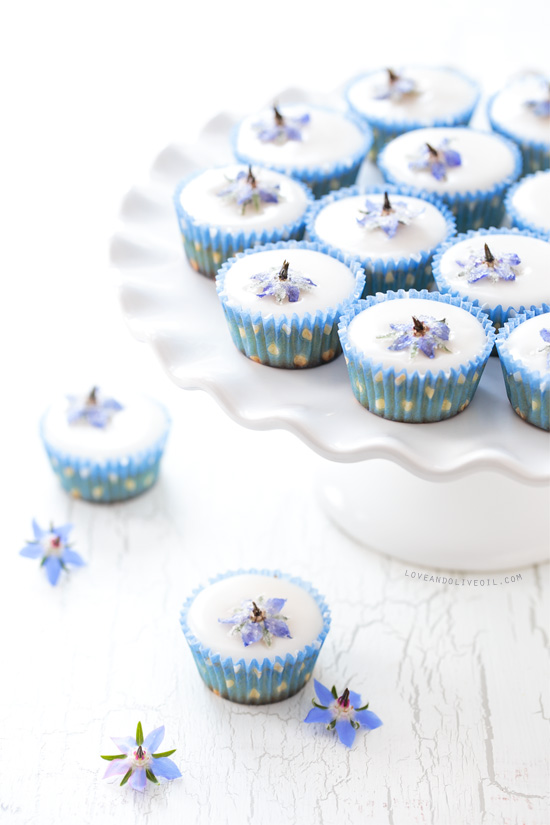 What is the difference between a cupcake and a fairy cake? Or a tea cake for that matter? Actually, I think tea cakes are actually cookies (huh?) so scratch that question. Fairy cakes and cupcakes are actually quite similar (and sometimes used interchangeably), but I'd describe fairy cakes as more refined, and definitely daintier. Cupcakes are most definitely an American invention, while fairy cakes are more European, with a lighter sponge cake and a sugary glaze in place of a heaping pile o'buttercream.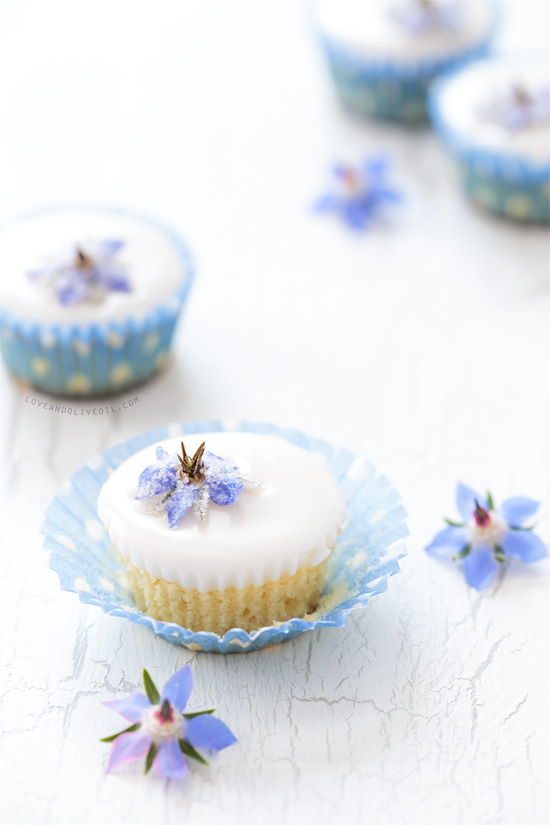 This is one case where the individual elements may fall flat, but together they sing; the whole really is better than the individual parts. The cakes on their own could be described as uninspired, lacking a crucial sweetness that you expect in a dessert. But when topped with a thick layer of sweet, almond-scented fondant, they come into their own, where a sweeter cake would simply be too sugary.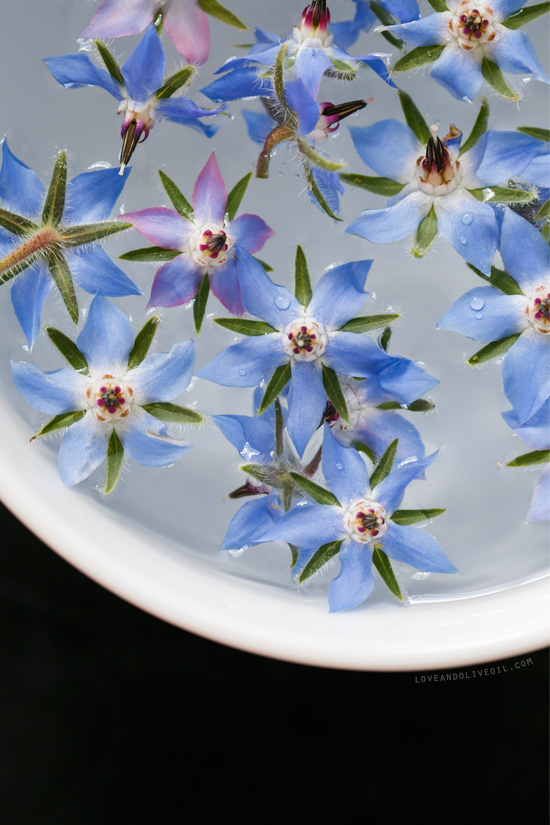 In this case, the fairy cakes are basically just a vehicle for something I've been wanting to do since last summer: candied borage flowers. Unfortunately, last year my one borage plant didn't produce much in the way of flowers (gangly thing could barely support itself), but this summer I've got a whole pot full of them. A few weeks ago they started to bloom and haven't stopped since.
The ephemeral flowers emerge a bright orchid hue in the early morning, and within hours will transform into the rich periwinkle hue they are known for. But wait too long and the flowers will have faded and shriveled, so it took me a few days to harvest enough flowers for an entire batch of cupcakes. I'd go out each morning after the flowers had turned blue and carefully snip off the periwinkle-colored blossoms. They were then candied and set out to dry. The next day, same thing with another handful or two of flowers. Depending on how many plants you have you may be able to do it all in one day.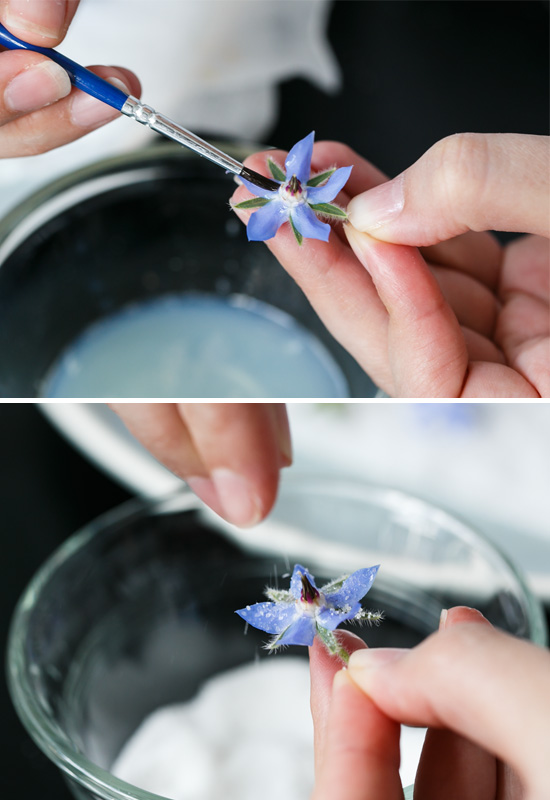 The candying process is quite simple, just a thin brushing of egg white (I used a pasteurized carton egg white) and a sprinkle of granulated sugar (or superfine sugar, if you have it). It helps to have a bit of a stem to hold on to while you work, so keep that in mind when harvesting your flowers.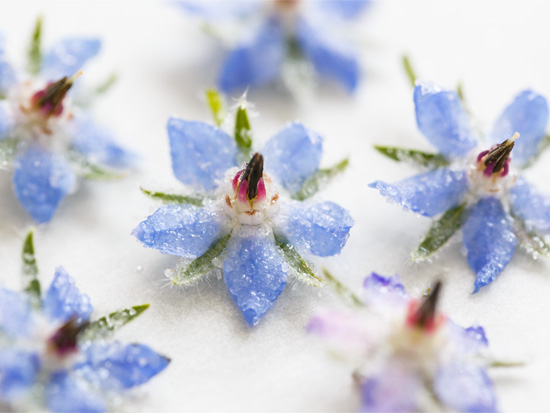 When the flowers dry, they will darken and shrivel slightly, but if you've been diligent about giving them a nice even coat of egg and sugar, will retain much of the brilliant blue hue even after a few days.
While I used borage, this same technique can be used for other edible flowers such as violets and pansies. I tried to candy a few purslane flowers but the petals were tissue thin and unable to support the weight of the egg white, let alone the sugar. You could certainly also use sugar or buttercream flowers if foraging for edible flowers isn't your thing.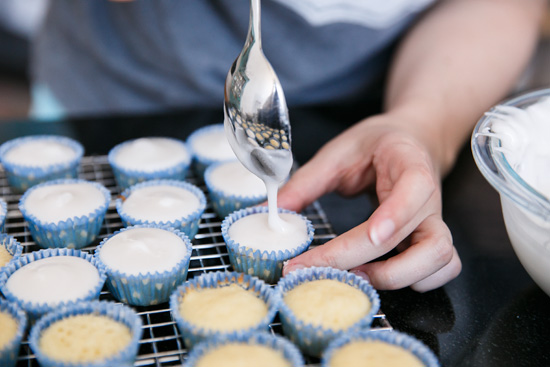 I'd never worked with poured fondant before, and it reminded me a lot of royal icing in terms of consistency. You may need to experiment a bit to find what works best for you. It took me a half a dozen cupcakes before I had the right technique and consistency for a perfectly smooth top. If at any point the fondant starts to set up too much, simply microwave it for 15 seconds or so and it'll soften again into a smooth, pourable icing.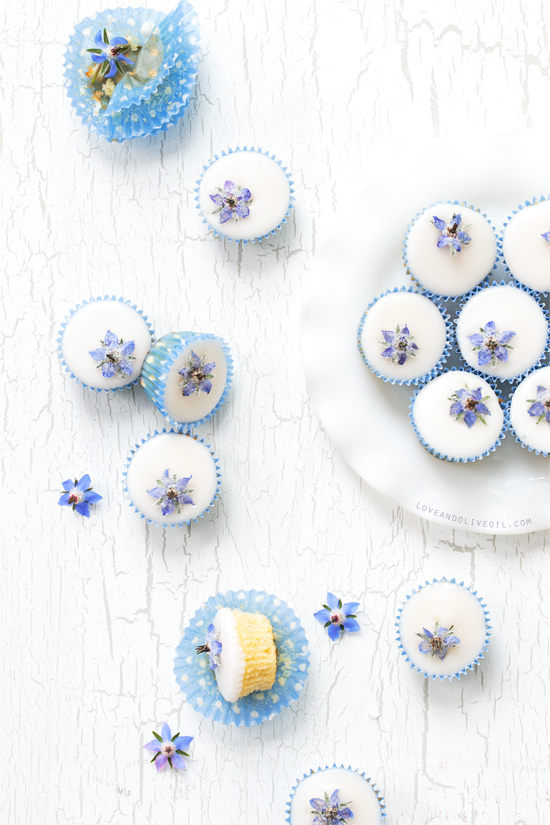 Almond Fairy Cakes with Candied Borage Flowers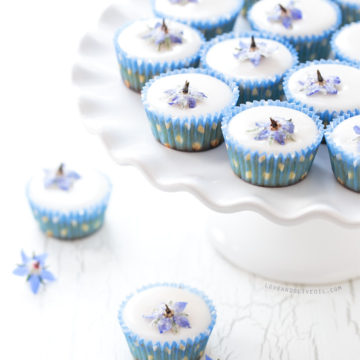 Ingredients:
For Candied Flowers:
36 fresh borage flowers, gently rinsed and dried
Pasteurized egg white
Superfine or granulated sugar
For Fairy Cakes:
1 cup cake flour
1/4 cup almond flour or very finely ground almonds
1/2 teaspoon baking powder
1/4 teaspoon salt
1/2 cup granulated sugar
1 stick (1/2 cup) unsalted butter, room temperature
2 large eggs, room temperature
1/4 cup whole milk
1 teaspoon vanilla extract
3/4 teaspoon almond extract
For Poured Fondant:
2 1/2 cups granulated sugar
1/2 cup water
1/4 cup corn syrup
1/4 teaspoon almond extract
Directions:
For candied flowers: gently rinse flowers and pat dry. Keep in mind when harvesting the flowers, you'll want at least a 1/2-inch stem to hold on to. You can always trim it later if it's too long.
Using a small (clean) paintbrush, gently paint a thin layer of egg white onto entire flower, front and back. Sprinkle with fine sugar. The trick is to get a thin, even layer over the entire flower. Big clumps of sugar will dry that way, so take your time. Place flower on a parchment lined baking sheet and repeat with remaining flowers.
Let flowers dry for at least 24 hours or until completely dry. I found it best to put the flowers in a cool oven with the light on, and prop the door open with a wooden spoon. Dried flowers can be stored indefinitely, though they will darken the longer they are stored.
For fairy cakes: preheat oven to 350 degrees F. Line mini cupcake pans with 36 paper liners.
Sift together cake flour, almond meal, baking powder, and salt in a bowl and set aside. In a large mixing bowl or the bowl of stand mixer, beat butter and sugar on medium-high speed until light and fluffy, about 2 to 3 minutes. In a separate small bowl, whisk together eggs, milk, vanilla extract, and almond extract.
Add 1/3 of dry ingredients to bowl with butter, and mix on medium-low speed. When almost incorporated, pour in half of wet ingredients. Repeat, alternating dry ingredients and wet when the previous addition is almost incorporated, and ending with the final 1/3 dry ingredients. Mix until just incorporated. Do not overmix.
Drop a scant tablespoon of batter into each cupcake paper. You want the cups to be just under half-full, much less than if you were making standard mini-cupcakes. You want to be sure the cupcakes, when fully baked and risen, still fall under the top rim of the cupcake paper. Bake for 11 to 12 mintues or until a toothpick inserted in the center comes out clean. Remove from oven and let cool 10 minutes, then transfer to a wire rack to cool completely.
For poured fondant: combine sugar, water, and corn syrup in a heavy medium saucepan set over medium-high heat. Bring to a simmer, stirring gently just until sugar is completely dissolved. Place a candy thermometer in the saucepan and cook until the syrup reads 238ºF. Remove from heat and dip the bottom of the pot into a pan of ice water to halt the cooking process. Clean off thermometer if necessary, then place it back in the saucepan. Let the syrup cool to 150ºF, about 30 to 45 minutes.
When syrup has cooled, pour into a clean mixing bowl or the bowl of a stand mixer. Add almond extract and beat on high speed for 5 to 10 minutes or until it thickens and turns an opaque white. Transfer to a microwave-safe bowl. At this point, the fondant should be the consistency of honey: coming off a spoon in thick ribbons and dissolving into itself within a few seconds. If it is too thick, add a few teaspoons of water and microwave for 15 seconds, then stir until smooth. The fondant will set rather quickly, so if at any point it becomes too thick to settle into an even layer, simply microwave it for 15 seconds and then stir until smooth and pourable again.
Spoon a teaspoon or two of liquid fondant on to each cupcake, tapping gently to level the fondant to the edges of the cupcake papers. While fondant is still wet, top each cupcake with a candied flower.
Cupcakes are best enjoyed the day they are made, but will keep up to 2 days when stored in an airtight container.
Did you make this recipe?
Let us know what you think!
Leave a Comment below or share a photo and tag me on Instagram with the hashtag #loveandoliveoil.