Our old toaster was pathetic. Really. When we first moved to Tennessee, while Taylor was reluctantly painting our kitchen walls turquoise, I spent hours online picking out a toaster. I finally purchased a cute little $35 toaster on eBay, wooed by the turquoise color and less concerned about the actual functionality of it. When the toaster finally arrived, the adjustment knob on the front was detached and floating around the box. I emailed the seller about the damage, who promptly refunded my $35 and told me it wasn't even worth the postage to sent it back.
Fast forward seven years later, and we were still using that little turquoise toaster. Turns out if you carefully reinserted the knob you could still choose the toastiness level just fine. Every time it fell out, we just stuck it back in.
Needless to say, I think we were well overdue for a new toaster.
Enter Magimix® by Robot-Coupe®. Probably most well known for their tricked out food processors (someday…) but I never realized they made toasters too. One look at the slick chrome casing and genius glass front (seriously brilliant) and I was sold.
With our old toaster, I'd have to toast a piece of bread three times, flipping it over and around at least twice if I wanted it even remotely evenly toasted. And even then one side of the bread would be burnt while the other side was still pale and soft.
The Magimix® Vision Toaster makes toast a spectator sport. You can watch your toast toast and remove it at the precise level of toastiness you desire. And with a single cycle, the bread is evenly golden brown on both sides. And the bagel, reheat, and defrost settings will prove useful in just about any toast situation.
Want one of these stunning toasters for your own kitchen? Click through for your chance to win!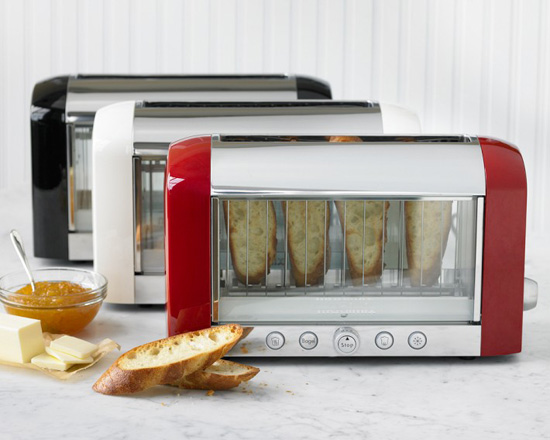 One lucky winner will receive a Magimix® Vision Toaster in the color of their choice, Chrome (MSRP $249.95) or Red, Black, or Cream (MSRP $199.95). You can currently buy the Vision Toaster in all shades at Williams-Sonoma, and in chrome on the wedding registry site Zola.com.
Giveaway is now closed.
Thanks for entering!
The fine print: No purchase necessary. Giveaway open to residents of US and Canada only. Void where prohibited. Winner will have 48 hours to respond otherwise an alternate winner will be chosen. Bonus entry requirements will be verified if selected as the winner, otherwise an alternate winner will be chosen. Giveaway sponsored by Magimix®. I received product for review, but all opinions written are purely my own.