Scones are often, for lack of a better term, boring. And, unfortunately, there are a lot of bad scones out there. Dry, flavorless, chalky things that you can't swallow without submersing them in coffee first. A sad thing too, because when you stumble upon a truly good scone, it's as good on its own as with a cup of coffee.
I had such a scone last month when I was invited to visit the Panera Bread test kitchens in New Haven, Connecticut. We (myself and five other talented baking bloggers) sampled a slew of head chef Tom Gumpel's pastries, from croissants to bread pudding to homemade pop tarts, and I almost passed up the scones completely in an effort to preserve valuable stomach space. But I'm glad I didn't, because they were perhaps the best scones I've ever had in my life. Light and tender on the inside, moist yet fluffy, with a delightful crispy outside. And let's not forget the fact that a thumbprint scone is downright brilliant.
This recipe is adapted from Tom's strawberries and cream scone recipe, with apricot in place of the strawberry elements. Unlike scones I've made in the past, the texture of these was spot on and is probably what makes these scones stand apart from their imposter cousins who would be better off as hockey pucks than breakfast pastries.
The scone itself couldn't be simpler, little more than flour, baking powder, sugar, salt and heavy cream, more like a cream biscuit than anything, which could be the secret behind the perfect texture. White chocolate chunks, vibrant orange flecks of dried apricots, and a filling of thickened apricot jam round out this delightful scone.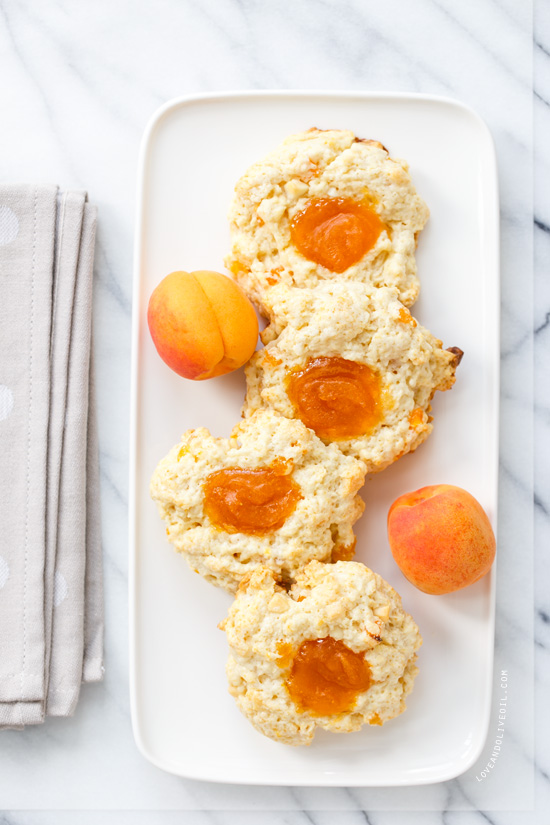 You could certainly try Tom's original version with dried strawberries and strawberry jam, or any other jam/fruit combo (thickening a typical jam with a bit of cornstarch gives it added structure so it won't melt and leak out during the baking process), or you could swap out the white chocolate for chocolate chips, perhaps, or even fold in a bit of cinnamon and some raisins (if you're in to that kind of thing… me, personally, I'll stick to the chocolate).
Apricots and Cream Thumbprint Scones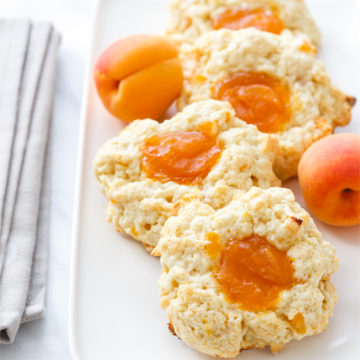 Ingredients:
1 cup apricot jam
1 teaspoon cornstarch
3 1/2 cups all-purpose flour
1/2 cup granulated sugar, plus more for sprinkling
2 tablespoons baking powder
3/4 tesapoon salt
2 1/2 cups heavy cream
3/4 cup dried apricots, diced into 1/4-inch chunks
1/2 cup chopped white chocolate chunks
half & half or cream, for brushing
Directions:
Preheat oven to 350 degrees F. Line two baking sheets with parchment paper or silicone mats.
In a small saucepan, melt apricot jam over medium heat. Whisk cornstartch with 1 tablespoon cool water and add to jam. Cook, stirring occasionally, until mixture thickens and starts to bubble. Remove from heat and refrigerate until cool.
In a large bowl or the bowl of a stand mixer, combine flour, sugar, baking powder, and salt. Add heavy cream, apricots, and white chocolate and stir or mix on low speed until evenly moistened. Dough will be very thick and stiff.
Using an ice cream scoop or large cookie scoop, portion equal sized scoops onto prepared baking sheets, leaving two inches of space betwen them.
Make a deep impression into the center of each scone using your thumb or the back of a teaspoon. Spoon a heaping teaspoon of thickened apricot jam into each impression.
Lightly brush the outsides of scones (not the jam) with half and half or cream. Sprinkle with sugar.
Bake for 25 to 30 minutes or until bottoms are brown and tops are lightly golden. Let cool for 15 minutes before serving.
Recipe from Panera chef Tom Gumpel.
All images and text © Lindsay Landis /
Love & Olive Oil
Did you make this recipe?
Let us know what you think!
Leave a Comment below or share a photo and tag me on Instagram with the hashtag #loveandoliveoil.