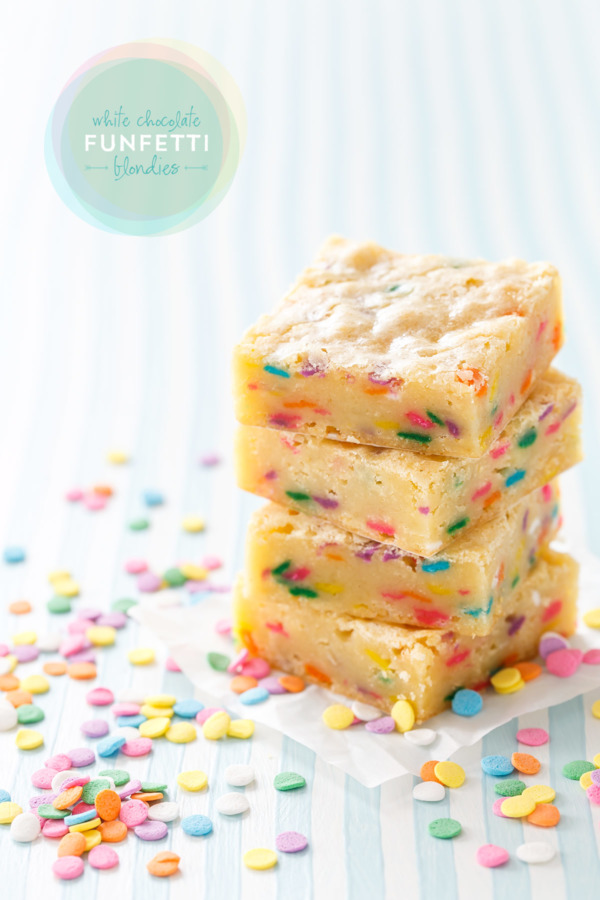 If springtime doesn't make you want to run outside, dig in the dirt, and dye your hair blonde, I don't know what will. Ok, maybe not that last part (I'm quite content with my dark chocolate tresses, thank you) but the warmer weather is enough to make me set aside my usual brunette confections for their golden counterparts.
These would make a perfect Easter treat, with their sunny dispositions and pastel rainbow flecks. Proof perhaps that blondes, at least the dessert kind, really do have more fun.
The blondie base is the same one I used in the Cookie Dough Lover's Cookbook… minus the white chocolate macadamia cookie dough part, of course. While the recipe uses white chocolate as the base, the flavor isn't overly white chocolatey. I'd describe it as somewhere between a chocolate chip cookie and a yellow cake. They are sweet and buttery with an almost gooey texture inside, and a crispy paper-thin top crust, exactly like you'd expect from a fudgy chocolate brownie. Just in reverse.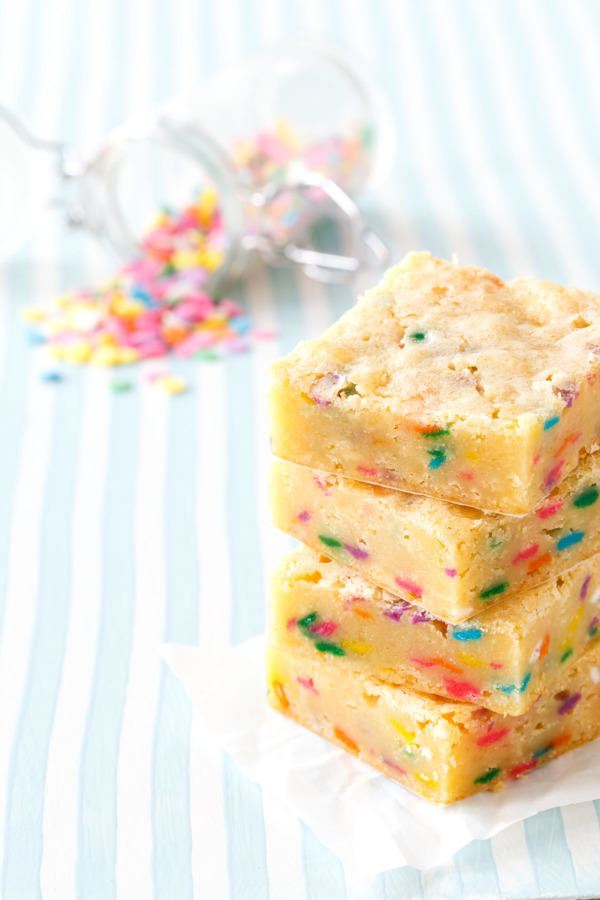 But let's talk sprinkles. You could use jimmies if that's all you have, however I've found that quins or confetti sprinkles come out more vibrant and with less color bleed. But whatever you do, don't use nonpareils – they are about as colorfast as a leaky ink pen and will turn your batter an unappetizing shade of murky gray.
It's sprinkle science, just plain fact.
If only all science resulted in sweet treats like these, instead of explosions and tedious equations, I may very well have been a scientist.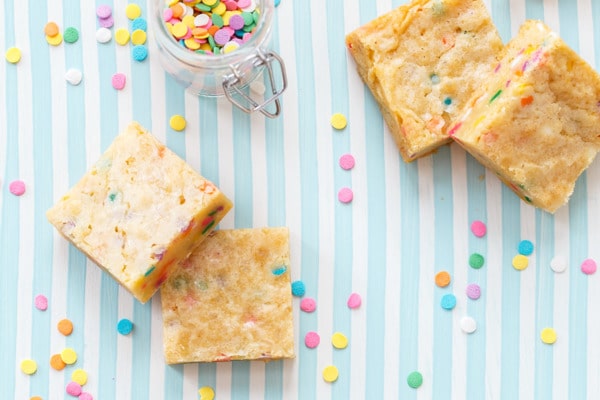 White Chocolate Funfetti Blondies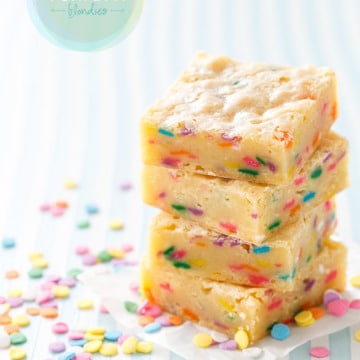 Ingredients:
1/2 cup unsalted butter
5 ounces good quality white chocolate, shaved or finely chopped*
1/2 cup granulated sugar
1/4 cup packed light brown sugar
2 large eggs
1 1/2 teaspoons vanilla extract
1 cup all-purpose flour
1/4 teaspoon baking powder
1/4 teaspoon kosher salt
1/3 cup confetti quin sprinkles
*Good quality white chocolate will have cocoa butter listed as one of the first ingredients. Stay away from white baking chips, which legally can't be called white chocolate as they are made from partially hydrogenated oils instead of cocoa butter. They won't work in this recipe.
Directions:
Preheat oven to 350 degrees F. Line an 8-by-8-inch baking pan with parchment paper; lightly butter parchment.
Melt butter in a large, microwave-safe bowl. Add white chocolate; the residual heat from the melted butter should be enough to melt the chocolate. If necessary, microwave on medium power in 10 second intervals, stirring until completely melted and smooth.
Stir in sugar and brown sugar. The mixture may appear to separate a bit at this point which is normal. Whisk in eggs and vanilla until smooth.
Fold in flour, baking powder, and salt until almost incorporated, then fold in sprinkles. Pour into prepared pan.
Bake for about 30 minutes or until top is set and lightly crackled and edges are golden brown. A toothpick inserted near the center should come out cleanly with only a few moist crumbs attached. Place pan on a wire rack and let cool to room temperature, then cover and refrigerate for at least 2 hours or overnight. Lift out blondies using edges of parchment paper as handles and cut into 16 even squares. Blondies will keep in an airtight container for up to 3 days, or refrigerated for up to a week.
Did you make this recipe?
Let us know what you think!
Leave a Comment below or share a photo and tag me on Instagram with the hashtag #loveandoliveoil.