There's marshmallow, and then there's toasted marshmallow. Two entirely different beasts. Toasting brings out the best in an otherwise bland puff, caramelizing the sugars and giving the marshmallow a delightful crunch.
But how to get that tell-tale toasted flavor into ice cream?
Turns out it's as easy as throwing some toasted marshmallows into a blender with the warm custard base. Well, not quite that easy, there were some issues with my initial process I needed to resolve, but the result is a rich and creamy ice cream that tastes like it just came off a campfire.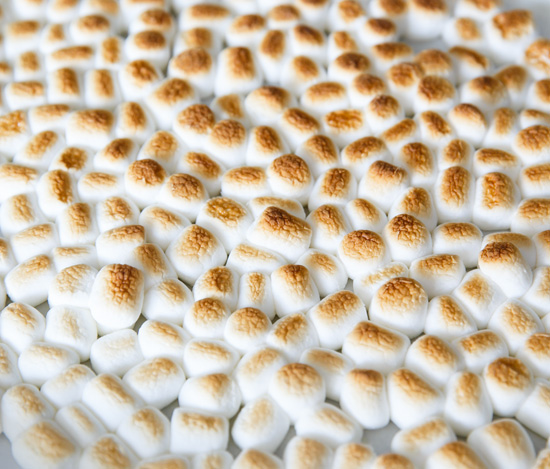 My first attempt was a bit of a mess. I didn't spray the baking sheet before broiling, and what I ended up with was a sticky mass that could not physically be removed without bringing half the aluminum foil with it. The second time, I used parchment paper and generously sprayed it with cooking spray. After cooling for 10 minutes or so the marshmallows came off fairly easily. Still messy, but at least this time they were usable.
My second mistake was the marshmallow swirl. For the first batch I used straight marshmallow fluff. In theory it seemed like it would work, the fluff texture was about what I wanted for my swirl. Except it wouldn't really swirl. I dropped dollops of fluff into the ice cream container with the freshly churned ice cream. The fluff floated to the top, barges of gelatin that were far to thick to swirl and froze harder than the ice cream itself. Oh don't worry, we definitely ate that batch, but the top half of the container was basically solid frozen fluff.
Plan B. This time I used marshmallow topping (you can find it in the ice cream aisle of the grocery store with the other ice cream toppings). You can also make your own by microwaving some marshmallow fluff with water and stirring until smooth. You want it to be about the consistency of honey, so it can easily be drizzled in to the soft ice cream. When you transfer your freshly churned ice cream into the freezer container, alternate spoonfuls of ice cream with drizzles of marshmallow topping. The result will be scoops of toasted marshmallow ice cream with ribbons of gooey marshmallow throughout.
I borrowed a technique from Jeni's for the ice water bath, since I mistakenly got rid of an excess set of mixing bowls that were the best water bath bowls I had. Jeni's ice cream recipe is much different than what I used here, but her technique of putting the ice cream base into a zip-top freezer bag is quite convenient and cools the mixture down much quicker than a traditional ice water bath and prevents a skin from forming on the custard with no extra layers of plastic wrap needed. And once it's thoroughly chilled, it is very easy to just snip a corner and pour all the base into the ice cream maker without any drips or mess.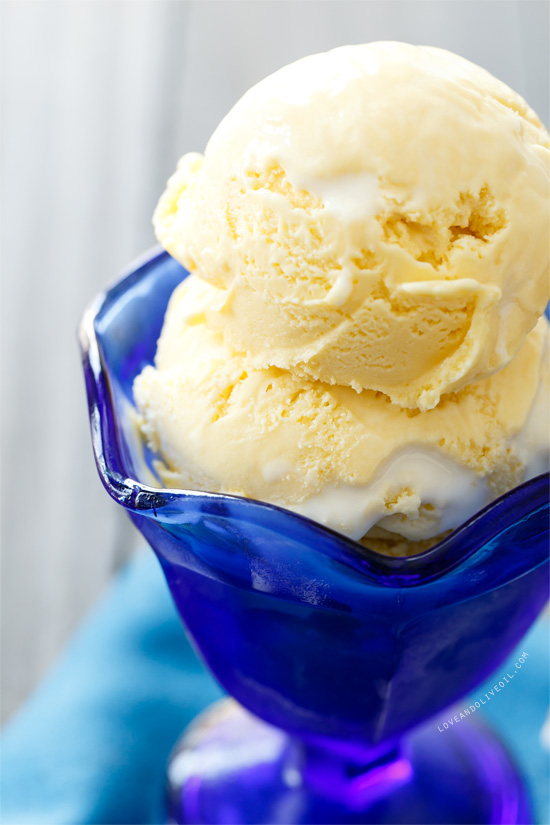 I had big plans for this ice cream, exactly what I won't share just yet because I may see it through to fruition. But the ice cream itself was so good it deserved a post of its own.
Toasted Marshmallow Swirl Ice Cream
Ingredients:
2 cups (6 ounces) mini marshmallows
2 cups heavy cream, divided
1 cup whole milk
1/3 cup granulated sugar
pinch salt
4 egg yolks
1/2 teaspoon vanilla extract
1/2 cup marshmallow topping*
*Marshmallow topping is a thin sauce that can easily be drizzled into the ice cream base. Do not substitute marshmallow fluff (it's too darn thick). You can make your own topping from scratch or by microwaving marshmallow fluff with a few tablespoons of water (as needed) and stirring until it is the consistency of warm honey.
Directions:
Preheat broiler. Line a baking sheet with parchment paper. Spray liberally with cooking spray. Spread mini marshmallows in a single layer on baking sheet and broil for 2-3 minutes until toasted and golden brown. Watch them very carefully as they can go from golden brown to ON FIRE in a matter of seconds. Remove from oven and let cool, then transfer to the canister of a blender.
To make the ice cream base, combine 1 cup of the cream, milk, sugar, and salt in a saucepan set over medium heat. Cook, stirring occasionally, until sugar is dissolved and mixture just starts to steam. Remove from heat.
In a small bowl, whisk egg yolks. Slowly ladle in some of the warm cream mixture, 1/4 cup at a time, until about half of the cream mixture has been incorporated and yolk mixture is warm to the touch. You want to do this gradually; doing so will temper the egg yolks rather than cook them.
Pour yolk mixture back into the saucepan and return to medium heat, stirring constantly and scraping the bottom of the pan as you do, until the mixture thickens slightly and coats the back of a spoon, about 5 to 7 minutes (it will measure approximately 170ºF on a thermometer). Do not let it to boil. Pour mixture into blender with marshmallows and blend until smooth. Add remaining 1 cup cream and vanilla extract and blend until combined.
Pour ice cream base into a zip-top freezer bag and seal. Place in a bowl filled with ice water, and let sit for 15 to 20 minutes or until cooled to room temperature. Pour out ice water and refrigerate base at least 3 hours or preferably overnight.
Churn ice cream according to manufacturer's instructions. When ice cream is the consistency of soft serve, spoon a bit into to a freezer safe container. Drizzle with marshmallow topping. Repeat, alternating a spoonful of soft ice cream and a drizzle of marshmallow topping until none remains. Freeze overnight until firm.
Did you make this recipe?
Let us know what you think!
Leave a Comment below or share a photo and tag me on Instagram with the hashtag #loveandoliveoil.