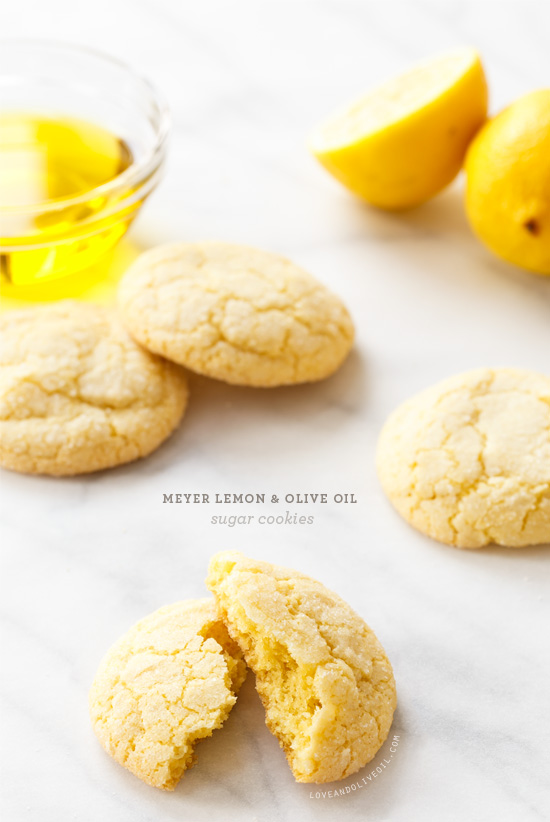 Today I'm excited to share this recipe I created in collaboration with Capay Valley Ranches®. As always, all opinions written are purely our own. We're incredibly grateful for opportunities like these that allow us to continue sharing delicious recipes with you, so thank you for supporting us and the brands we love. OH! And be sure you don't miss the amazing giveaway at the end of this post. :)
It shouldn't be surprising (based on the name of this blog) that we go through a lot of olive oil. It's our go-to oil and we couldn't live without it (well, we could, but we wouldn't be very happy about it). That said, I'll admit I often overlook it for baking projects in lieu of butter. And that's a shame, because olive oil is really underutilized when it comes to sweets.
That was my goal with these cookies: to show how well olive oil works for baking. The result is a soft and chewy sugar cookie, straight out of your dreams. They are light in texture and incredibly buttery, surprisingly so, as they are made with no butter at all.
Instead, I used Capay Valley Ranches' Meyer Lemon Infused Olive Oil, and the results will delight your tastebuds, with a candy-like sweetness and lemon flavor, and just a subtle hint of olive oil shining through. My neighbor (with whom I shared some of the leftovers) described them as transcendent, and rightfully so. You may never use butter again.
I made a version of these cookies as well with the unflavored, but ultra fruity Arbequina olive oil from CVR, and it was shocking how strongly the flavor came through even after baking. There was no denying the presence of the olive oil, and it was intriguing to say the least. While ultimately I decided the lemon version was my favorite, I definitely think the blood orange infused olive oil (that I've shared with you before) would be equally amazing.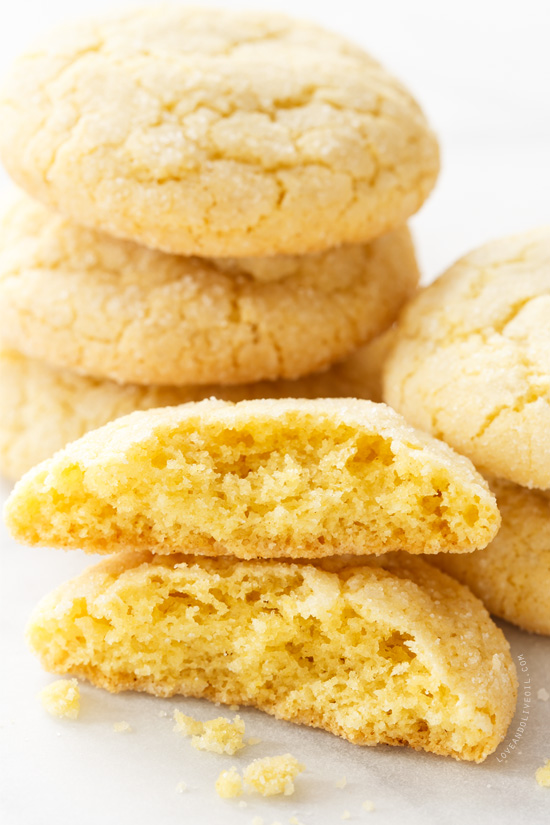 I've fallen in love with these olive oils and vinegars from Capay Valley Ranches (based out of the Capay valley in California's central valley), and I know you will too. Their Arbequina varietal is a delicate oil that brings together the ripe olive aroma with a fresh fruity taste. It's wonderfully smooth and buttery and perfect for everyday use. And their flavored varieties, along with their array of flavored vinegars, are truly special creations. All of Capay Valley Ranches' oils are California grown certified 100% EVOO.
Meyer Lemon Olive Oil Sugar Cookies
Ingredients:
2 1/4 cups all-purpose flour
1/2 teaspoon baking soda
1/2 teaspoon baking powder
1/2 teaspoon kosher salt
1 1/4 cups granulated sugar, plus more for rolling
2 large eggs
1/2 teaspoon vanilla extract
Directions:
Preheat oven to 350ºF.
In a bowl, sift together flour, baking soda, baking powder, and salt. Set aside.
In a second large bowl, combine sugar and olive oil and mix with a spatula until it forms a grainy paste. Add eggs and vanilla and stir until smooth. Fold in dry ingredients until just incorporated. You should have a fairly soft, oily dough.
Fill a small dish with more granulated sugar. Scoop dough by the tablespoonful into balls and roll in sugar to coat. Arrange on a nonstick or parchment-lined baking sheet, leaving 2 inches of space between cookies.
Bake for 11 to 13 minutes or until tops are puffed and crackly and edges just start to turn light golden brown. Let cool for 5 minutes before transferring to a wire rack to cool completely. Cookies are best enjoyed the day they are made, but will keep in an airtight container for up to 3 days.
Did you make this recipe?
Let us know what you think!
Leave a Comment below or share a photo and tag me on Instagram with the hashtag #loveandoliveoil.