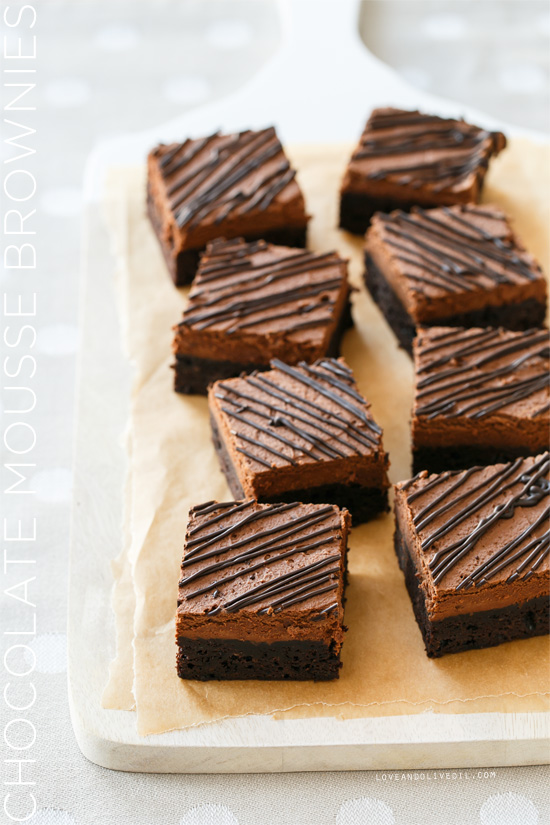 I can never settle for just a plain brownie. Instead, my mind is always thinking of what I can swirl, drizzle, frost, or fill them with next.
No matter how fancy I might get, however, the base is equally as important as any toppings or add-ins. You can't mask a bad brownie with frosting. While I used to be a die-hard proponent of chocolate-based brownies, I've been experimenting more and more with cocoa brownies. Probably because they are way easier (no double boiler nonsense or chopping chocolate). I've had mediocre results before, but these hold their own against my previous favorite. The secret, I think, is lots of butter (just say no to vegetable oil) and way more cocoa powder than you think is reasonable. Seriously, don't skimp. I buy big 2-pound bags of the stuff just so I'm never short.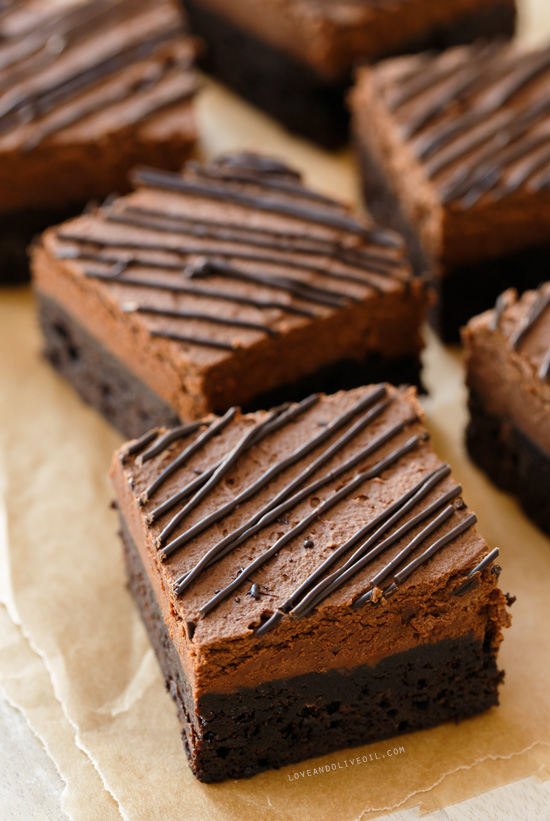 The chocolate mousse topping is lighter and less sweet than a buttercream; the rich chocolate flavor further deepened by the espresso powder (yet the coffee flavor is not as apparent as you might think it would be. If it were, I'd have called these mocha mousse brownies). The gelatin in the mousse makes it firmer than a mousse you might serve in a cup – which is necessary if you have any hope of getting clean cuts when you slice your brownies.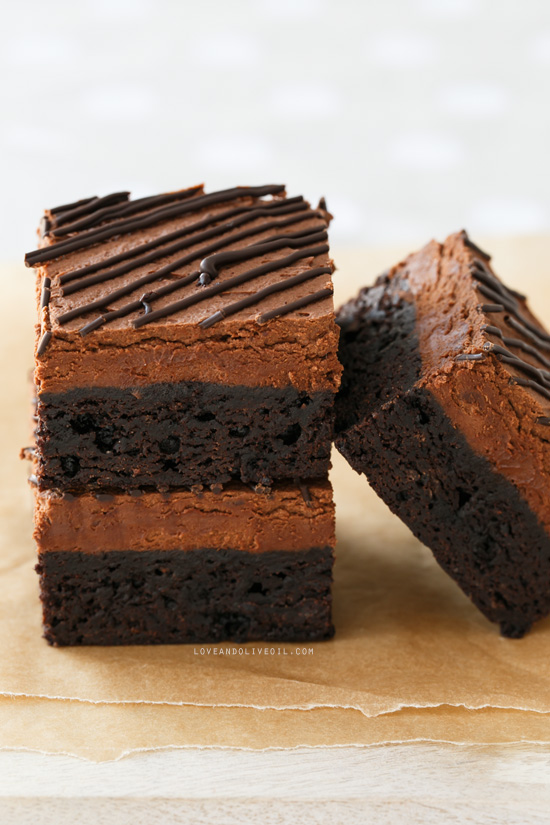 Have I mentioned I hate cutting brownies? It is not easy to get clean cuts, especially with layered brownies. While I know that roughly cut brownies don't taste any less delicious, I love seeing the layers in crisp perfection. Over the years, while I still struggle with getting photo-worthy slices, I have learned a few tricks for clean cuts:
Chill out. Don't rush. I usually let my brownies chill overnight before I even attempt to cut them. I know, it's hard to wait when faced with an aromatic pan of brownies just out of oven, but they're really better the next day, I promise. The overnight chill makes them even fudgier. And easier to cut.
Stay sharp. Some people say plastic doesn't stick, but I have a hard time using plastic knives. I pull out my biggest, sharpest knife, and try to get one smooth cut. Don't saw. Cut down, and carefully slide it out. Then wipe off the knife before making another cut. Sometimes warming the knife slightly under hot water can help also.
Measure twice. Or at least, measure once. Yes, I totally get out the ruler when cutting brownies. My eye just isn't that good. If I don't measure first I end up with uneven sizes and non-square squares.
Be a square. If you can, invest in a nice 8×8 pan with square corners (I have this one). Then you won't have any brownies with ugly rounded corners or waste any trimming off the edges (although, I admit, the trimmings make excellent snacks).
I could also see this becoming an elegant 'black and white' brownie – with white chocolate mousse on top and tuxedo-like drizzles of dark chocolate.
Chocolate Mousse Brownies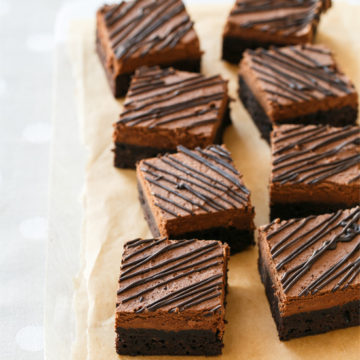 Ingredients:
For Brownies:
1/2 cup (1 stick) unsalted butter
3/4 cup dark or dutch process cocoa powder, sifted
1/2 cup packed light brown sugar
1/2 cup granulated sugar
2 large eggs
1 teaspoon vanilla extract
1/2 teaspoon instant espresso powder
1/2 teaspoon kosher or fine sea salt
1/2 cup all-purpose flour
For Mousse:
1/2 teaspoon unflavored gelatin
4 ounces dark or bittersweet chocolate, shaved or very finely chopped
1 cup heavy cream, divided
1 teaspoon instant espresso powder
1 tablespoon granulated sugar
Directions:
Preheat oven to 350 degrees F. Line an 8-by-8-inch square baking pan with parchment paper.
Melt butter in a microwave safe bowl. Add cocoa powder, sugar, and brown sugar and stir until it forms a thick, grainy paste. Add eggs, vanilla, salt, and espresso powder and whisk until smooth. Fold in flour until just incorporated and no streaks of white remain. Spread into prepared pan and bake for about 25 minutes or until a toothpick inserted near the center comes out with a few moist crumbs attached. Remove from oven and let cool completely.
To prepare mousse topping, in a small dish, sprinkle gelatin over 1 tablespoon of cold water and let sit for 5 minutes to soften. Place shaved chocolate in a heat-proof bowl.
In a small saucepan, warm 1/3 cup of the heavy cream until steaming. Whisk in softened gelatin and espresso powder until dissolved. Pour warm cream over shaved chocolate. Let sit for 20 to 30 seconds, then gently whisk until smooth.
Place remaining 2/3 cup heavy cream and granulated sugar in a large bowl or the bowl of a stand mixer fitted with the whisk attachment. Whip on medium-high speed until it forms soft peaks.
With a large rubber spatula, fold in half of whipped cream to chocolate mixture to lighten. Add remaining cream and gently fold, scraping the sides and bottom of the bowl, until mousse is uniform in color.
Spoon mousse on top of cooled brownies, and smooth into an even layer with an offset spatula. Do this fairly quickly, as the gelatin will begin to set up fairly quickly and the mousse will be much harder to spread smoothly.
Lightly cover with plastic wrap and refrigerate until set, at least 2 hours or overnight (if possible).
To cut, lift out entire block using the parchment paper as handles. Cut into a 4×4 grid of squares (or smaller if you prefer) using a sharp knife, wiping off knife between cuts. If desired, drizzle with melted chocolate for garnish before or after cutting into squares.
Did you make this recipe?
Let us know what you think!
Leave a Comment below or share a photo and tag me on Instagram with the hashtag #loveandoliveoil.