Le Creuset® is at it again, with more specialty shaped cookware that are true conversation pieces (because round is SO last season). We were excited to once again work with them to develop and photograph exclusive recipes for this novel new shape. The Bell Pepper Cocotte is now available in 4 colors (just like real bell peppers), as well as an adorable mini size that will be available in June.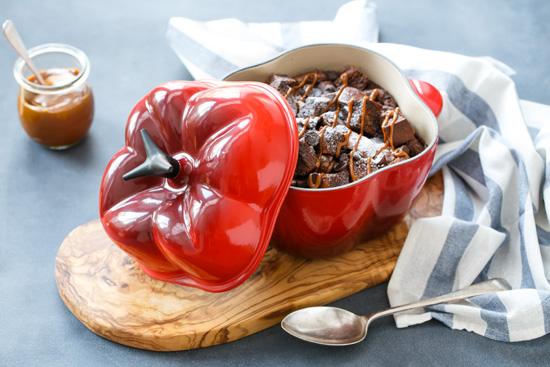 Our Mexican Chocolate Bread Pudding (pictured above) is rich and spicy and drizzled with warm dulce de leche and powdered sugar. Talk about a perfect Cinco-de-Mayo dessert.
These pots were seemingly made for Chicken Tortilla Soup, a super quick and easy recipe that is packed with flavor. And these Beer-Braised Chicken Tacos? Divine. The Spicy Baked Pasta with Olives is a one-pot wonder of a recipe that we could easily eat on a weekly basis, it's that good. These pots are made from the same enameled cast iron as the larger Le Creuset dutch ovens, perfect for braising, simmering, searing, or baking, but the smaller 2 1/4 quart size is perfect for dinner for two.
Our favorite recipe of the bunch is perhaps the Coconut Lime Panna Cotta. Don't be fooled, it's not as innocent as it looks. The light and tangy custard is infused with habanero peppers for a fiery finish you won't see coming. And the candied habaneros on top? Well, they're not for the faint of heart, I'll say that much. Unfortunately you'll have to wait until June for this recipe, when the mini pepper cocottes are scheduled to be released.
Sorry for being such a tease.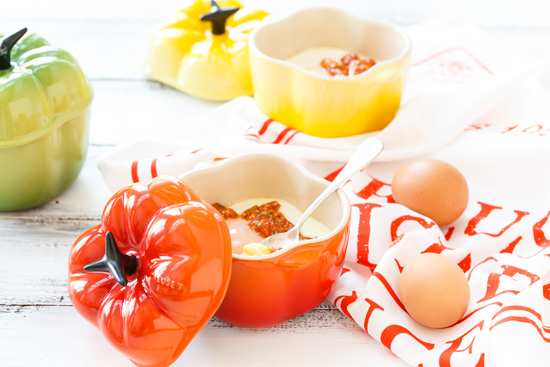 The stoneware minis are also perfect for these hearty baked eggs, with a base of cheesy polenta and topped with a sassy red pepper pesto. Here I was thinking instant polenta couldn't get any easier, and we figure out a way to bake in the oven. You don't even need to boil the water. With a perfectly runny egg on top, it's a complete meal in an adorable little pepper-shaped pot.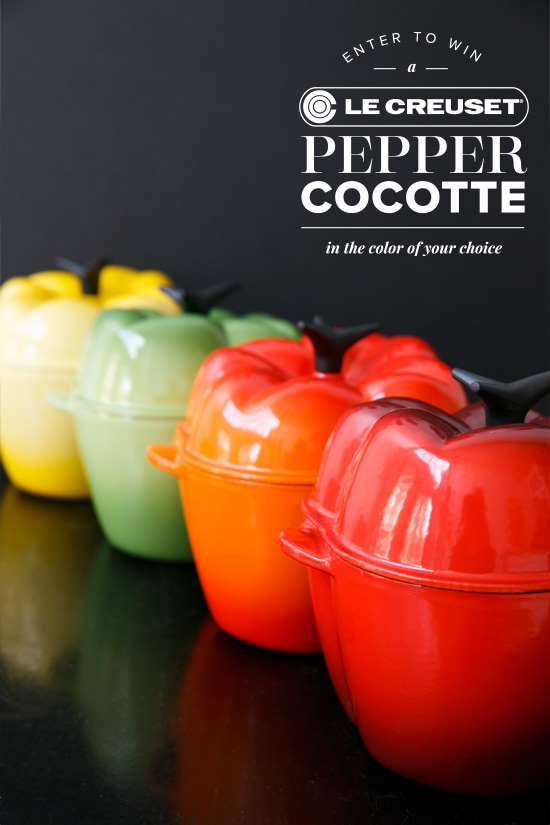 As always, sharing is caring, and I wouldn't dare talk about such a unique piece without giving you a chance to win one for yourself. Le Creuset is generously giving away one Bell Pepper Cocotte (valued at $200) to one lucky L&OO reader in the color of their choice (choose from Soleil, Palm, Flame, or Cherry). Whether you cook with it daily or simply put it on display, the Pepper Cocotte is a conversation piece that's as pretty as it is practical.
So, what are you waiting for? Click through to enter this fantastic giveaway!
Giveaway is now closed. Thanks for entering!
The fine print: No purchase necessary. Giveaway open to US residents only. Void where prohibited. Winner will have 48 hours to respond otherwise an alternate winner will be chosen. Bonus entry requirements will be verified if selected as the winner, otherwise an alternate winner will be chosen. Giveaway sponsored by Le Creuset®. All opinions written are purely my own.