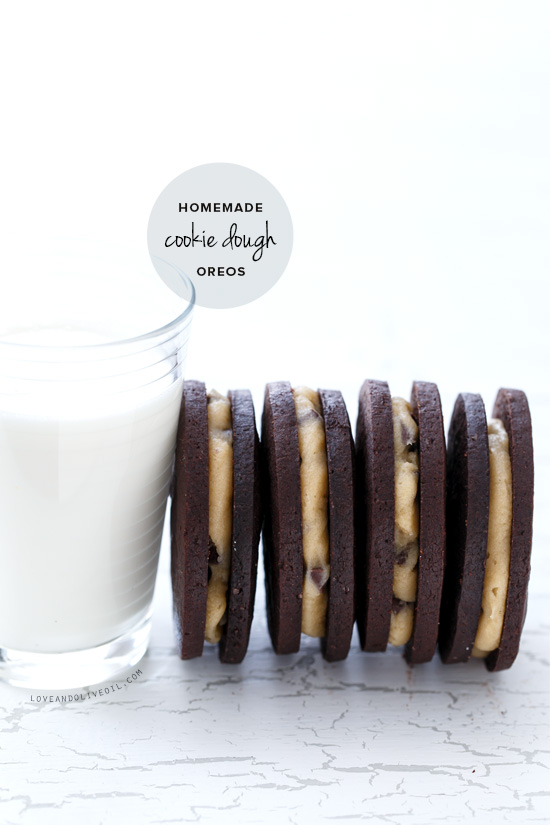 Cookie dough has officially hit the big time.
Giant shall-be-left-unnamed food brand (rhymes with shmoreo) has released a new flavor. I'll give you 3 guesses as to what it is. Hint: it most definitely could have/should have been a recipe in my book. And, in fact, it almost was – but I scrapped it in lieu of a chocolate chip sandwich cookie instead.
Now, I wasn't on the super special VIP blogger list that apparently got an advanced preview of this fancy new flavor. It was all over twitter and instagram last week.
I'm not one to be bitter and jealous, but gosh darnit I wanted some of those cookies and I wanted them BAD.
So I did what any overlooked food blogger would do: I made my own.
I had made homemade Oreos before, way back when this blog was a baby. I used a different cookie base this time, one that contained melted chocolate instead of just cocoa powder. The cookie itself was much more crumbly than I think I would have liked, although it did have a nice crunch like the commercial cookies and a much deeper, robust chocolate flavor. Honestly I don't think anything homemade is going to reproduce the mystery combination of chemical ingredients that go into the real thing, but that's ok with me. (If you wanted a softer cookie, I'd point you in the direction of these or these).
I rolled out the dough into two 1/4-inch sheets between layers of waxed paper, chilled them, and then cut out my circles with cookie cutters. The result was nicer shaped cookies than the log and slice method, although I did have a bit of excess wasted dough that was too crumbly to be rerolled. So use whatever method you prefer. This particular dough also holds its shape nicely when baking, so you could impress designs into the cookies using a cookie stamp or other method if you desire. I didn't have any cookie stamps, so my cookies stayed pretty plain.
For the cookie dough filling, well, that part was easy. I think you could put this filling inside of bland cardboard crackers and it would taste good.
Luckily, these cookies are FAR better than bland crackers.
Homemade Cookie Dough Oreos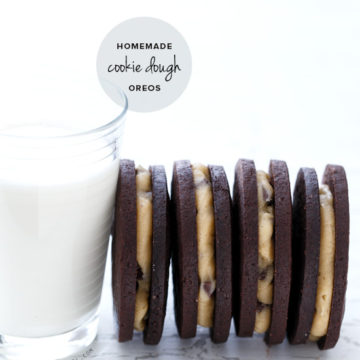 Ingredients:
For Cookies:
1 cup (2 sticks) unsalted butter, melted and slightly cooled
3/4 cup sugar
1 tsp vanilla extract
8 ounces (1 cup) semisweet chocolate or chocolate chips, melted and slightly cooled
1 large egg
1 1/2 cups all-purpose flour
3/4 cup dark or Dutch-processed cocoa powder
1 teaspoon kosher salt
1/2 teaspoon baking soda
For Filling:
1/2 cup (1 stick) unsalted butter, room temperature
3/4 cup packed light brown sugar
1/2 cup all-purpose flour
1/4 cup milk or cream
1 teaspoon vanilla extract
1/4 teaspoon salt
1/2 cup mini semisweet chocolate chips
Directions:
In a medium bowl, mix together the melted butter and sugar until combined. Whisk in the vanilla and melted chocolate. And the egg and whisk until incorporated.
In another bowl, whisk together flour, cocoa, salt, and baking soda. Stir flour mixture into the chocolate mixture, using your hands if needed to form a smooth dough. Divide the dough in two, and either roll each piece to 1/4-inch thick between two pieces of waxed paper, or roll into two 2 1/2-inch diameter logs. Refrigerate at least two hours or until firm.
Heat oven to 325 degrees and line baking sheet with parchment paper or a silicone baking mat.
Cut dough logs into quarter inch thick slices, or cut out 2 1/2-inch diameter circles from dough sheets. Arrange on prepared baking sheet, leaving at least 1 inch between cookies. Bake for 15 minutes or until cookies are set and just starting to darken around the edges.
To prepare filling, beat butter and brown sugar in a large bowl with an electric mixer on medium speed until light and fluffy. Mix in flour, salt, and vanilla extract on low speed until incorporated. Add cream and beat until fluffy, about 2 minutes, adding more cream if necessary to acheive desired consistency. Stir in chocolate chips. Spread or pipe about 1 tablespoon of filling onto underside of half of the cooled cookies, then top with remaining cookies and press lightly to adhere.
Cookies will keep, refrigerated in an airtight container, for up to one week; let come to room temperature before eating.
Did you make this recipe?
Let us know what you think!
Leave a Comment below or share a photo and tag me on Instagram with the hashtag #loveandoliveoil.