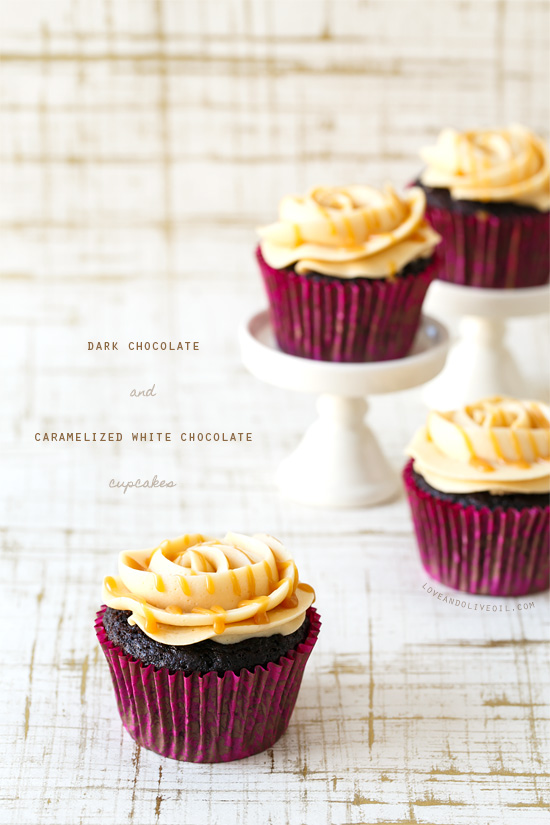 I'll admit, it's been a while since I posted a cupcake recipe. I know that was my "thing" for a while; but lately I've found myself choosing cookies and brownies and fancy layer cakes over cutesy cupcakes.
I still think there's something to be said for a good, solid cupcake, however, and by no means do I think they are "over" or "uncool". Or if they are uncool now, well, then I really don't care.
Don't let your eyes fool you though.
These. Are. Not. Caramel. Cupcakes.
Yes, they may be the same perfectly golden color as a decadent dulce de leche, the filling thickly oozing out of the center with the same viscosity as salted caramel. But that is not what they are.
If you haven't heard of caramelized white chocolate before, let me enlighten you: it's basically white chocolate that has been melted and slow roasted in the oven until it is the color of butterscotch.

I then combined this roasty toasty goodness with heavy cream to make…
Wait for it…
Caramelized white chocolate ganache.
It LOOKS like caramel. Heck, it even kinda sorta tastes like caramel. But it is its own unique creature and absolutely divine.
It's got that unmistakable white chocolate sweetness, but with savory undertones more akin to brown butter than to caramel. It's rich and nutty and so uniquely unusual that you won't know what hit you.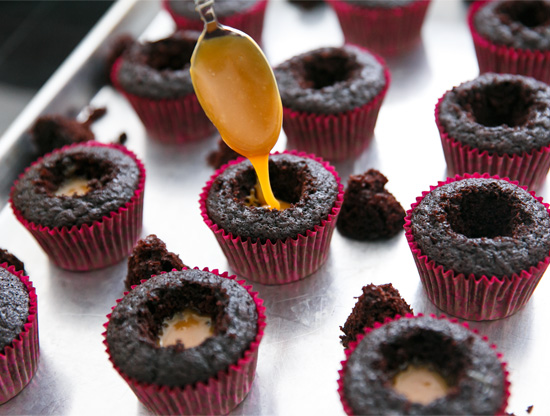 I used part of it as a filling; the rest went into the frosting. Despite the fact that the cake itself is just basic chocolate (albeit a perfectly moist and delicate chocolate), these cupcakes are anything but ordinary.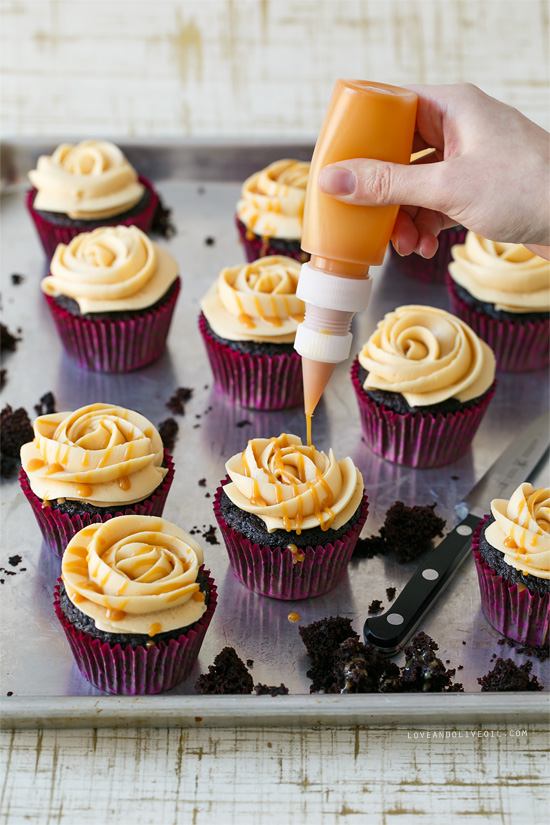 A little drizzle on top for good measure can't hurt, amirite?
And ugh. I still need to work on my rosette piping skills. Those ends are far too abrupt to be considered pretty by any means. I'm out of practice, apparently.
Dark Chocolate and Caramelized White Chocolate Cupcakes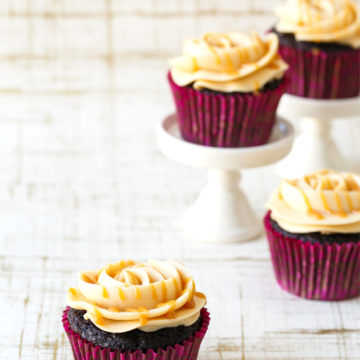 Ingredients:
For Cupcakes:
3/4 cup whole milk
1/3 cup canola oil
1 large egg
1 teaspoon vanilla extract
3/4 cup granulated sugar
1 cup all-purpose flour
1/3 cup dark or dutch process cocoa powder
3/4 teaspoon baking powder
1/2 teaspoon baking soda
1/4 teaspoon kosher salt
1/8 teaspoon cinnamon
For Frosting:
8 ounces good quality white chocolate, finely chopped*
1/3 cup heavy cream, plus more as needed
1/2 cup (1 stick) unsalted butter, room temperature
1 1/4 cups powdered sugar, sifted, plus more as needed
*It is crucial to use high quality white chocolate here. Look for cocoa butter as the first ingredient. White baking chips or candy coating made from hydrogenated oils rather than cocoa butter will NOT work in this recipe.
Directions:
Preheat oven to 350 degrees F. Line muffin pan with paper liners.
Whisk together the milk, oil, egg, and vanilla extract until incorporated. In a separate bowl, sift together the flour, sugar, cocoa powder, baking soda, baking powder, salt, and cinnamon. Make a well in the center of dry ingredients and pour in milk mixture. Stir just until smooth (do not overmix).
Pour into liners, filling each with about 3 tablespoons of batter (cups should be no more than 2/3 full, a large cookie scoop is the perfect size). For mini cupcakes, fill each with 1 tablespoon batter. Bake for 18 to 20 minutes (10 to 12 minutes for minis), or until a toothpick inserted into the center comes out clean. Transfer to a cooling rack and let cool completely.
Reduce oven to 225 degrees F. Spread chopped white chocolate onto a baking sheet. Place in the oven for 10 minutes, then remove and stir/smooth with a rubber spatula, spreading it back into an even layer. Bake for another 10 minutes, then stir/smooth again. Continue to bake, stirring every 10 minutes, for 60 to 90 minutes or until butterscotch in color. Transfer to a heat-proof bowl.
Gently warm 1/3 cup cream in a small saucepan or the microwave until about 100-120 degrees F or just warm to the touch. Add to caramelized chocolate and stir until smooth. Set aside and let cool slightly to room temperature.
Cut a cone-shaped piece out of the tops of cooled cupcakes, approximately 3/4″ in diameter and set aside. Fill cavities with 1 to 2 teaspoons of white chocolate ganache, or just enough to come within 1/4-inch of the edge. Pinch off bottom pointed ends of cut pieces (baker's treat!) and then invert and replace on top of each cupcake. You should still have about 1/2 cup of ganache left.
In a bowl, cream butter until smooth and fluffy, 2-3 minutes. Add 1 cup powdered sugar and beat until combined. Mix in remaining 1/2 cup of white chocolate ganache until smooth. Add remaining sugar and beat until light and fluffy. Depending on the temperature of your butter and the room around you, you may need more sugar or heavy cream to achieve the proper consistency. Add sugar/cream as needed and continue beating until light and fluffy, about 3-5 minutes. Spread or pipe onto cooled cupcakes, being sure to cover the seams.
Did you make this recipe?
Let us know what you think!
Leave a Comment below or share a photo and tag me on Instagram with the hashtag #loveandoliveoil.