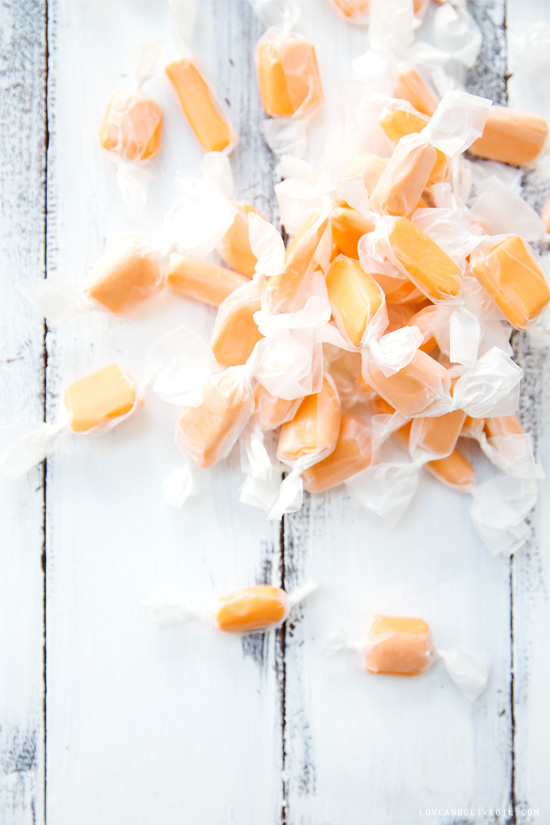 I got myself into a bit of a sticky situation. In more ways than one.
First of all let's not even mention the fact that this is October's kitchen challenge, and it is now January. Yes, I know. I'm a total slacker.
October was crazy busy. And so was November, for that matter. I had wanted to make a video for this post, and I kept putting it off until I knew I had a good chunk of time to film it. Plus it had to be a dry day (bah humbug humidity). I intentionally set aside a full day around Christmas to film, only to come down with a serious case of Ms. Cranky Pants that morning, and scrapped my plans for the sake of my husband (apparently I'm not very nice when I'm grumpy).
I was gung ho and ready to go the following weekend, only to discover that I was completely out of corn syrup. Of course. This also happened to be the day that it was LITERALLY 2 degrees outside, so no way in (frozen) hell I was going outside to get more.
Good news is I finally got it done. No video, but once you see how it all went down I think that's probably a good thing. Better late than never, right?
I decided to make a peach flavored taffy, using LorAnn flavoring oils. The apple would have been a good option too. The apricot? Cough syrup. Blech.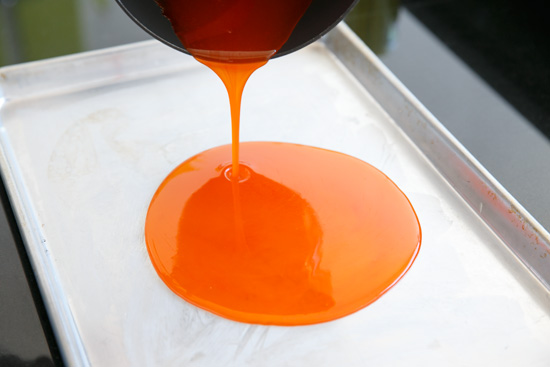 It looks pretty electric orange at this point. I knew the taffy would get significantly lighter once pulled so I probably added a bit more food coloring than I needed to.
Like magma. Sweet liquid magma.
Once the taffy is cool enough to handle, that's when the "fun" begins. I buttered up my hands, picked up the warm sugar glob, and starting "pulling". Quotes intentional, because what I was doing wasn't exactly "pulling" and it sure wasn't "fun".
I quickly found myself in a rather sticky situation.
This stuff was stickier than marshmallow fluff.
Despite my buttered hands, I was trapped.
Somehow I managed to escape my gluey handcuffs. I dumped the orange mess and raised the white flag.
I curled up on the couch to wallow in my failure, while Taylor started cleaning up my major mess. A few minutes later I look up from my pity party and see this…
Taffy. It actually looks like taffy. And can I mention that he has no butter on his hands whatsoever?
My husband is naturally non-stick, apparently.
He's a veritable taffy wrangler.
And honestly? He's the only reason you're getting a post here today, because I don't think I would have tried it again. He saved it. He saved my taffy.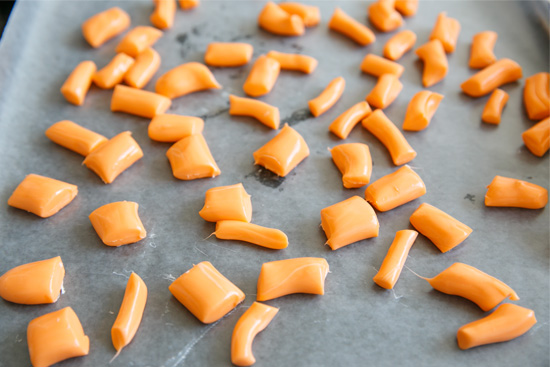 The result was good. But more like a Laffy Taffy than salt water taffy. Maybe it needed more pulling, but it wasn't quite as airy as I think it should have been. But since I like Laffy Taffy, I was ok with that. It worked and was edible, and that's enough for me to call it a victory.
Salt Water Taffy
Ingredients:
1 cup granulated sugar
1 tablespoon cornstarch
2/3 cup light corn syrup
1 tablespoon butter
1/2 cup water
1 teaspoon glycerine
1/4 teaspoon kosher salt
food coloring and flavoring
Directions:
Prepare your work surface by generously buttering a half-sheet pan. Have a pastry scraper, kitchen shears, and extra butter nearby.
In a medium saucepan, whisk together sugar and cornstarch. Stir in corn syrup, butter, water, glycerine, and salt. Set over medium-high heat and cook, stirring occasionally, until mixture comes to a boil. Once it starts boiling, stop stirring, and begin monitoring the temperature, until it reaches 254 degrees F or a few drops tested in cold water form a hard ball that holds its shape (hard-ball stage). Remove from heat and stir in food coloring and flavoring.
Pour hot sugar mixture onto your prepared baking sheet. Let cool, folding sugar in on itself using a buttered pastry scraper to ensure the taffy cools evenly.
When the taffy is just cool enough to handle, butter your hands and start pulling the taffy. Pull the taffy into a long rope, then fold it in half and in half again. Twist and pull into another long rope and repeat. The taffy is done when it is lighter in color and firm enough to hold its shape. Stretch into a 1-inch thick rope and cut into bite-size pieces using buttered kitchen shears.
Wrap each piece of taffy in waxed or parchment paper. Taffy will keep best in an airtight container for up to two months (or until it is too hard to chew).
Did you make this recipe?
Let us know what you think!
Leave a Comment below or share a photo and tag me on Instagram with the hashtag #loveandoliveoil.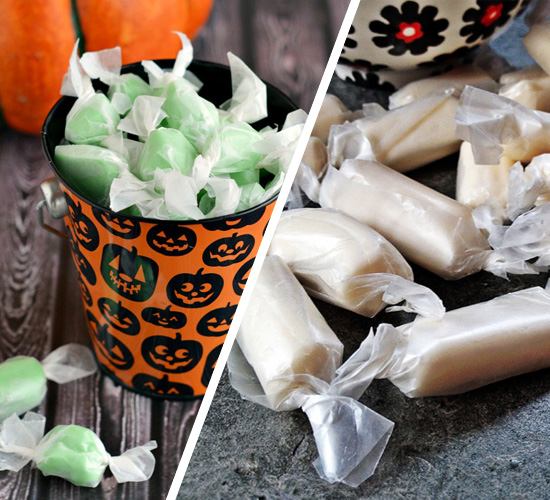 I do want to acknowledge Cat and Liz, the only two brave souls who attempted this sticky challenge (meeting the deadline too, I might add). Don't their results look fabulous? Kudos to them!
In other (good) news: after an unintentional three-month hiatus, Kitchen Challenge is officially back! The plan is to tackle bi-monthly challenges this year, giving us all a bit more time to complete them amidst our busy schedules. So get your spatulas ready, next week I'll be announcing the February challenge. I promise, it's a good one!