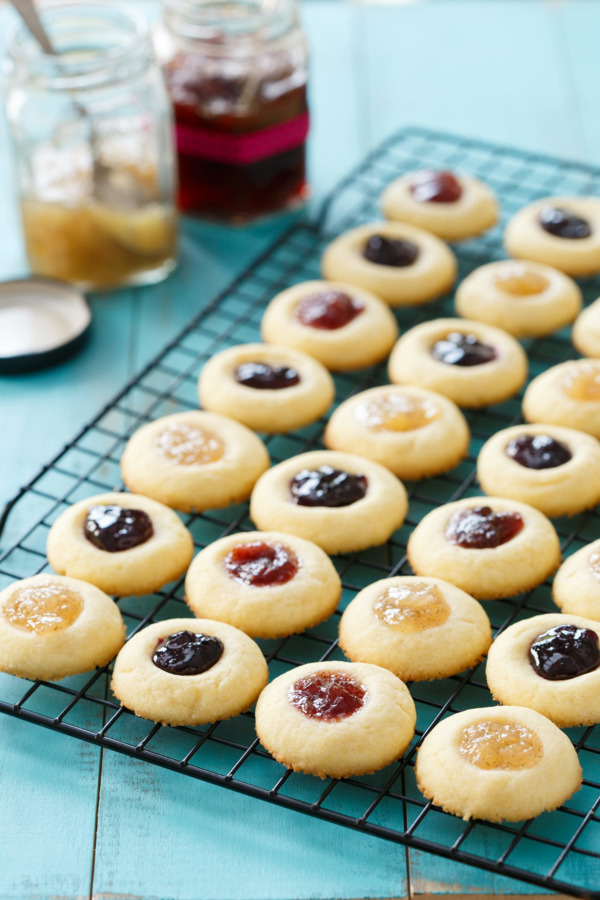 One caveat of all this canning I've been doing is the inevitable excess: the partially-filled and improperly-sealed jars that gather on the top shelf of the fridge, along with that solitary jar of last year's strawberry preserves that must be used before this year's can be touched. Once opened, they don't last indefinitely, and considering that we are not big jam eaters (go figure), I knew I had to find a creative way to use them.
Enter: thumbprint cookies.
The base cookie recipe actually comes from our book, where they are filled them with a luscious lemon poppy seed curd. But the cookie is all sorts of versatile, and could be filled with just about anything: from jam to curd to caramel or nutella.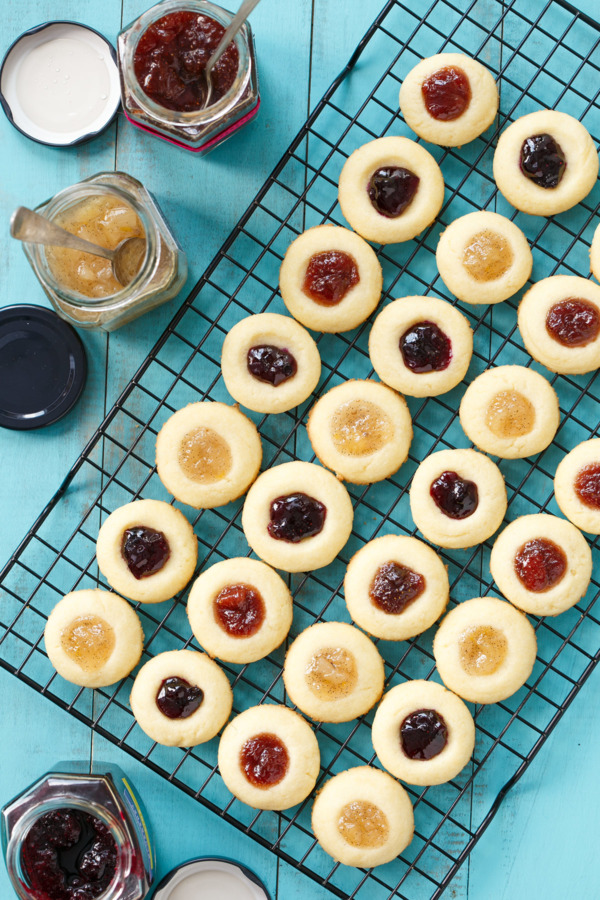 In this case, however, they were perfect with dollops of strawberry vanilla bean, blueberry honey lavender, and white peach vanilla jams.
Three measly jars, however, doesn't even start to put a dent in my jam stash. I think I canned upwards of 3 dozen jars this year, not to mention the half dozen or so left from last year.
Oh whatever shall I do with it all?
No, seriously. I need ideas. Recipes. Creative uses, both sweet and savory. Do share!
Note: This recipe has been re-tested and updated as of December 20, 2015, after receiving more than a few comments that the cookies spread too much when baking. This new version should resolve any issues! I do still recommend baking these on a light or medium colored heavy-weight baking sheet (they'll look prettier than if baked on a flimsy or dark one, trust me).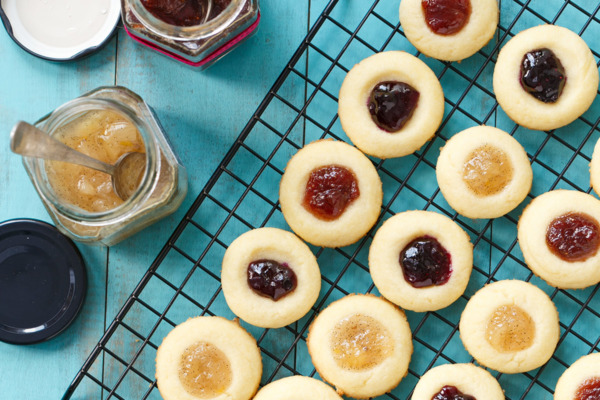 Jam-Filled Thumbprint Cookies
Buttery shortbread thumbprint cookie recipe filled with homemade fruit jam (any flavor you choose!) These tasty little cookies are a reader favorite, for good reason!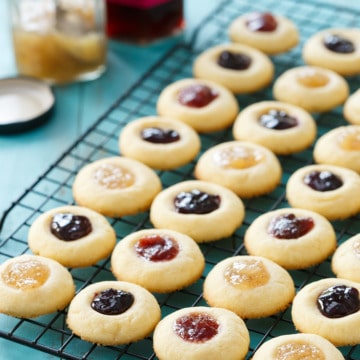 Ingredients:
1 cup (2 sticks) unsalted butter, room temperature
2/3 cup granulated sugar
1 large egg yolk
1 teaspoon vanilla extract
2 1/4 cups (280 grams) all-purpose flour
1/2 teaspoon salt
6 ounces (or so) assorted jam
Directions:
Preheat oven to 375 degrees F. Line a light or medium-colored heavy-weight baking sheet with parchment paper or a silicone baking mat.
Beat together butter and sugar with an electric mixer on medium-high speed until light and fluffy, about 2 to 3 minutes. Beat in egg yolk and vanilla extract. Add flour and salt and mix until incorporated and dough comes together in a ball.
Form dough into 1-inch balls and arrange on prepared baking sheet. Flatten balls slightly with your thumb or the back of a small spoon, leaving an indentation in the center.
Bake cookies for 8 to 10 minutes or until bottoms are just barely golden. Remove baking sheet from oven. If indentations look shallow, further define them with the back of a spoon and then fill each with approximately 1/2 teaspoon jam. Bake for an additional 3 to 4 minutes, or until jam melts slightly and edges of cookies are lightly golden. Transfer cookies to wire racks to cool.
Did you make this recipe?
Let us know what you think!
Leave a Comment below or share a photo and tag me on Instagram with the hashtag #loveandoliveoil.