Hold your horses people, because I have news for you:
IT'S STILL SUMMER.
Seriously, as long as the days are sticky and humid and 90, I will not touch a can of pumpkin.
I refuse.
And until I can't stand it any longer and have to turn on the heater and put on a sweater,
I'm still making ice cream.
Well, probably after too. But regardless…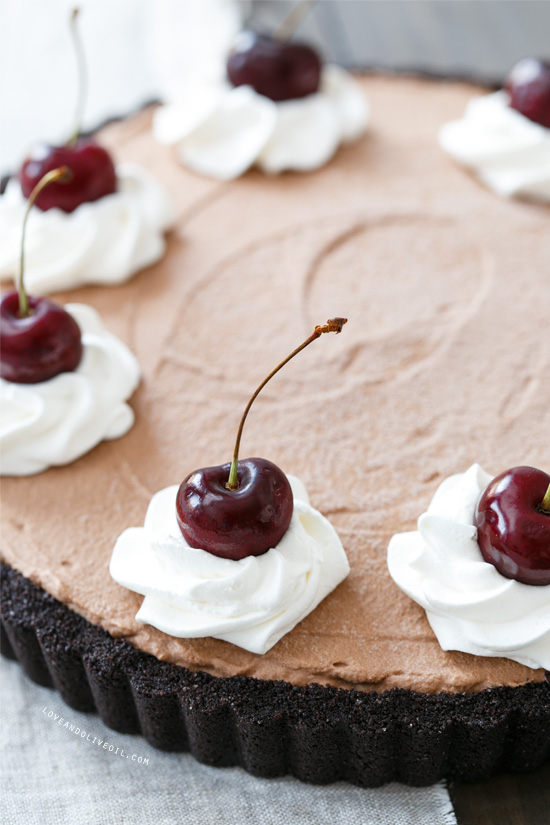 It is in protest of the impending season that I present this refreshing no-bake dessert. Regardless of the weather, it comes together lickety split and will get gobbled up just as fast. Not to mention it's, like, totally impressive when you slice into the pie to find a perfectly preserved cross-section of sweet red cherries.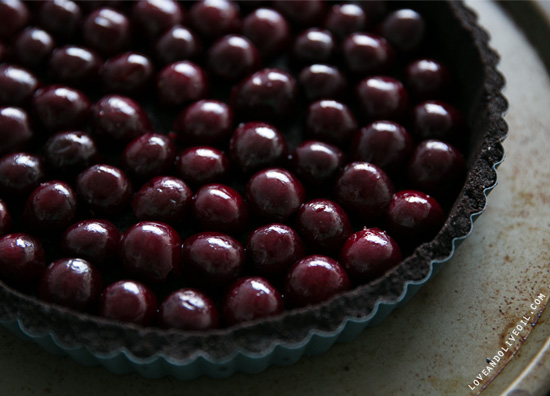 This tart is made up of 3 simple components, which come together in a fluted circle of frozen bliss:
A buttery chocolate wafer cookie crust, with a hint of salt and dark chocolate flavor (my favorite part, that salty kick).
A base of halved sweet cherries, red and ripe and frosty, creating an intriguing scallop pattern in each and every slice (actually THIS might be the best part of all).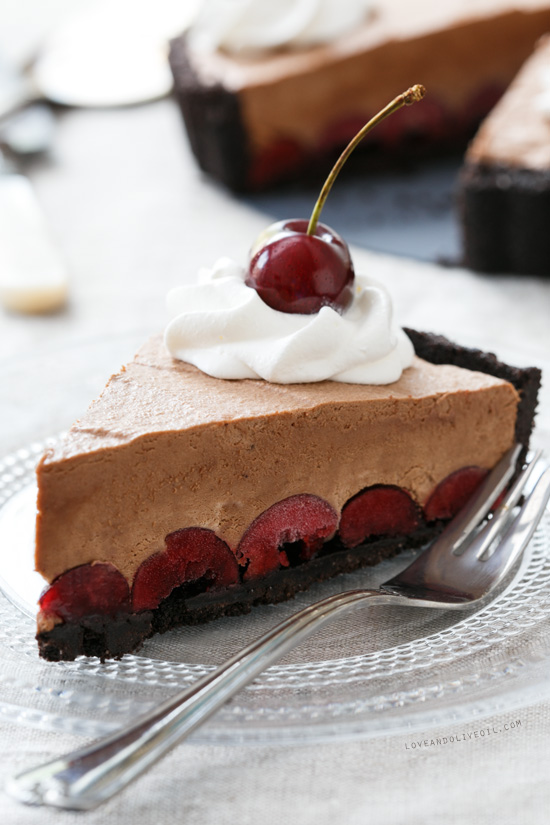 And finally, a light chocolate mousse, which takes on a delightful texture when frozen, something akin to a frozen chocolate cloud. This is not a dense and overly rich chocolate pie, rather, the filling is surprisingly light, retaining the airy nature of the whipped cream with a delicate chocolate flavor. Oh, and did I mention it's spiked with kirsch (hence the black forest designation)?
I take it back – the ENTIRE tart is my favorite part, this I can surely say. And this "queen" of tarts will steal your hearts, all on a summer's day.
Frozen Black Forest Tart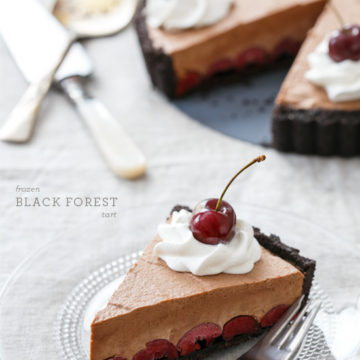 Ingredients:
For Crust:
8 ounces chocolate wafer cookies (about 32 cookies)
1 tablespoon granulated sugar
pinch salt
5 tablespoons unsalted butter
1 tablespoon semisweet chocolate chips
For Filling:
1 pound sweet cherries, pitted and halved
1 cup semisweet or dark chocolate chips
1 1/2 cups heavy cream, divided
2 tablespoons kirsch (clear cherry brandy)
2 tablespoons granulated sugar
additional whipped cream, for topping (optional)
Directions:
To prepare crust, pulse cookies, sugar, and salt together in a food processor until finely ground and no large chunks remain. In a microwave safe container, warm butter and chocolate chips until melted and smooth. Drizzle over crumb mixture and pulse until evenly moistened. Press mixture into the bottom and up the sides of a lightly buttered 9-inch fluted tart pan with removable bottom. Tip: use a flat-bottomed glass or measuring cup to easily and firmly press the crumb mixture into the tart pan for nice, crisp edges.
Place tart pan on a baking sheet and freeze for at least 1 hour or until firm. Arrange halved cherries in a single layer in the bottom of the pan; return to freezer until ready to use. Reserve any leftover cherries for garnish.
To prepare filling, place chocolate chips and 1/4 cup cream in a microwave safe bowl. Microwave on medium heat, stirring every 15 to 20 seconds, until chocolate is just barely melted and smooth. Stir in kirsch and let cool to lukewarm.
In a metal mixing bowl or the bowl of a stand mixer, whip remaining heavy cream and granulated sugar until it forms soft peaks. Add 1/3 of whipped cream to melted chocolate to lighten; add remaining whipped cream and fold until just incorporated and no streaks remain.
Pour mousse into crust, spreading into crevices between cherries. Smooth top with a spatula. Return to freezer and and freeze for at least 1 hour or until completely firm. Let sit at room temperature for 15 minutes before slicing and serving, topped with additional whipped cream and cherries, if desired.
Did you make this recipe?
Let us know what you think!
Leave a Comment below or share a photo and tag me on Instagram with the hashtag #loveandoliveoil.