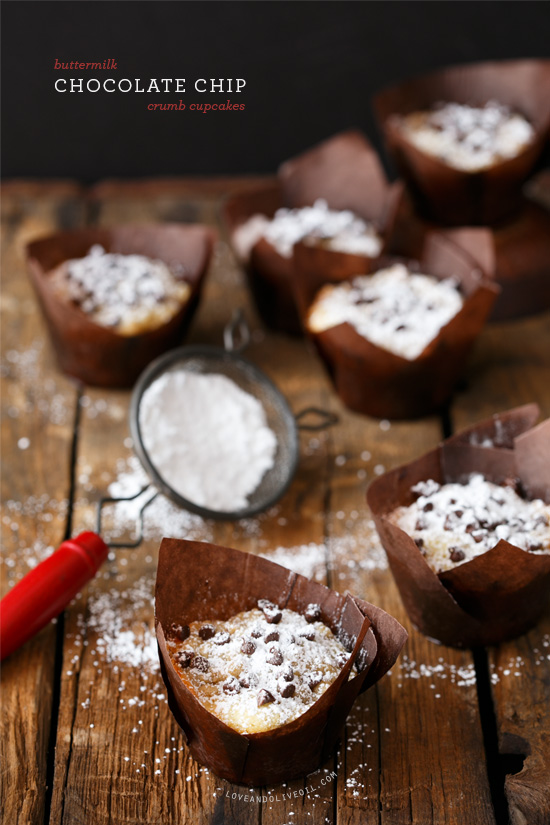 Can you believe it's been a year and a half since I've made a cupcake?
That's just not right.
I almost called these muffins, because, well, cupcakes without frosting are basically muffins, right? And you could argue that these are completely acceptable to eat for breakfast. I won't judge.
But they are cake, truly, through and through.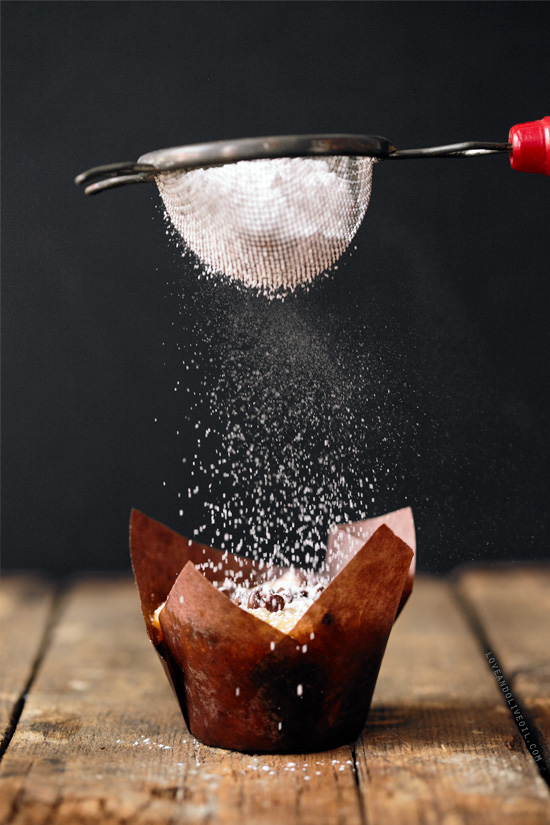 Further proof that a cupcake doesn't need a mile-high mound of frosting to be delicious, a simple dusting of powdered sugar is more than satisfying.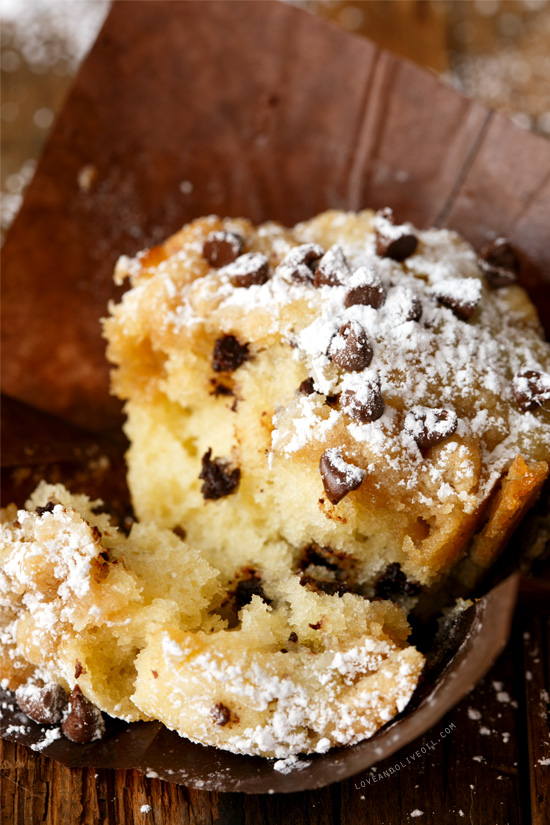 The texture is maybe the most striking part of these cupcakes, incredibly light and delicate with a crunchy, buttery crumb topping. That with the perfect smattering of miniature chocolate chips and a snowy white dusting of powdered sugar, you don't even notice the lack of frosting.
Cupcake perfection.
The recipe was inspired by a cake on pinterest, the original source of which took some serious sleuth-work to uncover (thank you, Google Images!) Converting it into cupcakes required a bit more scientific experimentation, but the result is well worth the effort.
Despite the perfection inside, they are far from perfect in appearance. Weighted down by the crumb topping, they rise flat and even, not domed like most cupcakes, so be sure you do not overfill them. Overflow or not, the sumptuous texture of these cupcakes will make you forget their rustic appearance (rustic is basically a hipster term for ugly anyway, right?)
Buttermilk Chocolate Chip Crumb Cupcakes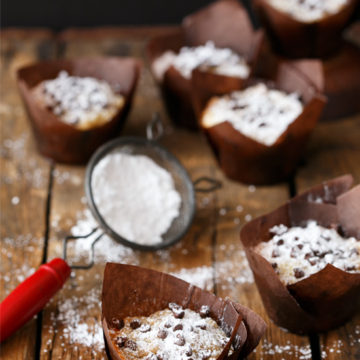 Ingredients:
For Crumb Topping:
1/2 cup all-purpose flour
1/2 cup packed light brown sugar
1/4 cup cold butter, cut into cubes
1 tsp vanilla extract
For Cupcakes:
1 cup all-purpose flour
1/4 cup cake flour
1 teaspoon baking powder
1/4 teaspoon baking soda
1/4 teaspoon salt
3/4 cup mini semisweet chocolate chips, divided
1/2 cup (1 stick) unsalted butter
3/4 cup granulated sugar
2 eggs
1 teaspoon vanilla extract
1/2 cup buttermilk
powdered sugar, for topping
Directions:
Preheat oven to 400 degrees F. Line a muffin tin with paper cupcake liners.
To prepare topping, in a large bowl, whisk together flour and sugar. Add butter, and using two a pastry cutter or two knives, cut the butter into the flour until it forms pea-sized chunks. Sprinkle vanilla extract over top and continue to cut to combine. You can use your hands if needed to incorporate any remaining dry flour until it comes together into moist, clumpy lumps. If the topping gets too dough-like, sprinkle over a tablespoon and break up the topping into chunks. Refrigerate until ready to use.
To prepare cupcakes, whisk together flour, cake flour, baking powder, baking soda, and salt. Spoon 1-2 tablespoons of flour mixture into a small bowl; toss with 1/2 cup of chocolate chips until evenly coated.
In a large bowl or the bowl of a stand mixer, beat butter and sugar until light and fluffy, about 2 to 3 minutes. Add eggs, one at a time, mixing well after each addition. Mix in vanilla, scraping down the sides of the bowl as needed.
Slowly add flour mixture in 3 additions, alternating with 2 additions of the buttermilk, starting and ending with the dry ingredients.
Fold in flour-coated chocolate chips.
Divide batter into cupcake liners, about 3 tablespoons per cupcake (a large cookie scoop, slightly underfilled, is the perfect amount of batter). You want each liner just over half full (do not overfill, these cupcakes are delicate and so you want to fill them less than you normally would).
Generously sprinkle the crumb topping evenly over each cupcake, breaking up any large chunks.
Bake cupcakes for 13 to 15 minutes or until a toothpick inserted in the center comes out clean.
Remove from oven and sprinkle chocolate chips over top of cupcakes. Let cool for 5 to 10 minutes, then transfer to a wire rack to cool completely.
Just before serving, sprinkle generously with powdered sugar. Cupcakes are best the day they are made, but will keep in an airtight container for up to 3 days.
Did you make this recipe?
Let us know what you think!
Leave a Comment below or share a photo and tag me on Instagram with the hashtag #loveandoliveoil.