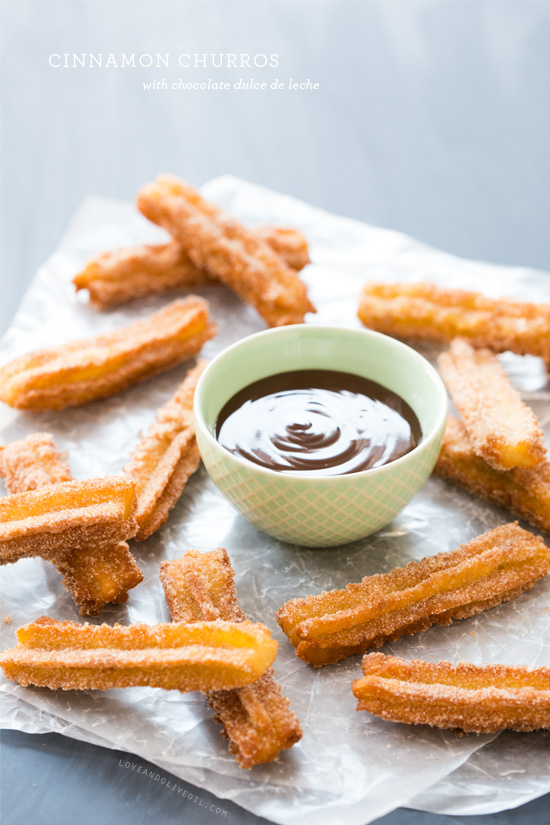 Honestly, I think one prerequisite of "amusement park fare" is that you look completely ridiculous whilst you eat. I mean, c'mon… cotton candy? Turkey legs? And of course, churros, which seem to get longer and longer every time I see them.
But that doesn't mean we enjoy them any less.
As it turns out, these delicious carnival staples can be made at home (not to mention in a much more reasonable size), in much less time than you might expect.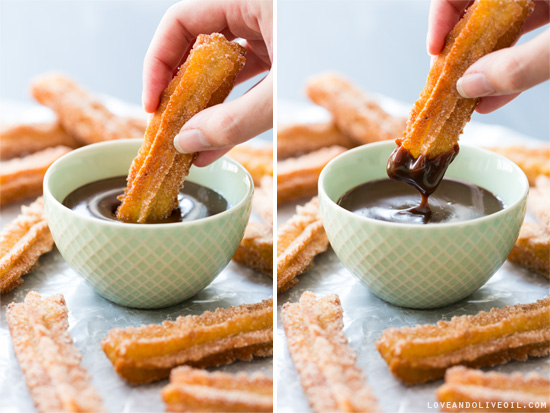 Get the recipe for these cinnamon churros over at the Better Homes and Gardens' blog, Delish Dish. I've paired these fried cinnamon pastries with a decadent chocolate dulce de leche dipping sauce, perfect for those moments (and don't we ALL have those moments), when you can't decide between chocolate and dulce de leche. Why not have both?
Cinnamon Churros with Chocolate Dulce de Leche
Ingredients:
1 cup water
1/3 cup butter
2 tablespoons packed brown sugar
1/2 teaspoon salt
1 cup all-purpose flour
1 egg
1/2 teaspoon vanilla
Vegetable oil for deep-fat frying
1/4 cup granulated sugar
3/4 teaspoon ground cinnamon
Chocolate Dulce de Leche sauce:
1/2 cup of pre-made dulce de leche
1/4 cup of semisweet chocolate chips
2-3 tablespoons heavy cream
Directions:
In a medium saucepan, combine water, butter, brown sugar, and salt. Bring to boiling over medium heat Add flour all at once, stirring vigorously with a wooden spoon. Cook and stir until mixture forms a ball and pulls away from the sides of the pan. Remove from heat. Cool for 10 minutes. Add egg and vanilla, beating well with a wooden spoon.
Transfer mixture to a decorating bag fitted with a large star tip. Line a baking sheet waxed paper. Pipe 4×1-inch logs onto prepared baking sheet.
Heat 3 inches of oil in a deep saucepan to 375 degrees F. Fry a few logs at a time in deep hot oil about 2 minutes or until golden brown on both sides, turning once. Drain on paper towels. Keep warm in a 300 degree F oven while cooking remaining churros.
In a medium bowl, combine granulated sugar and cinnamon. Roll warm churros in cinnamon-sugar mixture to coat. Serve warm. Makes about 20 churros.
For dipping sauce, heat dulce de leche with chocolate chips and heavy cream (use more or less cream depending on how thick you want it) and stir until smooth. It should take just under a minute in the microwave, stirring every 20 to 30 seconds, to fully melt the chocolate.
Did you make this recipe?
Let us know what you think!
Leave a Comment below or share a photo and tag me on Instagram with the hashtag #loveandoliveoil.