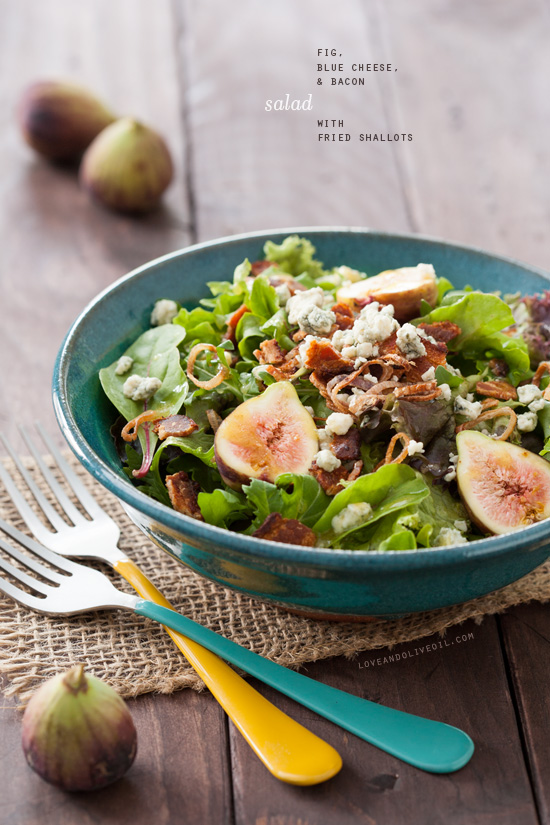 Well that's a mouthful.
In more ways than one.
Shortening the 'name' of this recipe would be doing a disservice to one of the amazing ingredients it contains. Figs? Majorly important. Bacon? Always. Blue cheese? Yep. And the fried shallots? Anything but an afterthought.
It's salty and sweet. Fresh and tangy. Soft and crispy. Meaty and fruity. Substantial enough for a meal or special enough to hold its own on the side.
While we've chosen to use figs this time, this recipe would really work with any fresh fruit. In fact, the first time we made this salad this past winter, we used pears. I'd also imagine plums or blackberries would be suitable substitutions. Anything to provide a subtle sweetness in contrast to the other flavors and textures in this stunning salad.
Fig, Blue Cheese, and Bacon Salad with Fried Shallots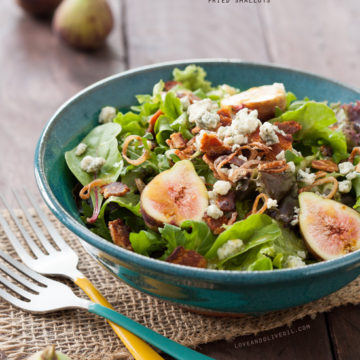 Ingredients:
For Dressing:
2 tablespoons champagne vinegar
1 tablespoon lemon juice
1 teaspoon dijon mustard
1/2 tablespoon honey
1/4 cup olive oil
salt and pepper, to taste
For Salad:
5 slices bacon
1 large shallot, sliced into thin rings
6 ounces (1 bag) mixed baby greens
8 ounces fresh figs, halved
1/4 cup blue cheese crumbles
Directions:
For dressing, whisk together vinegar, lemon juice, mustard, and honey in a small bowl. Slowly drizzle in olive oil, whisking constantly to combine. Season to taste with salt and pepper.
Cook bacon in a large skillet over medium-high heat until crispy.  Transfer to a paper towel-lined plate and set aside to cool, then crumble into pieces. Add sliced shallots to hot bacon fat and fry until golden brown and crispy, about 1 minute. Take care not to overcook the shallots or they will become bitter. Remove with a slotted spoon and transfer to a paper towel to drain.
To assemble salad, toss lettuce with dressing until evenly coated. Divide among serving dishes and top with figs, bacon, shallot, and blue cheese.
Did you make this recipe?
Let us know what you think!
Leave a Comment below or share a photo and tag me on Instagram with the hashtag #loveandoliveoil.