A quick housekeeping note: if you follow this blog via Google Reader, you probably know the service is shutting down as of July 1st. In order to continue to follow L&OO and other blogs you love, be sure you have a replacement lined up BEFORE this date. I might recommend Feedly or Bloglovin'. And remember, you can always subscribe to Love & Olive Oil by Email and get new posts emailed directly to you (if you prefer!)
And now… on to the giveaway!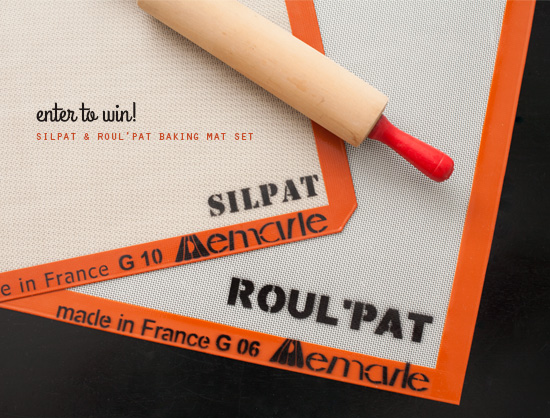 I've been a fan of Silpat® non-stick baking mats for a long time, ever since I first saw (an often-used and very well-loved) one in my aunt's kitchen. Although the first one I bought myself was (disappointingly) the wrong size for my cookie sheets, ever since then they've been in indispensable part of my kitchen. I recently purchased a second, one for each of my half-sheet pans, so I can churn out perfectly-baked cookies twice as fast. As much as I love baking with parchment paper, nothing beats the convenience and miraculous non-stickiness of a Silpat® (I mean, macarons? I won't bake them on anything but). Speaking of macarons, a little birdie tells me that Sansa Demarle is soon to be releasing a special macaron baking mat with printed circular guides for perfect, even-sized macarons. To say I'm excited would be an understatement.
The Roul'Pat® is a newer product that I am equally as thrilled about. It's basically a giant Silpat® that serves as a non-stick work surface. Whereas before, when making pie crust or pizza dough, I had to lug out the heavy marble pastry board or big wooden cutting board to use as my work surface. The Roul'Pat® is so much more convenient, and not to mention takes up much less space in the cabinet too.
One lucky winner will receive one of each of these fabulous products: a half-size Silpat® Non-Stick Baking Mat (valued at $26.95) and a full size Roul'Pat® Non-Stick Countertop Workstation Mat (valued at $54.95). I promise you, these two products will quickly become some of your favorite tools in the kitchen.
So what are you waiting for? Click through to enter to win!
Giveaway is now closed. Thanks for entering!
Congrats to the Kristin, comment #127, for winning this wonderful non-stick mat set!
The fine print: No purchase necessary. Giveaway open to US residents only. Void where prohibited. Winner will have 48 hours to respond otherwise an alternate winner will be chosen. Bonus entry requirements will be verified if selected as the winner, otherwise an alternate winner will be chosen. Giveaway sponsored by Sasa Demarle/Silpat®. While I received one Roul'Pat® to review, I've purchased multiple Silpat® baking mats of my own accord. As always, all opinions written are purely my own.