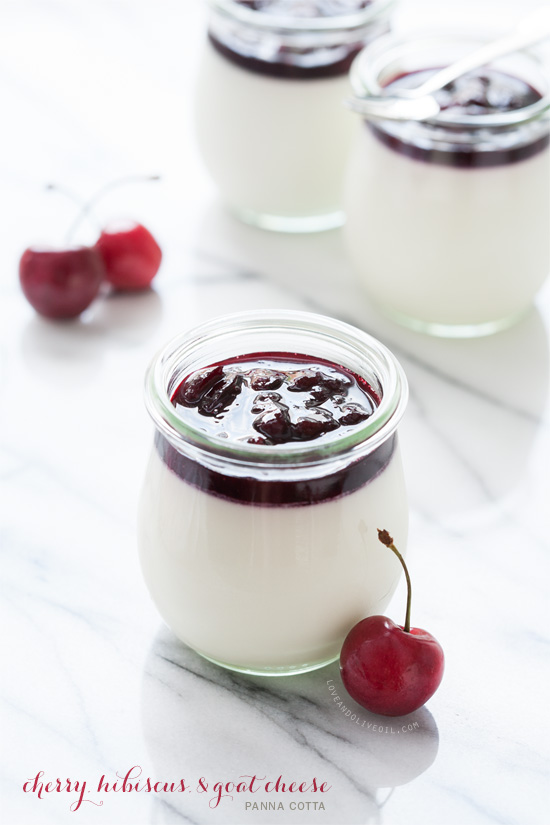 In an ongoing effort to put goat cheese and hibiscus in just about everything…
Today I'm guest posting over on DESIGNLOVEFEST, sharing this stunning and unique panna cotta recipe.
Panna cotta is one of my favorite desserts; literally meaning 'cooked cream' in Italian, the combination of the creamy milk custard and tangy fruit topping make for an impressive dessert. Not to mention easy to put together, considering it's little more than milk jello (basically). This version incorporates a goat cheese base, creamy and lightly scented with vanilla, with a rustic jam topping made with sweet bing cherries and dried hibiscus flowers.
Don't let the goat cheese throw you, there's no question that this is dessert, through and through. It's not overly pungent; instead, the cheese provides the slightest bit of tang and a unique, creamy texture to an otherwise plain vanilla base.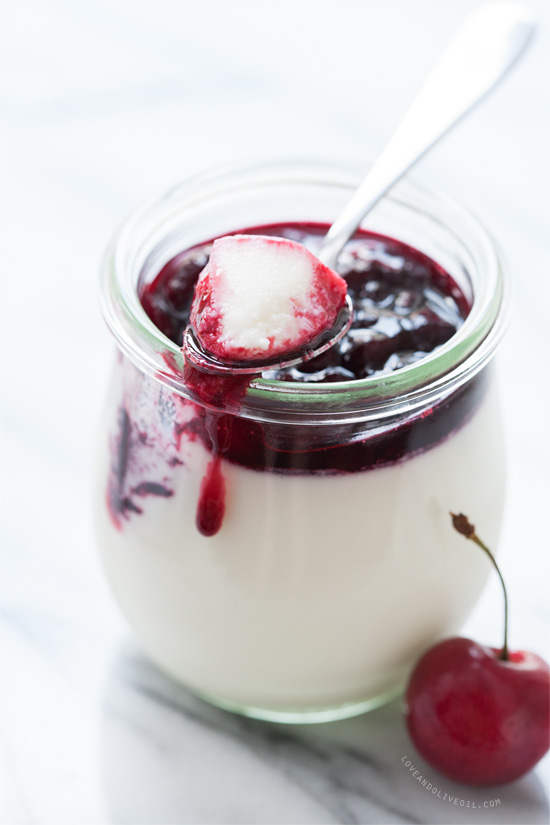 The topping is what takes this over the top. Loosely based on my strawberry hibiscus jam from a few weeks back, the rustic preserve is studded with sweet bing cherries and infused with fragrant hibiscus. It's looser than your typical jam, rustic and chunky and sweet, with an exotic fruity flavor that is nothing short of intriguing.
Visit DESIGNLOVEFEST to get the full recipe »
Cherry, Hibiscus, and Goat Cheese Panna Cotta
Ingredients:
For panna cotta:
1 packet (2 1/4 teaspoons) unflavored gelatin
2 cups half-and-half
2/3 cup granulated sugar
1/3 cup (3 ounces) soft goat cheese, softened
1/2 teaspoon vanilla extract
For topping:
1/2 cup dried hibiscus flowers
7 ounces fresh cherries (about 18), pitted and chopped
2 tablespoons granulated sugar
2 teaspoons lemon juice
Directions:
In a small bowl, sprinkle gelatin over 1/4 cup of cold water and let sit for 5 minutes to soften.
Heat half-and-half and sugar in a saucepan over medium heat, stirring occasionally, until sugar is dissolved and mixture just starts to steam. Remove from heat and stir in goat cheese, whisking until smooth. Stir in softened gelatin and vanilla extract until completely incorporated.
Divide among 4 (6-ounce) or 6 (4-ounce) jars or ramekins. Arrange on a tray and refrigerate for at least 4 hours or until set.
Meanwhile, to prepare topping, pour 1/2 cup boiling water over hibiscus flowers. Let steep for 5 minutes, then strain, discarding flowers.
Combine hibiscus liquid, cherries, sugar, and lemon juice in a saucepan and stir over medium-high heat until reduced by about half, about 15 minutes, or until thick and syrupy. Transfer to a heat proof container, cover, and refrigerate until ready to use. Just before serving, spoon topping over set custards.
Did you make this recipe?
Let us know what you think!
Leave a Comment below or share a photo and tag me on Instagram with the hashtag #loveandoliveoil.