Life is short, and strawberry season is even shorter.
Don't waste one precious second.
We ditched work one afternoon last week (shh, don't tell) and went strawberry picking, hoping to fill our flats with ripe red berries before the rain arrived. We had no particular plans for the berries other than consuming as many as our tummies would allow. It was also assumed that more than a few of these beautiful berries were bound for the canner.
And, tell me, are you really surprised? What did you expect for the first jam of the season?
As it turns out, strawberry hibiscus is a pretty incredible combination, and doesn't do anything to dampen this little obsession I'm experiencing. And folks? I've still got half a bag left. I told you 1 pound of dried hibiscus went a long way.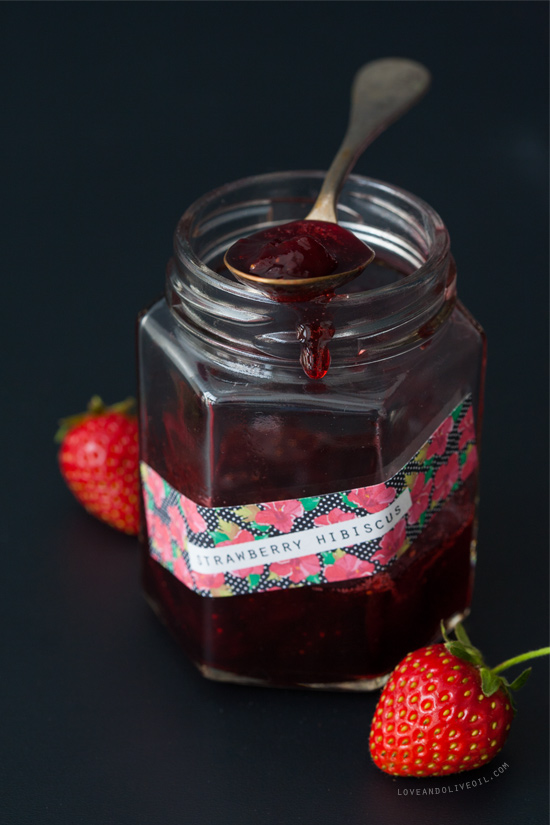 This tropical jam is based off of last year's Strawberry Vanilla jam recipe, replacing the vanilla bean with a concentrated hibiscus 'tea' made from dried flowers steeped in hot water.
The jam itself isn't overly floral; the hibiscus does more to enhance the natural flavor and fruitiness of the strawberry than anything. But don't take that to mean it tastes ordinary; it is anything but.
This recipe is a traditional jam, with no added pectin. It will produce a fairly loose jam, which I tend to prefer, as it is just as easily drizzled over vanilla ice cream as it is spread onto toast. If you prefer more gel in your jelly, up the pectin (with some lemon zest or some commercial pectin) and cook it a wee bit longer.
Strawberry Hibiscus Jam
Ingredients:
2 pounds fresh strawberries, hulled and chopped (6 cups chopped)
3 cups granulated sugar, divided
1 cup (1 ounce) dried hibiscus flowers
4 tablespoons lemon juice (from 1-2 large lemons)
Directions:
Wash, hull, and roughly chop berries. Toss with 1 1/2 cups sugar in a large bowl. Cover and chill for at least 2 to 3 hours or up to 72 hours.
Place hibiscus flowers in a heat-proof bowl or glass measuring cup. Pour 1/2 cup boiling water over flowers. Let steep for 10 minutes, stirring occasionally. Strain, pressing out as much liquid from the flowers as possible. Discard flowers (or reserve for another use). Refrigerate until ready to use.
When you're ready to make the jam, prepare canner and wash/sterilize 4 half-pint mason (or equivalent) jars. Keep jars in hot (not boiling) water until ready to use. Warm lids in hot (not boiling) water to sterilize and soften seal.
Pour the berries and all liquid into a large saucepan along with remaining sugar and hibiscus liquid. Bring to a boil over medium-high heat and simmer until the jam reaches 220 degrees F, stirring regularly. Add the lemon juice in the final 5 minutes of cooking.
You can test the gel of the jam by placing a spoonful on a chilled plate. Return to the freezer for 1 to 2 minutes, then check for doneness. Note that this recipe produces a fairly loose jam. If you want a firmer set, cook for a few minutes longer.
When jam has reached the desired consistency, remove from heat and skim off foam. Ladle hot sauce into jars, leaving 1/4-inch of headspace. Wipe jar rims and threads. Screw on lids and rings. Process in a boiling water bath for 10 minutes. Remove from water and let cool completely, 12 to 24 hours. Check seals. Any unsealed jars should be refrigerated and used within 3 weeks.
Did you make this recipe?
Let us know what you think!
Leave a Comment below or share a photo and tag me on Instagram with the hashtag #loveandoliveoil.