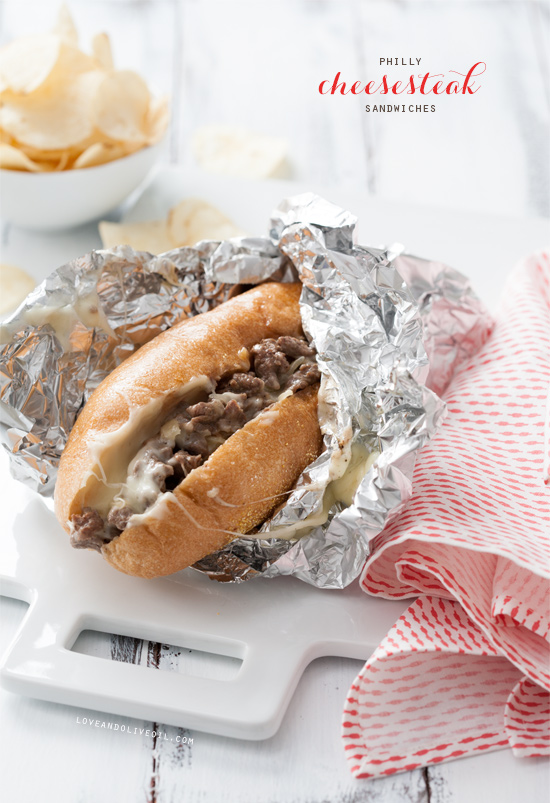 I give up. Why don't YOU try to photograph a cheesesteak. The gooier and meltier the better, taste-wise, but the harder it is to photograph.
Disclaimer: I do not live in Philly, nor have I ever actually had an authentic Philly cheesesteak. This is my version, based on a recipe by Julie of The Little Kitchen (who has never been to Philly either). If you are offended by the fact that we didn't use cheese-whiz or whatever processed cheese product the locals use, please keep your cheesesteak-gospel to yourself. I'll try a real one eventually (really, I will!) but until then, this is a darn good substitute.
The secret to this sandwich is really the bread. It's worth the extra effort to hunt down some good-quality hoagie rolls (we were really impressed with the Publix rolls Julie recommended). And don't skip the steaming. Simply wrapping the rolls in foil and popping them in the oven for a few short minutes allows the juices to permeate the bread, steaming and softening the bread in a marriage of succulent steak and melted cheese.
I'm a proponent of simplicity when it comes to cheesesteaks and thus chose to top mine with just sauteed onions; however, if you need a more fulfilling cheesesteak, feel free to add green bell peppers, mushrooms, or other toppings to them mix.
Actually, I take that back. I'm really tempted to make a "hipster" version, complete with goat cheese and arugula or other toppings that will probably make the cheesesteak-purists out there cringe.
Philly Cheese Steak Sandwiches
Ingredients:
2 hoagie rolls, split
2 tablespoons butter
1/2 large white onion, cut in half and thinly sliced
1 rib-eye or flat iron steak (about 3/4 pounds), sliced thinly across the grain and then roughly chopped*
salt & pepper to taste
butter, for cooking
4 slices Havarti cheese (Provolone or Muenster would work as well)
*It sometimes helps to freeze the steak for 15-20 minutes before slicing; the slightly frozen meat will be easier to slice super-thin.
Directions:
Preheat oven to 250 degrees F.
Heat a non-stick skillet with 1 tablespoon butter on medium high heat. Add onions and cook for 5 to 8 minutes or until onions are softened and translucent.
Season the steak pieces with salt & pepper. Add to the skillet and cook for 2 to 4 minutes or until just a little bit of pink remains. Divide the mixture in half, pushing each half to one side of the skillet. Place 2 slices of cheese on top of each half; cover and let melt for 1 to 2 minutes.
Carefully transfer each half of the meat mixture to the inside of the split hoagie rolls. Wrap tightly with aluminum foil; place on a baking sheet and bake for 10 to 15 minutes or until warmed through. Serve immediately.
Did you make this recipe?
Let us know what you think!
Leave a Comment below or share a photo and tag me on Instagram with the hashtag #loveandoliveoil.