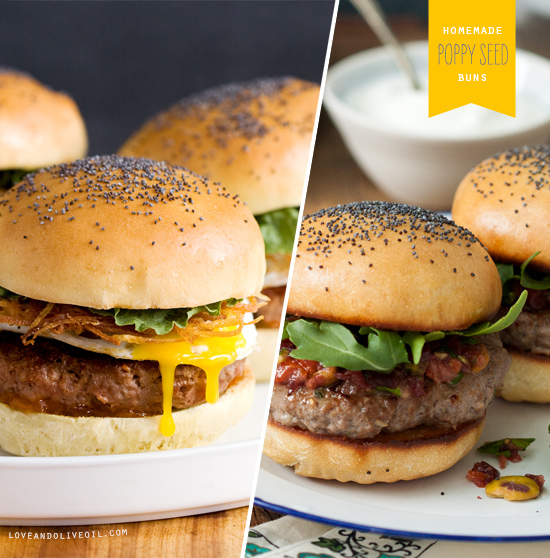 Am I the only one that's disappointed by the serious lack of beautiful burger buns available at grocery stores these days? It's aisle after aisle of plastic wrapped buns; deflated, limp little things with as much flavor and texture as a cotton ball.
They are not cover worthy, that's for sure.
Last summer Taylor and I found ourselves in need of some stunning buns for our book cover. And don't give me any of that true beauty is on the inside nonsense, we're talking about burger buns here. And sorry, but ugly buns just wouldn't do. We searched high and low, bakeries and groceries, and every bun was uglier (and bigger) than the next.
Apparently I have very high standards when it comes to buns.
Making our own seemed to be the only viable option.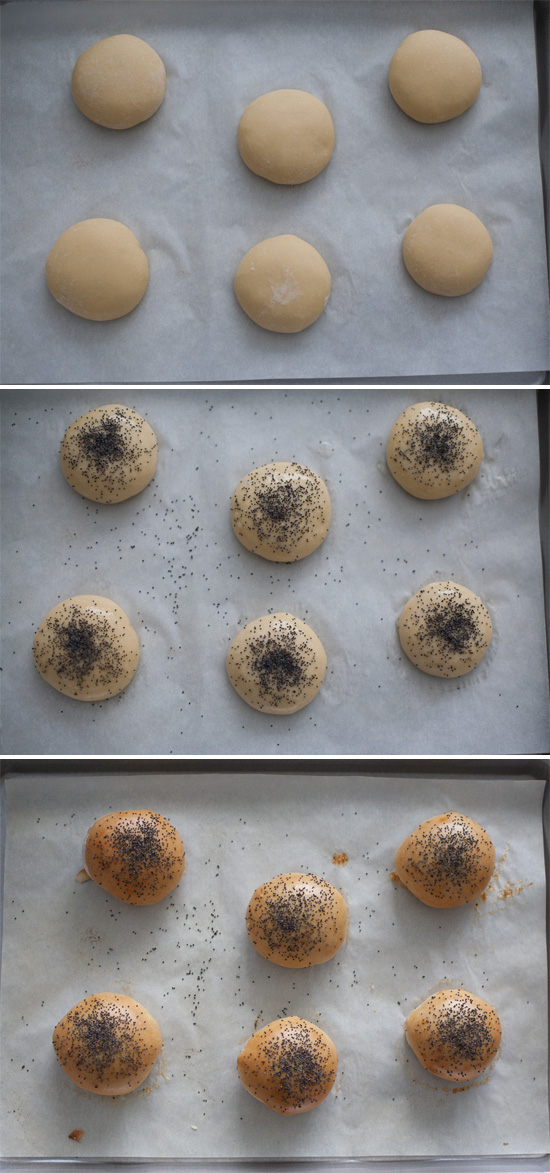 The recipe we ended up using for our burger hero shot (and many times since, including yesterday's lamb burgers) comes from King Arthur Flour, although it took me a few tries to really get the results I was looking for. While they suggest you brush the buns with butter before and after baking, I found that an egg-white wash worked better with the poppyseed topping (butter just isn't sticky enough), and it gave the buns a shinier overall appearance.
When making these buns, you can choose to make larger, standard-sized burger buns, or smaller, slider-sized buns. I have a thing for slightly smaller burgers and loved being able to custom-size my buns to my exact liking.
I can't help it, I like little buns (and I cannot lie).
But beauty is only skin deep, so enough about looks, how do they taste?
So good, you'll never buy store-bought again.
With a thin, chewy outer crust, and a soft and pillowy inside with just enough structure and density to handle a big, juicy burger. These buns won't fall apart in your hands like a store-bought bun might. Buttery and flavorful, with a delightful crunch from the poppy seeds, they are most definitely worth the extra effort.
Poppy Seed Burger Buns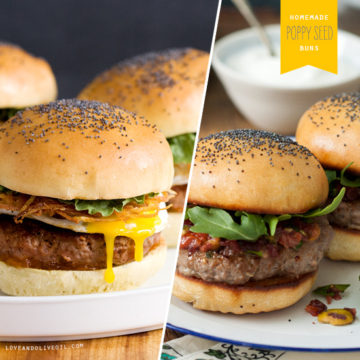 Ingredients:
2 tablespoons butter, room temperature
1 large egg, plus 1 egg white for brushing
3 1/2 cups all-purpose flour
1/4 cup sugar
1 1/4 teaspoons salt
1 tablespoon instant yeast
3/4 cup lukewarm water
poppy seeds or sesame seeds
Directions:
Combine butter, egg, flour, sugar, salt, and yeast in a large bowl or the bowl of a stand mixer. Add water and, using the paddle attachment or a large spoon, mix until well combined. Add more water, a teaspoon or two at a time, as needed (if you live in a dry climate you might need up to 1/4 cup additional water). Switch to the dough hook and knead (or by hand) until it forms a soft, smooth dough.
Cover with a clean dish towel and let it rise in a warm spot for 1 to 2 hours, or until doubled in size.
Gently deflate the dough with your fist, and divide it into 8 even pieces (10-12 for smaller, slider-sized buns). I found it helpful to use a kitchen scale here to be sure all the pieces were even in size. Shape each piece into a round ball; flatten slightly to about 1-inch thick. Place the dough rounds on a lightly greased or parchment-lined baking sheet, cover with plastic wrap or a clean towel, and let rise for about an hour, until noticeably puffy.
Preheat oven to 375 degrees F.
In a small dish, whisk egg white with 2 tablespoons of water. Brush the buns with the egg white mixture, then sprinkle with poppy seeds. You could also brush the buns with butter if you prefer, but the seeds will not stick to the top as well nor will the buns be as shiny.
Bake for 15 to 18 minutes or until golden. Place pan on a wire rack and let cool before slicing.
Did you make this recipe?
Let us know what you think!
Leave a Comment below or share a photo and tag me on Instagram with the hashtag #loveandoliveoil.