Back in college, I had my between-class routine down pat. After spending 3 hours in an art studio class, I needed a recharger (aka sugar fix) before my next class. But being that it was only 10am, it was too early for lunch. I think it was Taylor who originally discovered these generously-sized almond horns in the campus bookstore, but once I'd had a taste it quickly became a daily thing: every day. 10am. Almond horn. So much better than a doughnut.
It's been almost 6 years since I graduated and moved to Nashville, but I haven't stopped thinking about those pastries.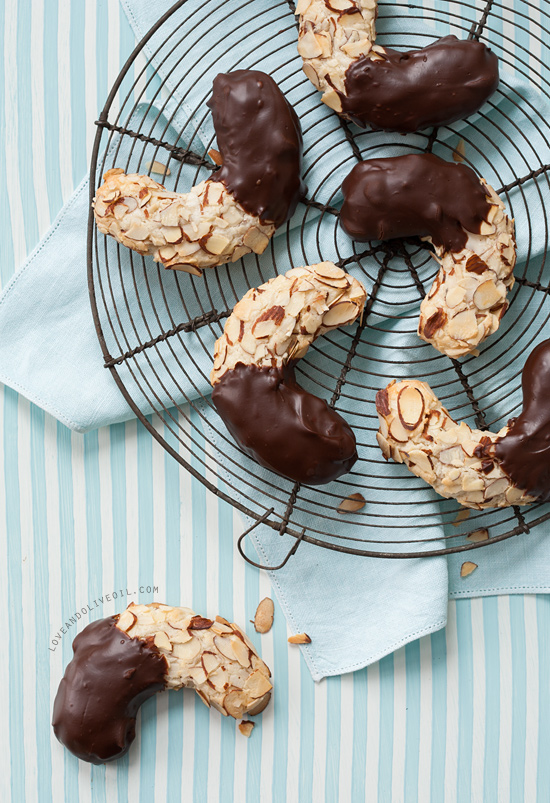 I'm not sure why I never attempted to recreate these nutty crescents before now, especially considering how easy they were. Maybe the fact that I always called them crescents, and a search for "almond crescents" produces a list of recipes that don't look anything like I remember. Turns out, they're called almond horns. I've never seen a horn in this shape (toot toot), so why they are called that, who knows.
Oh. Duh. I just realized maybe the horn is referring to animal horns? Ok, maybe I could see that, but it's still a stretch.
Appropriately named or not, they are surprisingly simple to make, requiring just a few ingredients: almond paste, egg white, sugar, and a bit of almond flour (naturally gluten free, if you care) and are then rolled in sliced almonds.
Granted, mine are a bit smaller than the ones from the bookstore, but the texture is spot on: crispy on the outside with added crunch from the sliced almonds, with a soft and chewy marzipan-like interior.
Maybe I need this 7lb can of almond paste so I can enjoy these daily without feeling like I have to squander each one of the precious six that one batch produces.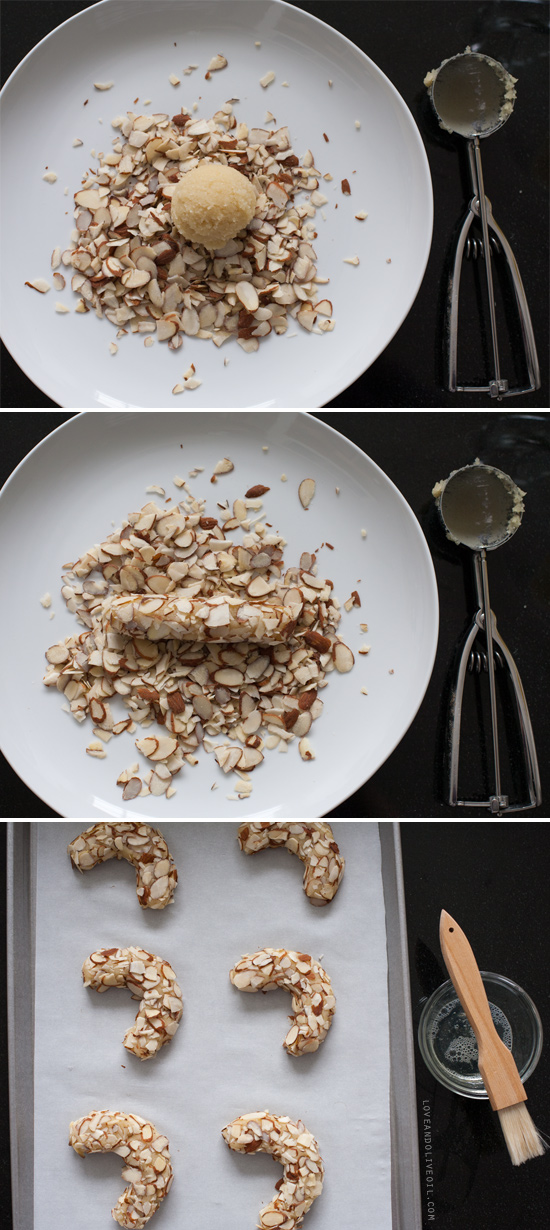 The chocolate glaze is softer than if it were dipped in solid chocolate, which means you can bite through the soft coating into the chewy center underneath without shards of chocolate falling down your shirt. Almonds, maybe, but the chocolate yields easily with each bite. Think of it as something in-between a snappy chocolate coating and a gooey chocolate doughnut glaze. I guess you could go naked and skip the glaze, but I highly recommend you don't.
They're just like I remember from college.
But without all the homework.
Chocolate-Glazed Almond Horns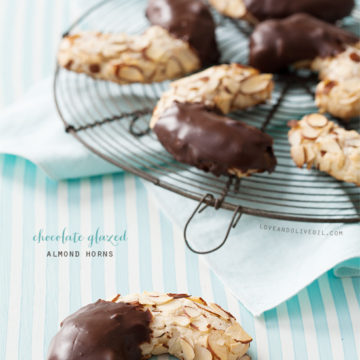 Ingredients:
For Cookies:
8 ounces (about 3/4 cup) almond paste (not marzipan)
2 egg whites, lightly beaten in a small dish
1/3 cup granulated sugar
3 tablespoons almond meal or almond flour
1 cup sliced almonds
For Glaze:
2 tablespoons heavy cream
2 tablespoons butter, cut into cubes
2 teaspoons corn syrup
4 ounces semisweet chocolate, finely chopped
Directions:
Line one baking sheet with parchment paper; set aside.
In a bowl or the bowl of a stand mixer, break almond paste into almond-sized chunks. Add sugar and 3 tablespoons of beaten egg white mixture and mix on medium-low speed until a sticky dough is formed and no large chunks remain. Add almond flour and mix until combined.
Whisk 1 tablespoon of water into the remaining tablespoon or so of egg white and set aside.
Pour sliced almonds onto a shallow dish or plate. Divide dough into 6 even balls (approximately 50 grams each, if you want to be extra accurate. A large, 3 tablespoon size cookie scoop is just about the perfect size). Drop one ball onto the sliced almonds. Roll, using the almonds to prevent the dough from sticking to your hands, into a 4-inch log. Transfer to a parchment-lined baking sheet, and gently shape into a crescent, pressing down to flatten slightly. Repeat with remaining dough.
Preheat your oven to 375 degrees F. Let cookies sit, uncovered, for 30 minutes, then brush with egg white mixture. Bake for 15 to 18 minutes or until bottoms are golden brown. Remove from oven and let cool on cookie sheet while you prepare the glaze.
In a small saucepan, combine cream, butter, and corn syrup. Stir over medium-low heat until melted and smooth. Remove from heat and add chopped chocolate; the residual heat should be enough to fully melt the chocolate. If not, return to low heat for a minute at a time until mixture is smooth.
Remove from heat and quickly dip cooled cookies into glaze. You can either dip one half, as I did, or you can dip both dips. Return to baking sheet and let sit for 30 minutes until glaze is set. If you have extra glaze, it makes a great ice cream topping. Or better yet, use it to dip some fresh strawberries.
Cookies will keep, covered in an airtight container, for up to 1 week.
Did you make this recipe?
Let us know what you think!
Leave a Comment below or share a photo and tag me on Instagram with the hashtag #loveandoliveoil.