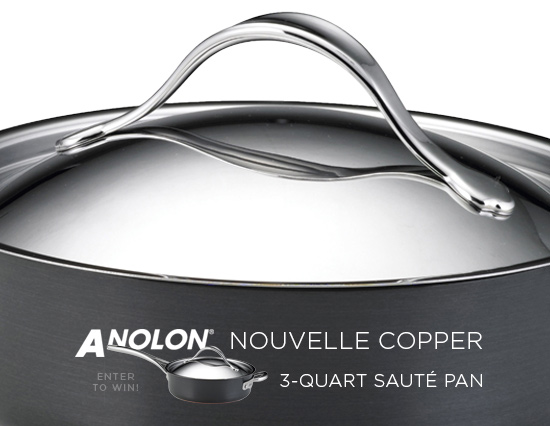 Good cookware is a gift, especially for someone who is in the kitchen on a daily basis.
During our early years cooking together, we went through cheap nonstick pans like they were disposable. Sure they only cost $20 from mega mart, but when you have to buy a new one every year because the finish starts flaking off into your scrambled eggs, well, that's a waste of money (and eggs).
Slowly, as we became more and more serious about cooking, we acquired a few pieces of quality cookware, but we always had the cheap ones filling in the gaps between what we had and what we actually used. And we even noticed that some of our "better" pots and pans were beginning to warp and lose their finish after years of daily use. They were still usable, sure, but it wouldn't be long before they needed replacing.
I must have sent out some good vibes into the ether because at last year's Big Summer Potluck in Pennsylvania, my name was drawn as the winner of the grand prize: a set of Anolon® Nouvelle Copper cookware.
Score!
Once the set arrived, I excitedly packed up all our old pots and pans (the curse of a small kitchen) and shipped them off to my little sis, who was just moving in to her first apartment. Kitchen goodies are the best kind of hand-me-downs.
It's been almost a year now and we couldn't be happier with our Anolon® pans. I'll admit it was not one of the brands on our radar, but it will certainly be my go-to recommendation for serious cooks. Yes, it's an investment, but just think of how may $20 frying pans you've thrown away in the meantime.
A really good pan is worth its weight in gold, or in this case, copper.
We've really given these pans a workout, sometimes with as many as 3 or 4 pans going at once (as in the case of the Hibiscus Enchiladas I posted yesterday, seen cooking above). The non-stick finish is still as non-sticky as the day we unwrapped them.
Taylor's favorite features are the flush-rivets. One of our old pans had rivets attaching the handle that seemed to build up gunk, and always required extra effort and attention when cleaning. And as our household's head dishwasher, he definitely appreciates the extra thought that went in to such a design feature.
I'm so pleased with these pans. Even more pleased that Anolon® has so generously offered one of their 3 Quart Covered Saute Pans, valued at $129.99, to one lucky L&OO reader! This particular pan (seen above doing a bang-up job cooking chipotle tomato sauce) is one of our favorites. The high sides make it perfect for sauces or risotto, while the nonstick finish makes it ideal for frying delicate scallops or sunny-side-up eggs (and you know we've fried our fair share of those). It will quickly become the most-used pan in your kitchen.
So, what are you waiting for?
Giveaway is now closed. Thanks all for entering!
Congratulations to Katheryn, comment #633, who was randomly selected as the winner of this fabulous sauté pan!
The fine print: No purchase necessary. Giveaway open to US residents only. Void where prohibited. Winner will have 48 hours to respond otherwise an alternate winner will be chosen. Bonus entry requirements will be verified if selected as the winner, otherwise an alternate winner will be chosen. Giveaway sponsored by Anolon®. All opinions written are purely my own.