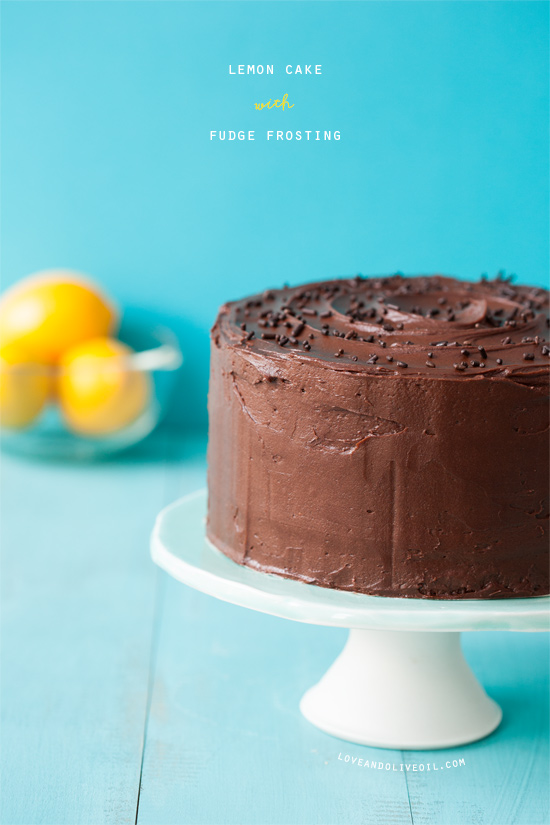 I do hope I'm not the only one that often finds the food and meals in a novel more memorable than the book itself.
For example, I read The Particular Sadness of Lemon Cake last year, and could not stop thinking about cake (On the contrary, I was quite disappointed when the Life of Pi turned out to be not so much about pie as I had hoped, although that didn't stop me from having visions of creamy chocolate and tart cherry pies every time I picked it up.)
While I enjoyed the book very much, I couldn't help but resenting the author for associating such a bright and cheery cake with sadness. Of course, it's not actually the cake that's at fault, rather the main character's mother, whose despair she can taste with every bite.
Luckily, I baked this cake with a smile on my face and a grin in my heart, and I encourage you to indulge in the particular gladness of MY lemon cake.
There's nothing sad about it. In fact, I'd argue that this cake is the epitome of happy.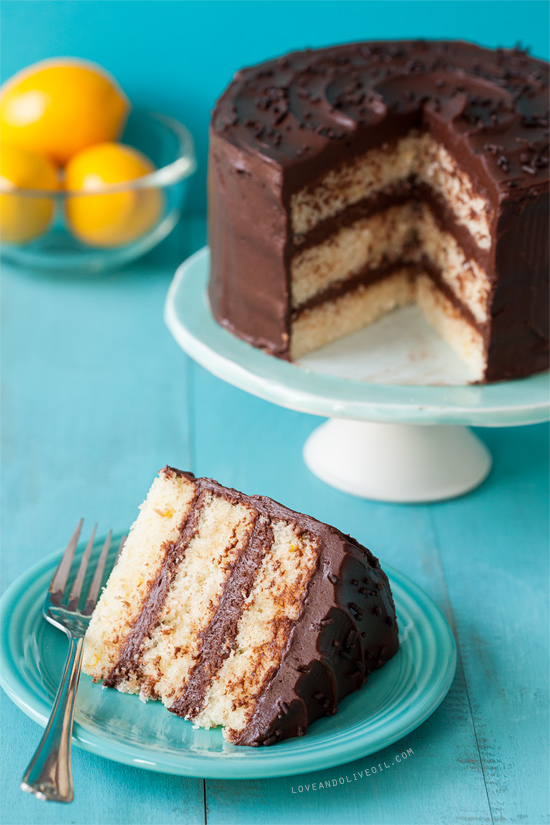 The base is a classic, moist yellow cake infused with Meyer lemons (I lied when I told you the season was over; I found a bag of them at Whole Foods just last week!) In a somewhat unorthodox combination, the bright lemon cake gets paired with a rich and fudgy chocolate buttercream. See, I wasn't joking when I said lemon and chocolate would make a perfect paring.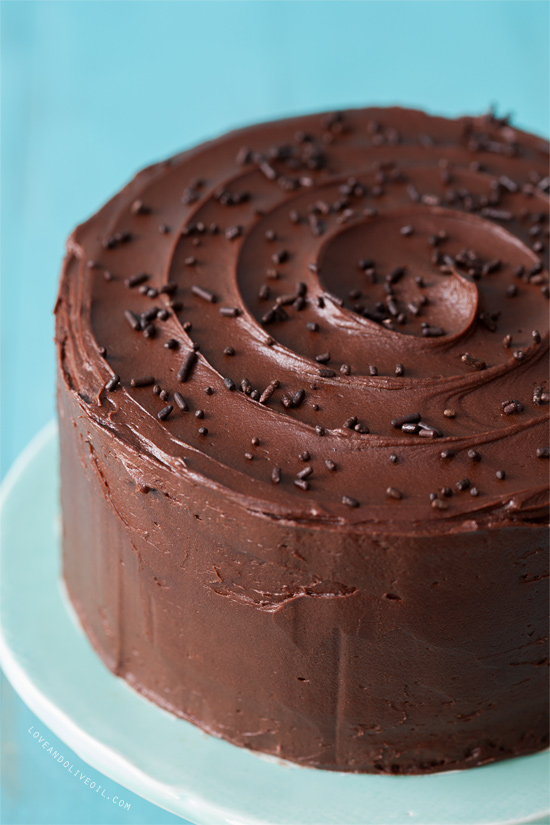 Of course, you could certainly omit the lemon part if you just want something simple and classic, and so much better than any box or tub can provide.
I'll share also that one of the best gifts I've received in recent memory are a set of 6-inch cake pans. Perfect for halving any 8 or 9-inch layer cake recipe, they allow me to bake up a fancy triple layer cake without worry of it going to waste. Because no matter how much you love cake, after 3 or 4 days it starts to get dry and you really wish it would just stop already. Turns out a 6-incher is just perfect for two. I love my little cakes so much I even had a custom-sized cake stand made just for me by Lindsay of Suite One Studio. It's perfect, don't you think?
Lemon Layer Cake with Chocolate Fudge Frosting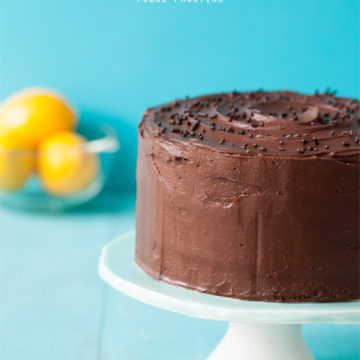 Ingredients:
For Cake:
3 cups cake flour
2 1/2 cups granulated sugar
1 tablespoon baking powder
1 teaspoon salt
1 1/2 cups (3 sticks) unsalted butter, softened and cut into cubes
1 cup whole milk, divided
5 large eggs
4 teaspoons lemon or Meyer lemon zest (from 4 medium lemons)
3 tablespoons lemon or Meyer lemon juice (from 4 medium lemons)
1 teaspoon vanilla extract
For Frosting:
1 1/2 cups (3 sticks) unsalted butter, room temperature
1 cup cocoa powder
4 1/2 cups powdered sugar
1/2 to 3/4 cup heavy cream, more or less as needed
1 1/2 teaspoons vanilla extract
Directions:
Preheat oven to 350 degrees F. Butter the bottoms and sides of three 9-inch round cake pans. Line with parchment paper; butter parchment.
In a large mixing bowl or the bowl of a stand mixer, combine flour, sugar, baking powder, and salt. Mix to combine. Add butter and 3/4 cup of whole milk. Mix on low speed until flour is evenly moistened, then increase speed to medium-high and beat until light and fluffy, 1 to 2 minutes.
In a small bowl, beat remaining 1/4 cup milk with eggs, lemon zest, lemon juice, and vanilla. Add to the batter mixture one-third at a time, mixing well after each addition. Divide batter evenly among prepared pans.
Bake for 30 to 35 minutes (about 25 minutes for 6″ pans), rotating pans halfway through baking, until lightly golden on the edges and a toothpick inserted near the center comes out clean. Transfer pans to a wire cooling rack to cool completely, about 1 hour. Run a knife or thin spatula around the edge of the pan, then invert the cake onto wire rack. It should come out easily and cleanly. Remove parchment from the bottom. At this point the cakes can be wrapped tightly in a double layer of plastic wrap and freeze until ready to use (in fact, I recommend you freeze the cakes overnight, as the frozen cakes will be easier to level and frost later.)
To prepare frosting, in a large mixing bowl, beat butter on medium-high speed until smooth and fluffy, 2 to 3 minutes. Add cocoa powder and beat until incorporated. Add powdered sugar, 1/2 cup at a time, mixing well after each addition. As frosting thickens, add a few tablespoons of cream as needed. Depending on the temperature and consistency of your frosting, continue alternating adding cream and powdered sugar, then continue beating until frosting is light and fluffy. Beat in vanilla.
To assemble, level each cake layer by cutting of the domed top with a long serrated knife. Place one layer, flat side down, on a cake stand or serving platter. Spread on about 1/2 cup of frosting onto cake using an offset spatula. Position second layer on top and press to adhere. Repeat with another 1/2 cup of frosting, and then position final cake layer, flat side up.
Cover the entire cake with a thin layer of frosting. This "crumb coat" will keep the stray crumbs in place and make frosting the cake easier. Refrigerate for about 15 minutes to allow this crumb coat to set.
Remove cake from refrigerator and cover with remaining frosting, reserving some for piping decorative details if desired.
Did you make this recipe?
Let us know what you think!
Leave a Comment below or share a photo and tag me on Instagram with the hashtag #loveandoliveoil.