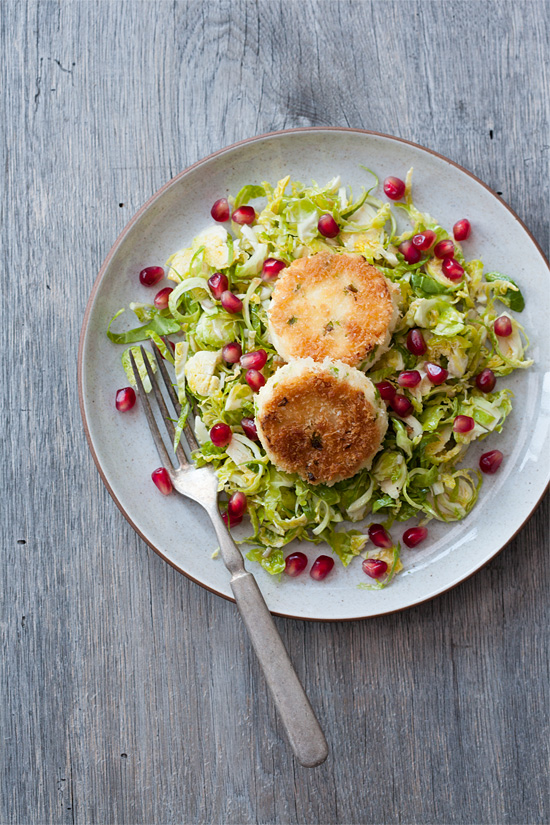 Fried goat cheese.
You don't have to say much more to get me excited.
Honestly? You could put fried goat cheese on an anchovy sandwich and I'd devour it (er, actually, that sounds kind of good…)
See? I told you.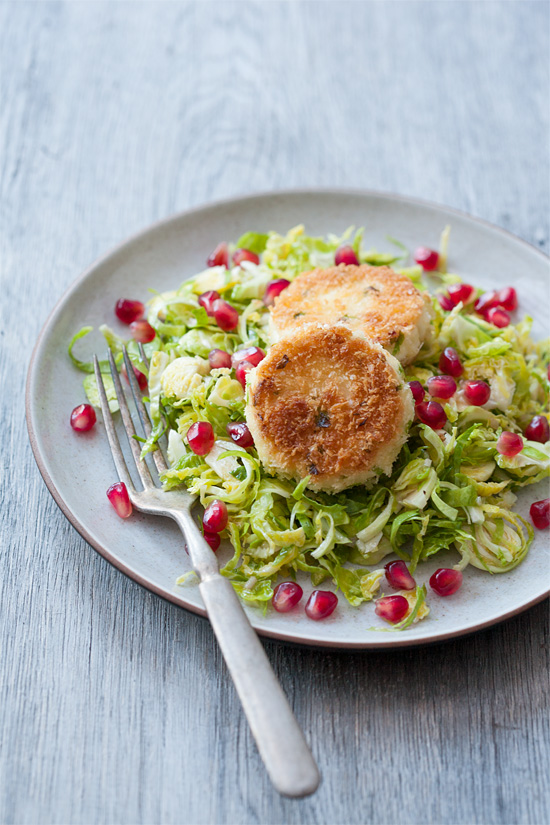 This salad features raw Brussels sprouts, which, in all honesty, aren't something I would eat normally. Cooked Brussels I can do and love, but raw they tend to take on a kind of cabbage-like bitterness that is somewhat off-putting. Similar to kale, as much as raw kale salads are all the rage right now, I do my best to avoid them.
But this salad brings together a brilliant combination of sweet pomegranate seeds and warm, fried goat cheese that, together, cancel out any notes of Brussels bitterness that might still linger. Not to mention it's downright gorgeous, which might be what drew me in when I first saw it on Pinterest (that and, well, the fried goat cheese).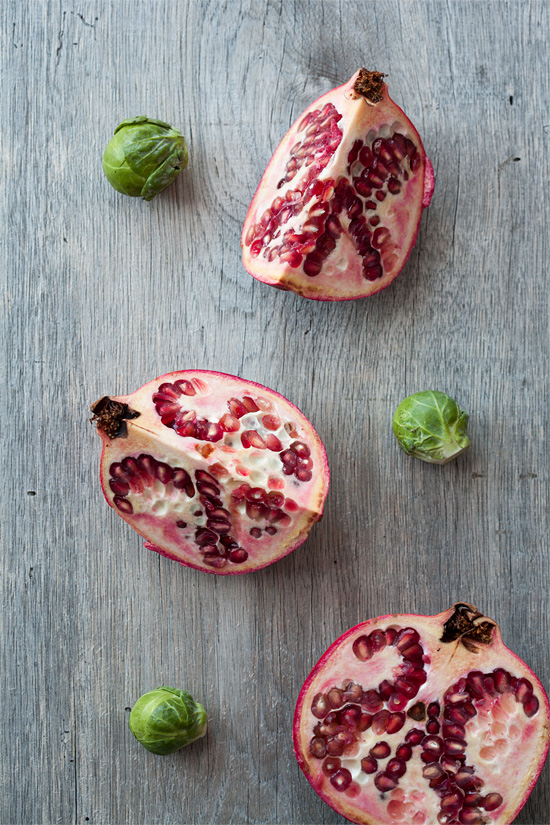 We added a bit of honey to the dressing, and I think it could do with double the amount of goat cheese (because having a bit with every bite is absolutely necessary), but if you're looking for a way to tolerate, and even come to love raw Brussels sprouts, this is darn near perfect.
Shaved Brussels Sprout Salad with Pan-Fried Goat Cheese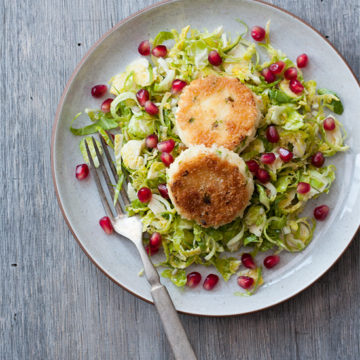 Ingredients:
1 pound Brussels Sprouts, ends trimmed and outer leaves removed
1/2 cup pomegranate seeds (from 1/2 of a large pomegranate)
For Dressing:
1 shallot, minced (about 1 tablespoon)
1 teaspoons dijon mustard
2 tablespoons red wine vinegar
1 tablespoon honey
1/4 cup olive oil
salt and freshly ground black pepper, to taste
For Goat Cheese:
1 (8 ounce) log goat cheese, cold
1 large egg
1/2 cup all-purpose flour
1 cup panko bread crumbs
2 tablespoons flat leaf parsley, minced
1/2 teaspoon salt
1/4 cup olive oil, for frying
Directions:
Slice the Brussels sprouts very thinly using a sharp knife or mandoline. Place in a large bowl and set aside.
To prepare the dressing, whisk together shallots, mustard, vinegar, and honey in a small bowl. Drizzle in olive oil, whisking vigorously until incorporated. Season to taste with salt and pepper. Set aside.
In a small bowl, whisk the egg until frothy. Place the flour in a small, shallow dish. Mix together the panko, parsley, and salt in a another small, shallow dish.
Carefully slice the goat cheese into 8 even discs. Lightly coat each slice in flour, tapping to remove any excess. Dip in egg, followed by breadcrumb mixture, gently rolling until disc is evenly coated.
Heat the olive oil in a large non-stick pan set over medium-high heat. Gently place the goat cheese rounds in the pan and fry until golden brown, about 2 minutes per side.
Gently toss the shredded Brussels sprouts with the dressing. Transfer to a serving platter or individual serving plates. Arrange warm goat cheese rounds on top; sprinkle with pomegranate seeds.
Did you make this recipe?
Let us know what you think!
Leave a Comment below or share a photo and tag me on Instagram with the hashtag #loveandoliveoil.