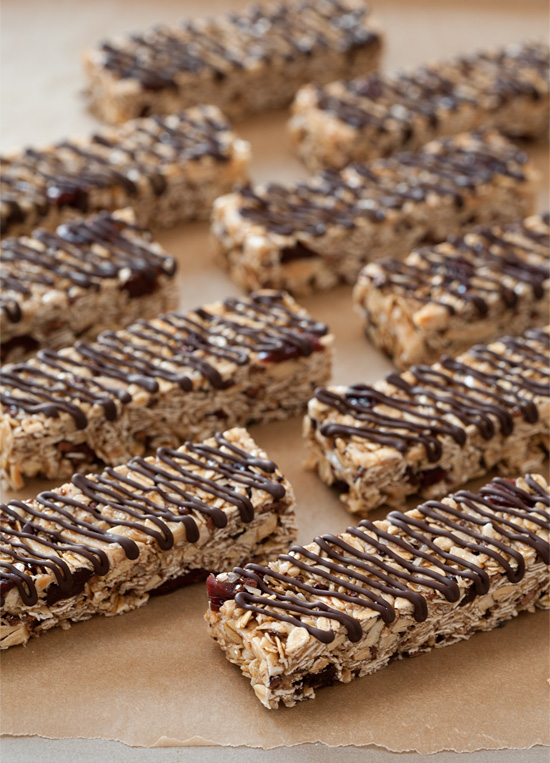 Granola bars sound so terribly dull and boring. Not nearly glamorous enough for these fine specimens.
Toasted oats folded with sweet honey and brown sugar, and studded with dried tart cherries, cocoa nibs, and slivered almonds with a bittersweet chocolate drizzle: of what these beautiful bars are made.
I'd say they are worthy of a much more lucrative title. Not to mention proper grammar.
I'd call these no-bake, because technically the bars themselves need no baking to take their shape. But a brief toasting of the oats and nuts exclude it from such a designation, although I guess I could call them not-baked-just-toasted.
Anywho, these bars are my attempt at a snacking solution. I don't know about you, but I seem to get hungry in 3 or 4 hour increments. And if I wait too long between breakfast and lunch, or especially between lunch and dinner, I get shaky and irritable and all-around cranky. So I usually grab a handful of whatever sweet bites happen to be open, usually Trader Joe's dark chocolate peanut butter cups or sea salt and cocoa almonds or Hershey's mint truffle kisses.
Not a bad thing, necessarily, but I wish my snacks had a bit more substance and a bit less sugar.
Since I'm never (ever) going to be the type to grab a handful of baby carrots as a snack, these bars are my compromise to myself. With oats and nuts and dried fruit, they're more substantial than pure chocolate. But they also appease my sweet-tooth and chocoholic-tendencies with honey, cocoa nibs, and a swirl of chocolate.
That's what I call a win-win.
Cherry Almond Nib Granola Bars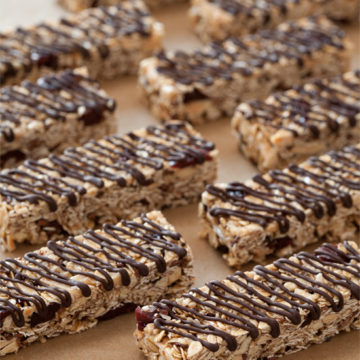 Ingredients:
2 1/2 cups old fashioned rolled oats
2/3 cup slivered almonds
1/2 cup unsweetened shredded coconut
1/3 cup honey
1/4 cup unsalted butter, cut into cubes
1/4 cup light brown sugar, packed
1/4 teaspoon almond extract
1/4 cup cocao nibs
1/2 cup dried tart cherries, coarsely chopped
2 ounces bittersweet chocolate, melted (optional, for drizzling)
Directions:
Preheat oven to 350ºF. Line an 8-by-8-inch square baking pan with parchment paper, leaving a small overhang on two sides.
In a large bowl, stir together oats, almonds, and coconut until evenly distributed. Spread onto a large rimmed baking sheet. Bake for 8 to 10 minutes, stirring once part way through baking, until oats are toasted and fragrant and coconut is lightly browned. Cool slightly and return to bowl.
Combine honey, butter, and brown sugar in a small saucepan. Bring to a boil over medium heat, stirring occasionally, until butter is melted and sugar is dissolved. Remove from heat and stir in almond extract. Pour over oat mixture and stir until evenly coated. Stir in cocoa nibs and dried cherries.
Press granola mixture into prepared pan, firmly pressing into place. Chill until set, at least 2 hours. Remove from pan using parchment paper to lift it out of the pan. Transfer to a cutting board and cut in half crosswise, then into 12 rectangular bars. Drizzle with melted chocolate, if desired.
Granola bars will keep, layered between parchment or waxed paper in an airtight container for up to one week.
Did you make this recipe?
Let us know what you think!
Leave a Comment below or share a photo and tag me on Instagram with the hashtag #loveandoliveoil.