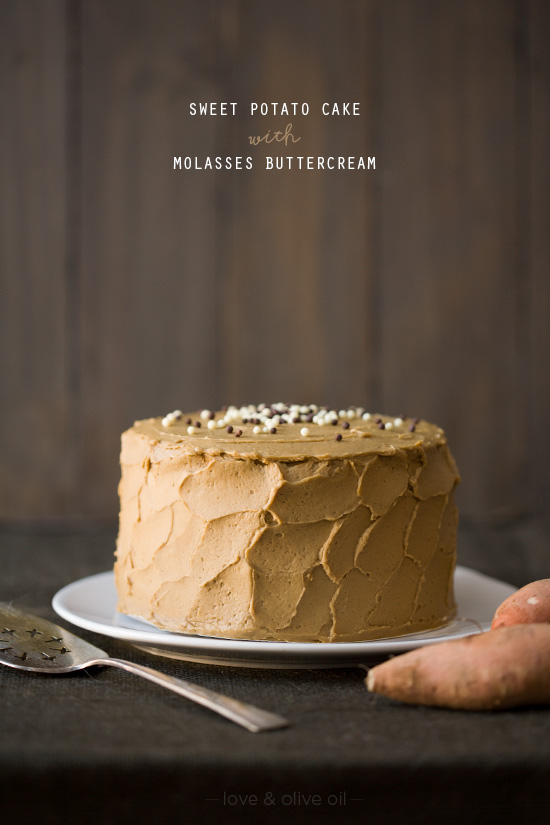 I've has this vision of molasses buttercream floating around my head ever since Heather came to town. She brought some delightful espresso macarons to her book signing this past summer, filled with a surprising molasses buttercream.
I haven't forgotten it.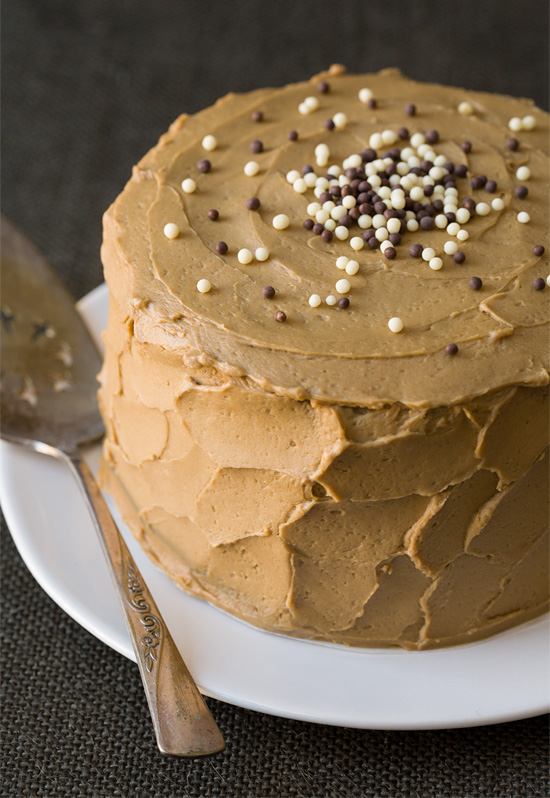 I first attempted to re-work the bourbon layer cake, intending to use it as a base for this inspired buttercream, and also playing with the recipe as it has never completely satisfied me in terms of consistency. Unfortunately, my modifications, which I thought would help make the cake lighter and fluffier, only made things worse.
With another cake failure settled into the garbage and me not wanting to give up just yet, I still needed a vehicle for my molasses buttercream. So I turned to my faithful stand-by: Sky High: Irresistible Triple-Layer Cakes. In it was a recipe for a delightful sweet potato cake. Seeing as how we've been getting a steady 2 pounds of sweet potatoes each week with our CSA and a whopping 10 pounds this past week, I had no shortage of sweet potatoes. It seemed it was meant to be.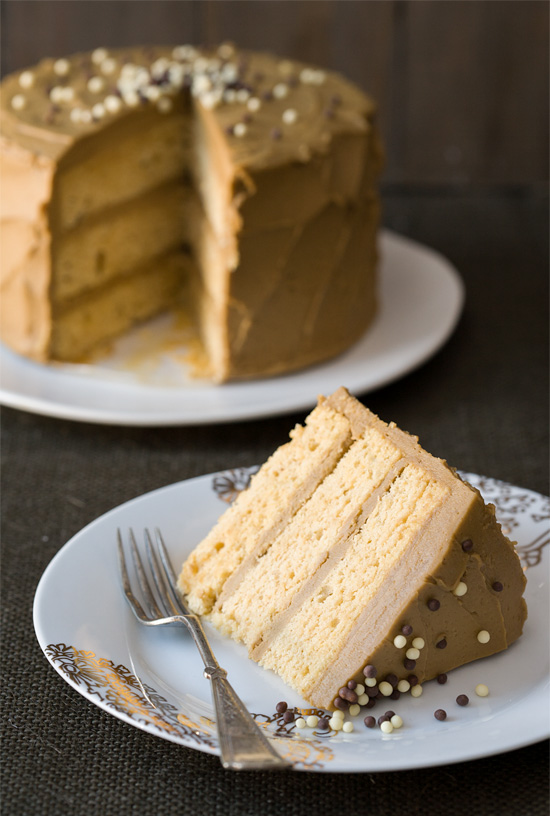 While it isn't the simplest cake to prepare, the extra step of whipping and folding in the egg whites make the cake light, with a delicate crumb that most sweet potato or pumpkin cakes lack. In fact, I may have to try this trick on the aforementioned bourbon cake as it could definitely use some lightening up.
The cake itself has a very light sweet potato flavor and subtle spiced undertones. It's like a milder version of pumpkin pie, only with sweet potato, and cake instead of custard (ok, so maybe it's not like pumpkin pie at all). But my intuition that it would be delightful in combination with a sweet and sticky molasses buttercream? Spot on.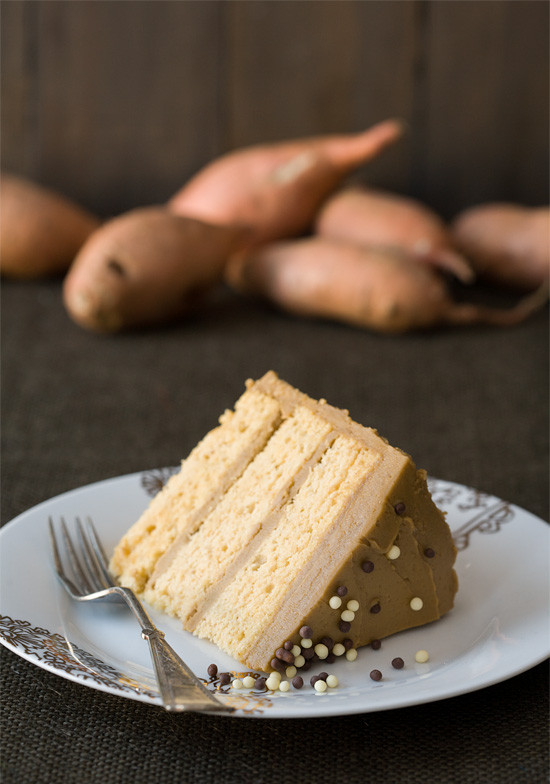 I've slowly realized, over the years of making cakes and cupcakes, that buttercream has distinct seasons (and I'm talking about straight up American buttercream here, don't even get me started on the meringues and other varieties). Summer means soupy buttercream, so you better have some shortening handy. Spring and fall are ideal for buttercream-preparation, where the temperature of "room-temperature" is, apparently, perfect. But I never thought I'd have trouble with winter buttercream, even more so than the pesky summer stuff. It definitely requires some more experimentation on my part to figure it out, but I assume that the butter is simply too cold. Even at room temperature it's still a chilly 65 degrees. My winter buttercream often stays thick, bordering on buttery/greasy in texture (even though the powdered sugar makes it plenty sweet). Adding more milk/cream to lighten it up only works to a certain extent, after which adding more doesn't change things one bit. Poor, sad, moody buttercream.
Guess you can add American buttercream to the ever-growing list of seemingly-simple things with which I constantly battle (including, but not limited to: chocolate, chocolate ganache, chocolate candy coating, caramel, and pie crust).
Perfectly fluffy or not, luckily, it still makes for a fantastic cake.
Sweet Potato Layer Cake with Molasses Buttercream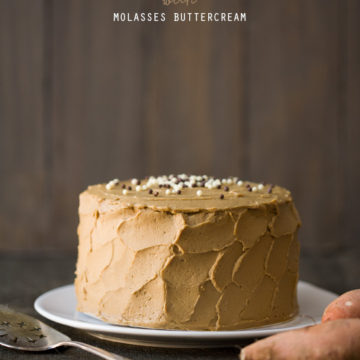 Ingredients:
For Cake:
2 large sweet potatoes (about 1 lb)
3 cups cake flour
3 teaspoons baking powder
1 1/2 teaspoons cinnamon
3/4 teaspoon grated nutmeg
1/4 teaspoon ground cloves
1/2 teaspoon salt
5 eggs, separated
2 1/4 cups granulated sugar, divided
1 stick plus 2 tablespoons unsalted butter, room temperature
1 1/2 teaspoons vanilla
1 1/4 cups whole milk
For Frosting:
2 cups (4 sticks) unsalted butter, room temperature
4 cups powdered sugar, sifted
1/4 cup molasses
1/4 cup milk or cream, more or less as needed
Directions:
Preheat oven to 400 degrees F. Prick sweet potatoes in a few spots with a fork, then place on a foil-lined baking sheet and bake for about 1 hour, or until the potatoes are very soft and beginning to caramelize. Remove from oven cool slightly.
Reduce the oven temperature to 350 degrees F. Butter the bottoms and sides of three 9-inch round cake pans. Line with parchment paper; butter parchment.
When the sweet potatoes are cool enough to handle, peel of the skins and remove any blemishes. Pulse in a food processor until smooth. Measure out 1 cup of puree (discard or reserve the rest for another use).
In a bowl, sift together flour, baking powder, cinnamon, nutmeg, cloves, and salt. Set aside.
In a large metal mixing bowl or the bowl of a stand mixer fitted with the whisk attachment, beat egg whites on medium speed until frothy. Gradually beat in /4 cup of sugar, increase speed to high, and beat until the egg whites form moderately stiff peaks.
In another large mixing bowl, combine sweet potato, butter, vanilla, and remaining 2 cups sugar. Beat on medium-high speed until light and fluffy, about 2 to 3 minutes. Add the egg yolks, one at a time, mixing well after each addition. With the mixer on low speed, add 1/3 of the dry ingredients, followed by 1/2 of the milk. Repeat with another 1/3 dry ingredients, remaining milk, and finally remaining dry ingredients, mixing until just incorporated.
Using a large rubber spatula, fold 1/4 of egg whites into the batter to lighten it. Add the remaining egg white and continue to fold just until incorporated; be sure not to overmix the batter.
Divide batter among prepared cake pans and bake for 25 to 30 minutes or until a toothpick inserted near the center comes out clean. Let cool for 10 minutes, then turn out onto wire racks and cool completely, at least 1 hour.
To prepare frosting, in a large mixing bowl, beat butter on medium-high speed until smooth and fluffy, 2 to 3 minutes. Add powdered sugar, 1/2 cup at a time, mixing well after each addition. Add molasses and beat until incorporated. Depending on the temperature and consistency of your frosting at this point, add milk or cream, 1 tablespoon at a time as needed, then continue beating until frosting is light and fluffy.
To assemble, level each cake layer by cutting of the domed top with a long serrated knife. Place one layer, flat side down, on a cake stand or serving platter. Spread on a layer of buttercream using an offset spatula. Position second layer on top and press to adhere. Repeat with another layer of buttercream, and then position final cake layer, flat side up.
Cover the entire cake with a thin layer of buttercream. This "crumb coat" will make frosting the cake easier. Refrigerate for about 15 minutes to allow this crumb coat to set.
Remove cake from refrigerator and frost with remaining buttercream, reserving some for piping decorative details if desired.
Did you make this recipe?
Let us know what you think!
Leave a Comment below or share a photo and tag me on Instagram with the hashtag #loveandoliveoil.